According to Yogi Berra, "The future ain't what it used to be." As it turns out, he could have been talking about today's restaurant industry. For decades, the restaurant of the future was expected to be more of the same, tweaked a little here and there but essentially featuring no significant advances. When the future arrived, it was what it used to be.
Today, that notion is far from true.
Three disruptive events continue to shape the outlook for the restaurant of the future: labor issues, which include a shortage of qualified people and higher costs of employment; growing demand for convenience; and skyrocketing real estate costs. As a result, in five years, the restaurant industry will not be what it used to be. Virtually all aspects of a restaurant will continue to evolve, as will the way consumers use restaurants.
The labor situation is critical. Unemployment remains at historic lows, which means restaurants continue to compete for qualified people — if they can find them. And when a restaurant operator does find someone qualified, they have to pay them more to remain competitive with other businesses.
None of this takes into account some cultural changes shaping the American workforce. "For the first time, teenagers are choosing not to go to work in restaurants for their first job," points out Fred LeFranc, change agent of Results Thru Strategy. "In this gig economy, other jobs pay more than minimum wage."
To help offset the scarcity and higher cost of labor, progressive operators continue to turn to technology.
"There is a lot of automation being brought into restaurants right now for no other reason than unemployment is so low," adds Lisa Kennedy, director of design and construction of Manna, Inc., a company that owns and operates various franchised restaurant concepts. "We can't get people to work. There is also the pressure of the increasing minimum wage. Anything that can be automated will be automated."
Rising real estate costs will shape the restaurant of the future, too. "As you expand, you might not find an affordable 5,000- or 6,000-square-foot space. You might find 2,000 square feet where you can plug a kitchen in," notes Juan Martinez, principal of consulting firm Profitality. The smaller space means a more efficient kitchen design takes on greater importance. This is where multi-use equipment such as ventless equipment and multifunction items like combi ovens can change the game.
At Zume Pizza, robotic machines produce pizza for customers. Image courtesy of Zume Pizza
Automation in the '60s
In case you thought restaurant automation was new, enter the phrase "Automated Hamburger Machine: 50 Years Ahead of Its Time" in your search engine of choice. Watch and wonder. AMF designed a fully automated kitchen, called AMFare, in 1964. Customers began the transaction by speaking their order into a speaker from their car when visiting the drive-in or via an AMF dial-a-phone at their booth. The entire storage, prep and cooking process was automated. It was brilliant. Sadly for AMF, there was plenty of cheap labor, so the need for automation was not there.
Fifty-plus years later, the need is here. Robots and automation will transform operations, making them more productive.
While the allure of technology can be intoxicating, industry experts caution robotics and automation are not a one-size-fits-all solution. The end goal of any foodservice operation will still be customer satisfaction. It's how a brand achieves that goal that will make the difference.
"You have to remember that this is a hospitality industry. Technology is another tool in the operator's toolbelt to improve the customer experience. It will become increasingly relied upon to generate long-term success," explains Hudson Riehle of the National Restaurant Association (NRA). "But it will play a supporting role in achieving the attributes important to consumers: food quality and service."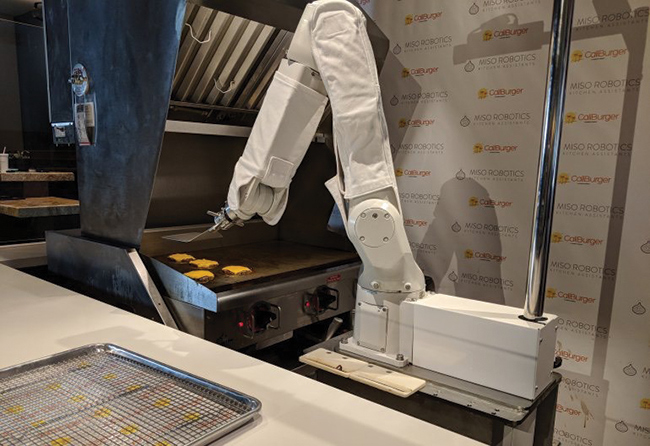 At CaliBurger, a robot flips burgers but staff assemble and serve. Image courtesy of CaliBurger
What the BOH Future Looks Like
The biggest demand for change will be in the kitchen, Martinez predicts. "Automation in the kitchen will continue to grow, impacted by how the minimum wage moves. As it continues to creep up, demand for automation and robotics will grow. Sort of a supply and demand situation."
Today, though, common back-of-the-house automation takes on a less futuristic appearance. For example, Wendy's uses double-sided grills that cook both sides of a hamburger patty at the same time. They moved to this equipment a few years back to enhance product consistency, Kennedy recalls. Now the chain uses this equipment more to address labor issues because the double-sided grills cook burgers faster than the previous units, thus making staff more productive.
Kitchen design will evolve to accommodate technology and human interaction. Even the most automated system still needs a human to perform certain tasks. The beauty is that robotics or automation can handle the most repetitive tasks in production, freeing staff to add the brand's proprietary touches.
One system on the drawing board that could have a profound impact on future kitchens is voice recognition technology based on the Alexa model. Chefs and staff can interact with equipment, such as Wi-Fi-enabled scales that speak the weight. With voice control, a chef can say "order more chicken" or, at delivery, "accept" instead of signing papers. The applications are almost endless.
Penny, Take This Tray to Table 4
A robot runner in the front of the house? She's already there. Penny is a robot that delivers food from the kitchen to the table. Thanks to RFID, she knows the floor plan. She will stop to avoid hitting people moving about. When she brings an order, the guest lifts the tray from her "hands," and she returns to the kitchen for another order.
Plans are underway to have Penny carry a bussing tub. She could reduce the need for waitstaff to spend time on delivery orders and disposing of dirty plates. Waitstaff would be free to focus on customer interaction — questions about the menu, for instance.
Many table-service operations arm staff with tablets when collecting orders from customers. This eliminates the need for the staff member to run back to the kitchen with a paper order or to a nearby POS terminal to enter the order. Instead, the kitchen receives the order as the customer places it.
In quick-service and fast-casual restaurants, convenience has been the driver of customer-facing technology like self-ordering kiosks. This technology reduces the need for cashiers, and many operators place these employees in more impactful roles in the restaurant.
At the same time, mobile ordering keeps growing in popularity, possibly eclipsing kiosks in years to come. While kiosk ordering is known to increase check averages, it can also slow service because customers don't know how to use them or can't make up their minds.
Facial recognition, the next wave in kiosk ordering, will address some of these delays. Sensors in the system will recognize the patron and say, "Hello, Sam. Would you like the same thing you ordered last time, or would you like something different?" When the transaction ends, the patron can "face pay" via a credit card linked to the person's account.
Convenience for the customer can also increase profitability. Martinez points to BJ's Restaurant and Brewhouse. The chain has a system that allows guests to place their orders before arriving at the restaurant. Once guests arrive on-site and staff seats them, the system releases the order to the kitchen. This not only saves time for the guests, but it also increases table turns, adding to the top line.
Delivery continues to become popular but brings with it two issues: uncertainty about where the order is and the condition of the order when it arrives. Having to call the restaurant to see when the order will be delivered reduces the convenience aspect of off-premise dining. Plus, the reality is that food eaten off premise is not always the same quality as that eaten in-house.
These two negatives will be addressed in the future as off-premise dining grows. Technology is already available that will track the progress of an order and report it to the customer. "There is a big area of opportunity around packaging for off-premise," Martinez points out.
While third-party companies such as UberEats and GrubHub continue to drive the expansion of delivery, the delivery vehicles continue to evolve, too. For example, one pizza concept has ovens in the back of its delivery vehicles that cook the pies as they travel to the customers' locations. Riehle envisions more mobile units with prep kitchens on board that can complete the production of any product on the way. This prevents food from being delivered soggy or cold.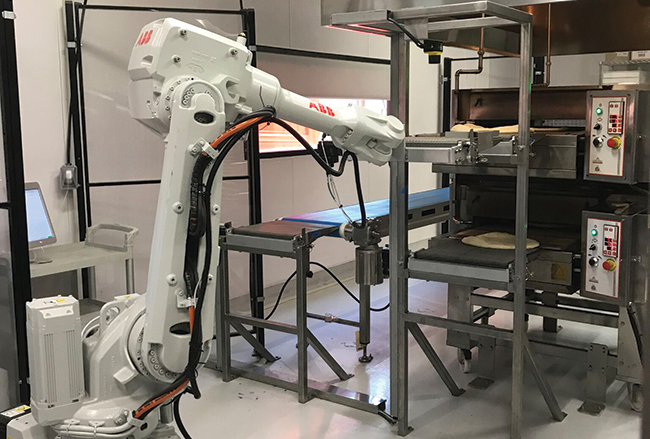 Zume Pizza's robotic system can produce 375 pizzas per hour. Image courtesy of Zume Pizza
Virtual Kitchens Seizing a Trend
Indeed, off-premise dining is becoming the new dining out for the foodservice industry. By 2023, off-premise dining will account for almost half of restaurant sales, according to projections from a study co-authored by CHD Expert and Monkey Media. In fact, off-premise sales will increase to $209 billion this year, per the study.
The trend is demand-driven. "From the customer perspective, there is nothing more convenient than having the restaurant come to them," Riehle says.
Riehle rightfully points out the business model and operating metrics differ greatly between traditional restaurants and those that rely heavily on delivery and other forms of off-premise consumers. Front-of-the-house costs can become almost nonexistent and kitchens can be more productive, focused only on delivery. There are no hosts, servers or bussers, which reduces some of the labor woes.
Several restaurant companies continue to cash in on the growth of off-premise dining by creating virtual or ghost kitchens. These facilities prepare food for delivery only. The virtual kitchens can expand a brick-and-mortar restaurant's delivery territory or can be the commissary for delivery-only brands.
Kitchen United in Pasadena, Calif., serves as a harbinger of the bright future for virtual kitchens. In addition to delivery, it supports food trucks. The company promotes itself as "culinary on demand." It handles everything — storage, preparation, orders, delivery — under one roof. It has parking spaces outside the facility for pickup by consumers or third-party delivery services.
Cloud Kitchens is another entry in the off-premise space. The company has a program called Launch a Kitchen that can provide the infrastructure and software for operators to open a delivery-only location. Their benefit is to reduce capital expenses and non-food operational costs.
How to Get to the Future
How should restaurant operators plan for the future? How should they strive to apply technology in their operations? Overall, experts caution operators not to use technology for novelty's sake but, rather, to use it in a way that supports the brand promise and makes the most sense for solving labor and operational issues.
Start with the brand, not the technology, advises Robb Depp, senior vice president and principal of FRCH Design Worldwide. "We ask: What is the overarching brand experience? What can we deliver to consumers that can resonate with that audience? We don't want to be so focused on the novelty of a particular technology offering that it disconnects or fragments the brand.
"I don't think the end game of every restaurant is to become a humanless, technology-driven experience," Depp adds. "It would feel too sterile. Companies have to think about where they want to exist in the mindset of consumers. We do know that consumers use restaurant brands and experiences in a different way — there certainly are those moments when you want to immerse yourself in the food and the place, and there are other times when it is more transactional, functional food just to power through the day."
It all comes down to the brand's promise. "Look at what you do to deliver the brand. Understand it in a lot of detail. Know what's driving your labor. It's really a profit-reengineering effort," Martinez says. "Look at the process to deliver the brand — delivery, prep, assembly, taking orders — and identify a set of solutions. It's like the old-fashioned time and motion studies. You can quantify potential savings with automation or technology. You just need a continuous-improvement mentality."
And develop a business case for adopting technology, Kennedy adds. "The future is an evolution more than anything. Technology is going to get better. People will have to learn how to handle it."
Indeed, while technology continues to drive change at an unprecedented rate, Riehle offers a poignant perspective: "In the end, technology must make the restaurant experience more convenient for the consumer."
One thing that won't change? Consumers' taste for delicious food. What will change "is how it is prepared, how it is ordered, how it is delivered," LeFranc predicts.
Four Progressive Operations Already Reaching into the Future
Robotics and automation promise to play a prominent role in the kitchen of the future. Some operations are already headed in that direction. Here's a quick look at four concepts using technology to enhance the customer experience.
CaliBurger. Flippy, the robot burger flipper, is "alive" and well at CaliBurger. Flippy provides consistency, food safety and speed. Staff assemble and serve the burgers, but the robot handles the patties on the grill. Flippy cleans the grill and spatulas. Staff are freed up to serve beverages and keep the dining room tidy.
CaliBurger has also introduced facial recognition at its self-ordering kiosks. Guests can face pay when they order. CEO John Miller wants to have 50 units by 2019.
Hamasushi. Hamasushi is a 400-unit conveyor sushi chain with locations in Japan and China. Pepper, a robot with a touch screen on its chest, greets guests. The robot determines how many people are in the party, whether they want to sit at the counter or at a table, and if they all want to sit together. A nearby printer produces a ticket that assigns the guests a table. Conveyor belts run by the seating areas with plates of sushi in easy reach of patrons.
Once seated, diners can order from a touch-screen menu. Music and a signal notify guests when their orders are on the way. Customers pick their food items off the belt and dine. When guests finish dining, waitstaff comes to count the plates, which is how guests are charged, and prints a check. Guests pay on the way out.
Spyce. Spyce is the brainchild of four MIT engineering students who made a prototype in their fraternity basement. In the restaurant, a line of robotic cylindrical woks mixes and cooks Thai, Lebanese, Indian and Moroccan salads and bowls.
Humans prep the ingredients in a commissary and fill containers that will deposit the food in the woks after customers enter orders at a kiosk. Then the automated system takes over. The system deposits ingredients for each order into a cylinder, which turns at an angle and rotates, mixing and cooking the dish. The order is put into a bowl. Humans then add any condiments, cover the bowl and label it.
Is the food good? Michelin-starred Chef Daniel Boulud not only invested in the concept, but he is also the culinary director. His former executive chef at Café Boulud, Sam Benson, is now the Spyce chef.
Zume Pizza. At Zume, robotic machines produce pizza for customers, who place orders online or via Zume's mobile app. Orders are only for delivery; there is no front of house. A robotic machine presses mounds of dough into crusts, which move across a conveyor belt. Two robots, Giorgio and Pepe, dispense the sauce. Next is Marta, the sauce-spreading robot.
A human steps in and adds cheese and toppings — in 22 seconds. Vincenzo, a robot, places the pizza onto a rack and lifts it into the conveyor oven, where it cooks at 800 degrees F. A human places a pizza in a self-cleaning slicer and places it in a uniquely designed box made from "sustainably farmed sugar cane fiber" that is recyclable and compostable. The box's design features sloped edges, keeping any liquid away from the pizza. The system can produce 375 pizzas an hour.
Zume has created a delivery truck that is fitted with 56 ovens. Pizzas to be delivered nearby are kept warm. For destinations more than 12 minutes away, a partially cooked pizza gets loaded into an oven and finishes while en route. Cooking is completed, and a human places each pizza in the slicer and into the delivery box.
Indeed, the influence tech companies have on Generation Z can't be understated. "There is this dynamic of immediate gratification powered by brands like Amazon," says Robb Depp, senior vice president and principal of FRCH Design Worldwide. Technology has made access to brands easier and more convenient. When Gen Z wants to purchase something, he says, "they order it, they get it, there is no delay and no confusion. That's the benchmark for how young consumers expect to interact with every brand."