Lowcountry was inspired by founder Pan Hompluem's yearly family trips down to the Gulf Coast as a child.
"My father would buy bags of crawfish, bags of shrimp, plop them down on a picnic table at a random park, and we'd just go to town eating seafood. That's one of my fondest memories, eating and bonding over seafood. I want my restaurant to mimic that."
This mimicking is unmistakable in Lowcountry's second restaurant, which opened earlier this year in Chicago.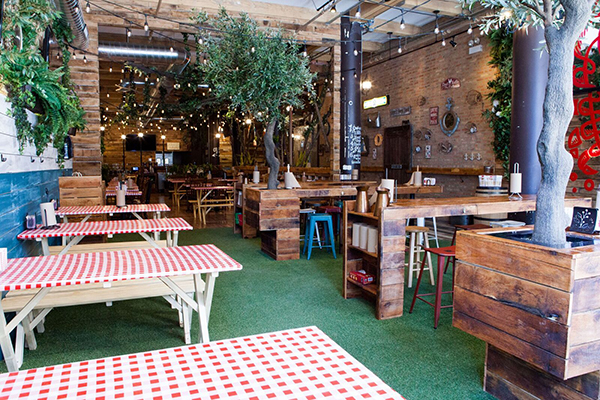 Lowcountry's inspiration can be seen most clearly in the restaurant's park-like zone, which features trees, artificial grass and picnic tables. "We used cedar for durability. The picnic tables in the artificial grass area are finished with polyurethane. That makes it waterproof, but it also looks wet, like it got rained on," Hompluem says. At these tables, guests are invited to tear open their bags of seafood and eat with their hands in a communal setting.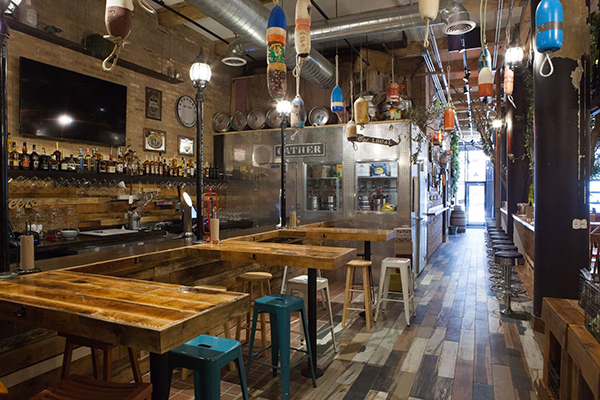 Bonding doesn't just take place at the picnic tables. It's for the bar area, too. Instead of placing stools directly facing the bar, Lowcountry has high-top tables for six built into the bar at a 90-degree angle.
"It increases seating capacity, but more importantly for me, sitting at the bar is usually not interactive. You can only talk to the person next to you. You can't talk to the person two or three seats down. These tables let people interact. I want people to mingle and hang out," Hompluem says.
While this is non-standard for bar seating, the setup is a hit. The bar tables are the most popular in the restaurant and it's not uncommon for groups of strangers to share a table and enjoy their food and drinks together.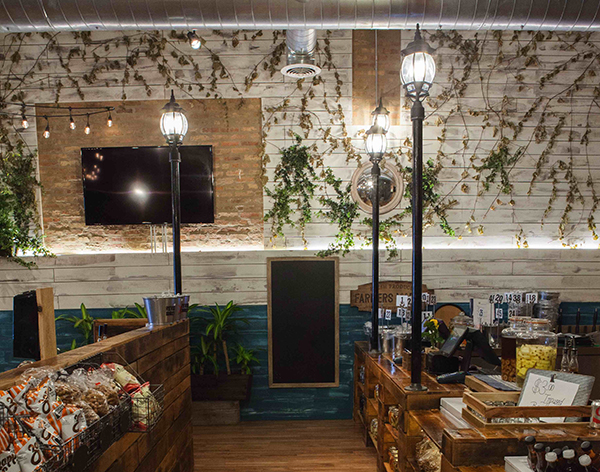 Other design elements make the outdoor seafood boil connection, though not quite as directly, as the park. The restaurant has been decorated throughout with plants, both real and artificial. Lighting includes outdoor string lights and miniature streetlights.
In addition, Lowcountry has several nautical elements. These include buoys hanging from the ceiling as well as a wooden wall painted blue and white. "The aging is intentional. It's like a crab shack on the beach, a little worn down," says Hompluem.
While the operation is made to feel like the outdoors, the design does its best to provide a real outdoor experience. A garage door allows Lowcountry to bring the fresh air inside during the city's warmer months — something Hompluem hasn't implemented with any regularity yet given the extended winter weather in Chicago — while a patio (permitted just weeks ago and not pictured) will let guests enjoy their meal outside in the open air.
One other feature of Lowcountry's design nods to the messiness of the food it serves: a hand sink in the front of the house. This piece, which sits near the filtered water station and condiment stations, embodies the relaxed nature of Lowcountry and the type of experience its guests can expect to have.
"The wash basin kind of sums up the concept. You can get your hands messy here. It's right there so you can wash up without going to the bathroom. It speaks to what the concept is and it's also functional," says Hompluem