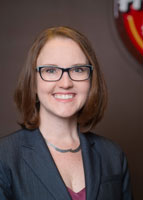 Christina Chambers, senior vice president of franchise development for Huddle House Huddle House is getting smaller but still growing. The Atlanta-based company is expanding both via company-owned and franchised stores while offering a smaller store footprint, making the brand more accessible to franchisees. In this Q&A, Christina Chambers, senior vice president of franchise development for Huddle House, talks about the smaller store design.
How much smaller is your new 2,000-square-foot store than was previously typical?
CC: The standard 85-seat Evolution design is 2,900 square feet. The new smaller design reduces the size by 800 square feet with the walk-in cooler and freezer on the inside, or 900 square feet smaller with the walk-in on the outside.
What is the goal with this?
CC: We had multiple goals in mind when creating this new smaller design and all revolve around decreasing investment cost while still maintaining the ability to drive high sales volume. The cost savings come from construction cost reduction per square foot, less land needed on which to build, and a smaller furniture package. In total, we estimate about $150,000 cost saving versus the larger footprint, not including real estate (land purchase) savings.
What did you eliminate, compress, or combine to get to a smaller space?
CC: We reduced seat count to 65 from 85 and shifted the building dimensions to more rectangular instead of square. The back of house and kitchen equipment line remains relatively the same size, which is necessary to maintain a high volume of food orders.
Conversely, what was it essential that you keep?
CC: The size of our grills, number of fryers, and food prep areas are essential to support sales volume. Many people don't realize that sales in a restaurant are not necessarily dependent upon the number of seats you have, but rather on the amount of food the kitchen can prepare at one time. It was also essential that we keep the same warm, inviting atmosphere and color palette that we introduced with the Evolution design.
How many of your new locations do you expect to have the smaller footprint?
CC: We're currently building 12-plus company-owned restaurants per year starting this year, and our plans call for 90 percent of those to be the smaller footprint. Certain markets may dictate the need for 85 seats. Many of our new franchise partners in the development phase now are choosing the smaller design, which is creating more options for conversion sites and land parcels in their markets.
What are the biggest challenges with downsizing?
CC: Any time you introduce change in store design, the biggest challenge is getting buy-in from the franchise system. In this case, the idea for the smaller design came from our franchise partners who have seen success in older restaurants with less seating, and they requested the option. We also included a committee of franchise partners in the design draft review process, so the change has been very well received.
What have you learned about Huddle House from this?
CC: We learned that sometimes bigger is not always better! The smaller design restaurant not only keeps the atmosphere friendly and cozy for guests but also allows for great service and a good work environment for the staff. The layout is such that the servers never have to pass behind the cooks. The efficient kitchen line supports speedy ticket times, and a heated pass-through keeps hot food hot while the remainder of a ticket is fulfilled.
You're also aggressively boosting your company-owned stores. Why is that?
CC: We have confidence in our brand and believe in having skin in the game and investing alongside franchise partners. We have owned a small number of company-operated restaurants through acquisitions, and now we're excited to start building new restaurants for the first time. This allows us to fill in market gaps where we don't have a presence that are far enough from existing restaurants to avoid encroachment, and where we don't have franchise partners who are expanding. We are still very focused on franchising and see this is a complementary growth track for the brand.
What are the advantages of company-owned stores vs. franchised?
CC: A big advantage to having company-owned restaurants is the ability to test new products, equipment and processes before we roll them out to the rest of the system. We can prove the case first. Expanding the footprint of company-owned restaurants also allows us to add more certified training restaurants to support franchise partners joining the system.