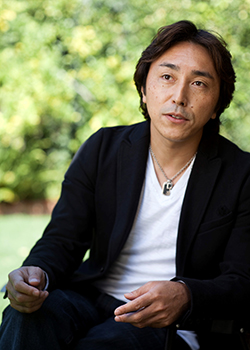 With rapid expansion, he now has 31 locations, 29 of which are franchised, and plans to grow to 100 units by the end of 2020 and 250 by 2023.
Takahashi talks about his growth and the design of his distinctly Japanese-style restaurants.
What led to you setting up JINYA Ramen Bar?
TT: It was my dream to bring authentic Japanese cuisine to the United States, and I made countless visits to Los Angeles looking for the perfect place and time to open JINYA Ramen Bar. When I opened the first location in 2010, ramen was a promising, untapped market in Southern California but had the unlucky reputation of being synonymous with "cheap" and "instant." I wanted to change this reputation to "cool" and "hip." I saw potential for a gourmet ramen craze to sweep the country, since Americans already loved soup and noodle dishes.
JINYA's Los Angeles location
Why did you open the first in Studio City?
TT: Because it was surrounded by sushi restaurants, so people in the area had a basic understanding of Japanese cuisine; however, there was no ramen restaurant on the street, so it was a promising opportunity. At the time, the only other ramen restaurants were in Asian neighborhoods and targeted the Asian demographic. By opening JINYA Ramen Bar in Studio City, I aimed to make ramen accessible to everyone.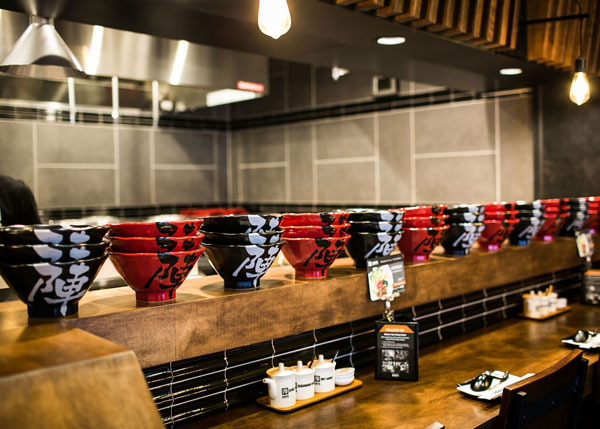 Can you describe your expansion from there?
TT: I first expanded locally, opening a second location in Los Angeles. I wanted to establish JINYA Ramen Bar on the West Coast before moving east, so I opened in Vancouver, followed by Bellevue, Wash., and then Las Vegas. In recent years, the Houston area has become one of our largest markets, with a sixth location opening in 2019. Now [that] we've established JINYA in major cities we're looking to expand to suburbs of those major metropolitan areas. For example, in 2019, we'll open in Alpharetta (outside Atlanta); Summerlin (outside Las Vegas); Reston (outside D.C.); and Cypress (outside Houston), among others.
What have been some of the challenges you have faced in your development?
TT: There is a lot of red tape. In Japan, surprisingly, much of business is handshake agreements. Here in America, attention to detail in our agreements is paramount, and we review and revise them numerous times to ensure parties are on the same page. Furthermore, construction, city permits, and liquor licenses take so long. In Japan, it takes 45 days to open restaurants from start to finish.
The main two differences between the American and Japanese processes are:
Construction speed: Construction that takes four months in America would only take 40 days in Japan. Also, when an American construction team says there will be a delay, that often means one or two months; in Japan, a delay of even one or two days is considered a big deal.
City permit and inspection: Japan does not have a city permit system, and the health inspection is far less in-depth.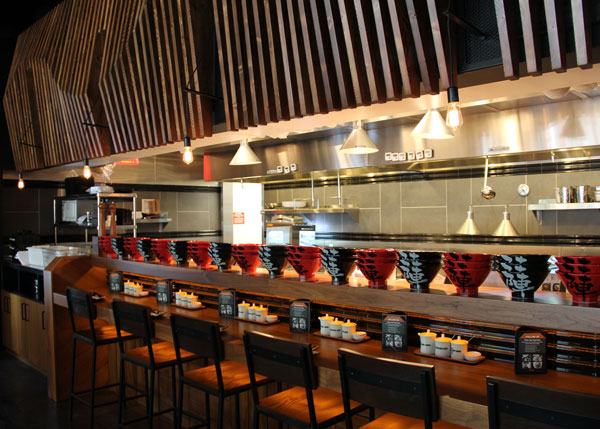 Tell me about the design of your restaurants.
TT: The name JINYA is a reference to the urban and rural estates of samurais — a place for all levels of society to mingle. When designing our dining rooms and patios, this notion of a communal meeting spot continued to drive the overall concept.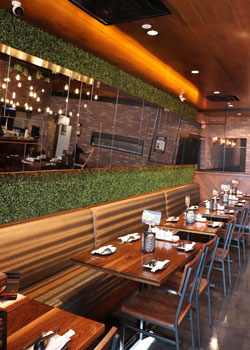 What is the same about each location's design and why are those elements important to keep?
TT: All locations have the same neutral color palette with dark grays, blacks and brown hues. Consistent design elements include natural materials like wood, brick walls, dim lighting and mirrors. The resulting look merges traditional Japanese style — reminiscent of Tokyo's dimly lit izakayas — with edgy, hip, and modern sensibilities.
We recently hired a graffiti artist to design geisha art to decorate the walls. Geishas stayed in jinyas, so it's a reference to that. We also build all our furniture, besides chairs, from scratch, and every table has a "JIN" logo engraved in the corner.
Our wraparound bars are at the heart of each restaurant to help cultivate a lively social atmosphere. We put long, communal tables in the middle of the restaurant. If there's a patio, which most locations have, there's always a fireplace to add warmth and coziness. We also incorporate mirrors to make the spaces feel more intimate.