Dunkin' Donuts unveiled a new 2,200-square-foot concept store in Quincy, Mass. The unit features a new double drive-thru with a dedicated mobile order pickup lane for loyalty card holders who order ahead via the chain's app.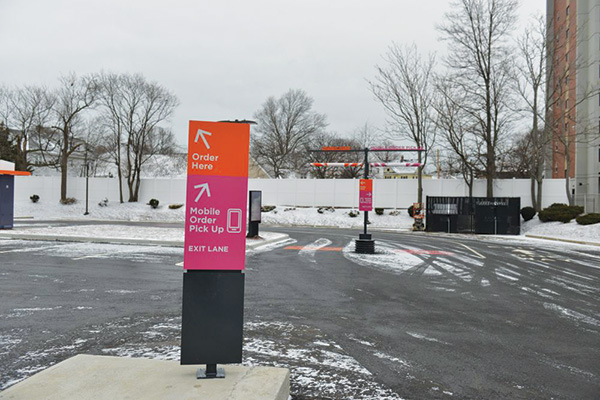 Dunkin' Donuts expects that more than 75 percent of new restaurants moving forward will have a drive-thru, per a release. On average, a restaurant with a drive-thru boasts 40 percent higher sales volume than those without.
It is also testing signage that refers to the chain simply as Dunkin', dropping "Donuts" from the name.
Updated design elements include a modernization of the brand's look with lighter interior colors, an open layout floor plan and more natural light via large windows. An expanded grab-and-go unit features better-for-you options like fruit, yogurt and protein-focused snacks. Technology plays a big role as well. Guests can order via kiosks or from a staff member, and there is a dedicated pickup spot for mobile orders. Guests can also track the status of their orders placed for pickup via a new digital order status board.
In the back of the house, a cold- beverage tap system serves eight cold beverages, including nitro-infused cold-brew coffee. Staff members are also getting new uniforms and headwear as part of the brand evolution.
The Quincy store was built following Dunkin' Donuts' internal DD Green Achievement standards, which are designed to save 25 percent more energy than standard units. The chain plans to roll out 30 or more new units or remodels in 2018 that will test variations on the new design. Dunkin' Donuts' final new store design is expected to be unveiled once testing is complete. Sister brand Baskin-Robbins is expected to unveil a new look in late 2018.
Dunkin' Donuts has more than 12,400 restaurants in 46 countries worldwide.
Images courtesy of Dunkin' Donuts.