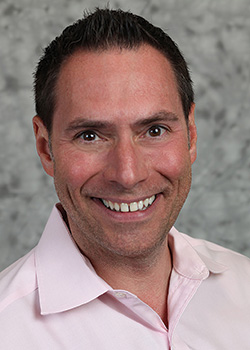 What's a typical day look like for you?
CB: A typical day for me primarily is working to sell franchises for Dunkin' Donuts and Baskin-Robbins in the nontraditional space. Those include airports, casinos, higher education, colleges and universities, hospitals, hotels, mass merchandise stores, mass transit stations, military, museums, arenas, stadiums, supermarkets, theme parks and truck stops.
What are Dunkin's nontraditional goals?
CB: We want to place our brands where our customers work, play, learn and make memories, and those tend to be nontraditional locations.
We have more than 800 nontraditional locations currently, and the pipeline is very strong. Airports are one of our strongest segments; mass merchandise is also one of our strongest segments. Lodging is starting to grow more, and we're also seeing good growth in the hospital/medical area.
As a pure franchise organization, our first priority is to try to find a space where we can utilize our local franchisee. For example, we have a master development agreement with Walmart stores, and in those cases, we control the space and we put our local franchisee in the space. That's always our preference, whether it's Walmart or a supermarket or a college campus. There are instances where that might not be possible. There may be a college campus that has an exclusive foodservice arrangement with a company like Aramark. In those cases, it may not be possible to sublease a space to our local franchisee, so the commercial foodservice companies become our franchisees.
And there are also what we call self-operated opportunities. We do business with a large number of the travel center companies, like Pilot and Flying J, and in those cases, they're not really a commercial foodservice company, but they self-operate the Dunkin' Donuts in their facility. In those cases, the travel center company becomes our franchisee.
What steps do you take to assess proposed locations?
CB: We look at different things depending on the venue. In airports, we look for passenger counts, and in hotels, we look at average number of rooms and number of rooms per guest. At colleges and universities, we look at enrollment and employee numbers. In hospitals, we look at beds and outpatient numbers. One of the things that's great about Dunkin' is that we can scale the concept from self-serve coffee in a linear fashion with a self-serve bakery case to a cart to a kiosk to an in-line space to a full endcap at a travel center with a drive-thru. We have a broad portfolio of concepts, and we can scale the menu to the venue.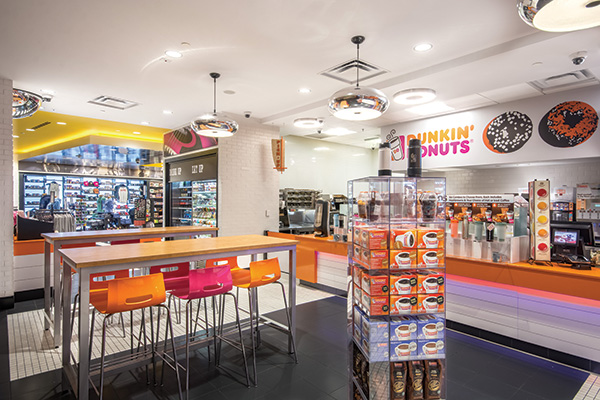 Dunkin Donuts recently opened a unit inside the Hard Rock Hotel & Casino Las Vegas. Photos courtesy of Dunkin' BrandsIf somebody comes to me and says, "I've got 350 square feet over here," I know exactly what I can get in that space just by flipping through the portfolio of concepts we have. And that makes us very usable compared to some concepts that don't have the ability to flex. We always prefer to offer our full menu if we can, and if we can't, then we analyze if we want to be in the venue with a Dunkin' Donuts Express concept. And then we ask if it's the right thing to do for the life cycle of the brand in that area.
If it's the first Dunkin' in a major region, we might not go with a limited menu. For example, as we entered California, we brought full menu restaurants for street level, but then as the brand gets more established in a market and the customer knows exactly what they can expect from Dunkin', we can then be flexible about what we bring.
How do you adapt your plans to the nontraditional space?
CB: You want to maintain your brand standards to the extent you can. However, in some instances, there may be some existing design requirements. In the nontraditional world, you're really operating in someone else's house. So that landlord or host environment may have a design scheme that you have to work with. That is very common in airports. Washington/Reagan airport, for example, is very strict on what colors you can use and what the sign has to look like.
The biggest challenges come in high-security environments. So, military bases can be a challenge; airports can be a challenge if your space is post-security. From a construction perspective, there are restrictions on getting tools into areas, and you may have to work overnight.
The Hard Rock Hotel & Casino Las Vegas features a traditional design with some nods to the hotel's design.Getting a daily delivery of fresh bakery products to highly secured places requires preregistration of truck drivers and those kinds of things. It's not a secret that we have a couple of Dunkin' Donuts that are in the Pentagon. It's a challenge to get employees screened to work there. Those high-security protected locations are some of the most challenging for us.
How does the back of the house change in nontraditional locations?
CB: With our concept, our back of house can be remote from the front of house. If we have a 300-square-foot kiosk in the lobby of an office building, we may have our storage, freezer and baking space in the basement. On the other hand, in a self-operating location, like a travel center or truck stop, they already have a kitchen; they already have walk-in coolers and freezers and dry storage. We don't have to duplicate warewashing or triple sinks for pot washing, so there can be economies of scale by utilizing existing facilities that you don't have to duplicate or build.
Credibility is very important in nontraditional development in that you have to maintain the brand standards because these types of locations have the opportunity to introduce your concept to new customers. You might have the opportunity to draw back a light or lapsed user, and it's very important to me that the locations are credible, meet the brand standards and speak the brand standards to the customer in these venues.