With the trend to bring local flavor to airports in full swing, Tinsley Family Concessions recently debuted Bourbon Academy Tasting Room at Louisville International Airport in Kentucky.
Located on the second floor of the main rotunda of the airport, the space previously housed a private club and smoking area where no food was prepared. It was hard to find and lacked appropriate signage.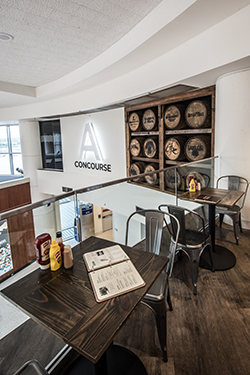 "We completely gutted the space and created a new, larger bar as well as a kitchen," says Lisa Kennedy, director of design and construction for Wisconsin's Manna, Inc., who provided design and construction services. A kiosk was added to the first floor to highlight the new menu and food offerings and to draw attention to the new restaurant. Seating has been extended to the edge of a glass rail that overlooks the rotunda.
"The inspiration behind the concept was to not only serve bourbon to patrons but to educate visitors about bourbon and the heritage of Kentucky," says Kennedy. The entrance area features a bourbon education wall where guests can read articles and see artifacts collected from Kentucky distilleries.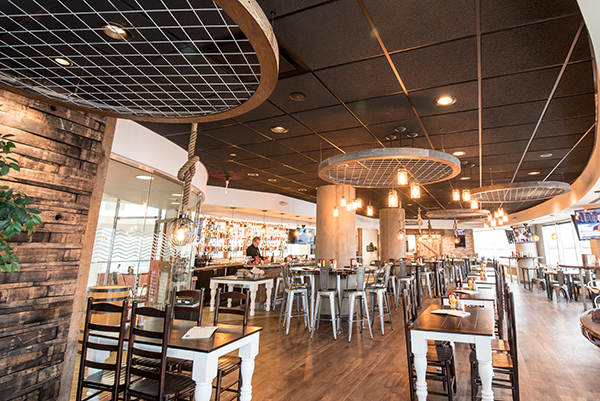 The new 2,585-square-foot space seats 95. A variety of seating options provides visual interest with two-tops, four-tops, bar-height tables and eight seats at the bar itself.
"The star of the space is really the bourbon," says Kennedy. "When you're approaching the space, the bourbon is lit up inside a cage-like scene. It becomes the feature of the space."
Other key design elements include a barn door closure to the kitchen and, most notably, a woven bourbon stave wall. The wall — made of wood pieces from actual bourbon barrels — provides the authentic aroma of bourbon and drives the concept's theme home.
Project Team
Owner: Tinsley Family Concessions
Architect/Interior Designer/Construction Management: Manna, Inc. Design Group
Principal Architect/Interior Designer: Lisa L. Kennedy, FAIA
Mechanical and Plumbing Engineering: IBC Engineering, Waukesha, WI
Electrical Engineering: Kidwell Engineers, Louisville, KY
General Contractor: Harmon Construction, North Vernon, IN
Specialty Contractor: MLE, Inc., Chicago, IL
Equipment Supplier: S&G Distributing, Columbus, OH
Lighting Supplier: Luminosity, Milwaukee, WI
Custom Tabletops: US Millwork, Louisville, KY
Photo Murals: Doug Prather Fine Art Photography, Lexington, KY
This article has been updated from the print version.
Photos courtesy of Jolea Brown – Creative Photography LLC