Biscuit Love, Biscuits & Groovy, Biskit Junkie, Biscuitville, Biscuit Bitch (yes, three units, in Seattle), Biscuit Head, Serious Biscuit — who would have thought that the humble southern staple could spur a wave of hip restaurant concepts?
Traditional southern takes on biscuits provide a solid foundation on which to build a biscuit movement. But from there, operators from coast to coast and north to south are embracing biscuits as a blank slate for creating all manner of hot concepts and menu items. They're striking a chord with the authenticity-obsessed Millennial crowd as much as with older consumers for whom fresh-baked biscuits may evoke fond memories of Grandma's kitchen.
After all, who doesn't love warm, buttery, flaky, comforting biscuits? They're the sort of handcrafted, old-fashioned comfort food that's ripe for rediscovery and reinterpretation. Here's a look at how three concepts — from chains with roots in the South to Millennial entrepreneurs in the Pacific Northwest — are introducing a whole new generation to the beauty of biscuits.
Holler & Dash Biscuit House
HQ: Lebanon, Tenn.
Parent company: Cracker Barrel Old Country Store, Inc.
Units: four open, two under construction
Hours: 7 a.m.-2 p.m. daily
Average unit size: 2,000-2,500 square feet
Average check: $10.50-$11.50, including beverages
Best seller: Kickback Chicken biscuit sandwich with fried chicken, goat cheese, scallions, sweet-and-spicy
pepper jelly
Holler & Dash is a unique fast-casual concept built around biscuit sandwiches and offering a modern twist on Southern hospitality. Photo by Erika ChambersFamily-style chain Cracker Barrel Old Country Store has a sassy new fast-casual sibling. Holler & Dash Biscuit House, which made its debut just over a year ago, is the result of nearly two years of R&D, concept development and outside-the-barrel thinking. A confluence of trends led the Cracker Barrel team to zero in on biscuits as the crux of the new brand.
"Southern cooking is still hot, and the breakfast/brunch/lunch opportunity continues to grow. Even the fast-food guys have jumped in with breakfast all day," says Mike Chissler, COO at Holler & Dash. "We also looked at growing demand for good, quality food and premium, sustainable ingredients from local sources as driving trends. And, of course, biscuits. Nothing says the South like biscuits. They're popular everywhere but such a tradition here. We looked at who was doing what and found that most of those focusing on biscuits were small entrepreneurs with a lot of passion and maybe a store or two. We saw a great opportunity with all these trends converging to create a high-quality, unique fast-casual concept around biscuit sandwiches and a modern twist on Southern hospitality."
The decision was made early on to build the brand from the ground up rather than simply spin off a fast-casual counterpart to Cracker Barrel. To date, four units have been developed: in Homewood and Tuscaloosa, Ala.; Celebration, Fla.; and Brentwood, Tenn. Two more will open this summer, and the company is eyeing additional markets for expansion.
The intent, however, is never to feel like a big chain or corporate entity. "Local" is a key part of the Holler & Dash zeitgeist, from its ingredient sourcing to its restaurant designs.
On the design side, that means each location is unique. A few consistent branding elements appear — like an Instagrammable feature wall — but with variations on the theme geared to the local market. Local craftspeople and artisans create graphics, accessories and furnishings. Lighting, flooring, wall treatments and seating configurations are unique to each restaurant as well.
Current units range from 1,900 to 3,300 square feet and are in varied markets for test purposes. Two are in renovated spaces in downtown historic buildings, while two are new-build endcap units. Chissler notes that going forward, the concept will be looking for locations in the 2,000- to 2,500-square-foot range.
All of the units feature open kitchens that comprise roughly one-third of the total footprint. "We believe the kitchen is the heart of it all, so we've pulled that forward and opened it up," Chissler says. "From the rounded counter, you can look back in and see fresh biscuits being made, coffee being made, sandwiches being assembled. It's designed to show off the food."
Holler & Dash takes a chef-driven approach to menu development and ingredient sourcing. The initial menu was created in collaboration with noted Nashville chef Jason McConnell. Starting with the biscuits, he helped to refine recipes and create the concept's signature multilayered flavor profiles. Items like the Kickback Chicken sandwich, which pairs fried chicken with creamy goat cheese, scallions and spicy-sweet pepper jelly on a fresh biscuit, highlight McConnell's approach to creating craveable combinations. Other popular selections include the Pork Rambler, with fried pork tenderloin, blackberry butter and onion straws, and the Hollerback Club, with bacon, guacamole, fried green tomatoes and Hollerback sauce.
Brandon Frohne serves as director of culinary. Along with McConnell, he has further refined the menu and put a strong focus on sourcing premium local and regional products.
"Jason and Brandon are committed to making sure we have the best products and that we source from local and regional partners who share our culture," Chissler says. "Having them on board has helped us leverage local supply chains and also gives us credibility within the marketplace that there is a strong culinary program behind this brand."
Pine State Biscuits
HQ: Portland, Ore.
Ownership: Kevin Atchley, Walt Alexander, Brian Snyder
Units: three, plus farmers market stand
Hours: 7 a.m.-3 p.m. daily
Unit size: 600-1,000 square feet
Average check: $12-$15 with no alcohol; $18-$21 with alcohol
Best seller: the Reggie biscuit sandwich with fried chicken, bacon, cheese, gravy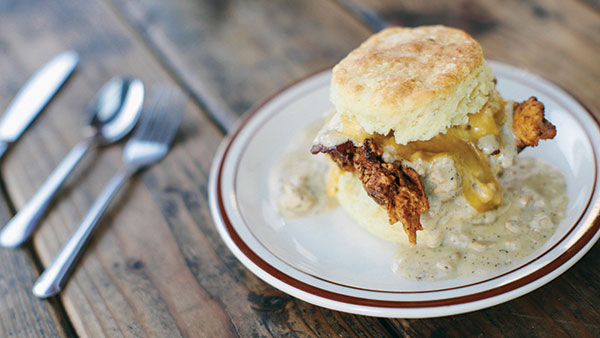 Signature biscuit sandwiches such as the Reggie make up the core of Pine State Biscuits' menu. Photo by Jen LorentzenLaunched in 2006 as a farmers market stand, Pine State Biscuits has become a Portland favorite and grand dame of the biscuit-house phenomenon in the Pacific Northwest. The brainchild of three North Carolina transplants, Pine Street has grown to three brick-and-mortar locations in addition to its original farmers market presence. A fourth restaurant is expected to open later this year.
Kevin Atchley, who started the company with college friends Walt Alexander and Brian Snyder, says the concept is based on traditional rural Southern biscuit kitchens that the trio frequented as kids. "Many of them operated 24 hours a day, and they were always swarming with people. The biscuits were handmade, fresh and hot," he says. "We took that basic theme and updated it with what we felt would suit the urban Portland market. We focused on using the types of ingredients and flavors that we prefer to eat and on sourcing relatively healthy, natural local products. I might be run out of town in North Carolina for this, but we dismissed the idea of using lard or shortening for our biscuits, preferring organic, full-fat dairy instead."
The Portland market has welcomed the concept with open arms. All locations have lines out the door and around the block during peak periods. On any busy Saturday, each venue — the smallest of which is 600 square feet, the largest 1,000 square feet — bakes an average of 700 to 800 biscuits. Biscuits are baked fresh throughout the day in open kitchens designed to let guests watch the action and savor the aromas.
At the core of Pine State's menu is a variety of signature biscuit sandwiches. Best sellers include the McIsley, with fried chicken, pickles, mustard and local honey; the Regina, with an over-easy egg, braised greens and hot sauce; and the Reggie, with fried chicken, bacon, cheese and gravy. Purists can go plain or build their own, and the restaurants offer biscuits by the dozen or half-dozen to go.
Among the non-biscuit menu, top sellers range from blueberry cornmeal pancakes and house-made andouille corn dogs to Southern-style shrimp and grits. A small but diverse menu of signature craft cocktails and sodas is offered as are coffees from Portland's Stumptown Coffee Roasters and small-batch guest roasters.
"Thematically, we're biscuit sandwiches and Southern staples done in a creative, inventive and of-the-times way," Atchley says. "We're doing things our own way, but we're very respectful of the heritage and traditions that make biscuits so cool."
Atchley describes Pine State's core demographic as active indulgers. "We're in urban environments where you expect people are going to be out walking, riding their bikes. We have big bike racks, and our seating is split roughly fifty-fifty inside/outside," he says.
The restaurants are designed to convey authenticity and exude Southern hospitality. All are located in rehabbed buildings with historic character, and the brand's look and feel is created through an eclectic blend of wood, metal, handcrafted furnishings, metal tractor seats, funky lighting and vintage accessories. Large chalkboard menus hang above the counters, and service style is fast casual.
"We're big on providing gracious, friendly Southern hospitality in a casual, very transparent environment," Atchley notes. "We have a fine-dining take on food and ingredients, but our restaurants are laid-back and comfortable — like a good biscuit house should be."
Bojangles' Famous Chicken 'n Biscuits
HQ: Charlotte, N.C.
Ownership: Public
2016 revenue: $1.2 billion-plus
Total units: 715 as of Dec. 2016 (308 company owned, 407 franchised)
New prototype units: one open, two in development
Average unit size: 70 seats inside; 3,900 square feet
Average unit volume: $1.8 million
Best seller: More than 80 percent of transactions include a biscuit
Bojangles' new prototype features a variety of seating styles, free Wi-Fi, high-top tables and device charging stations throughout. Photo courtesy of Bojangles'At first shake, Bojangles' might not seem trendy. After all, the 40-year-old chain has been doing biscuits since long before biscuits were on trend. But recent moves made by the legacy brand to shine a brighter spotlight on biscuits and to reimagine its prototype suggest it is ready to leverage its position in new ways and compete for the favors of a younger generation.
Debuted in Greenville, S.C., in January 2017, the chain's new prototype is billed as the Bojangles' of the Future. Its signature feature: a glass-walled "biscuit theater" designed in cooperation with San Francisco-based restaurant branding and design firm Tesser.
"Biscuits are a huge deal at Bojangles'. We're proud of our 48-step biscuit-making process and the fact that our fresh biscuits are baked on-site throughout the day," says Randy Icard, vice president of construction and development. "Every restaurant has a certified master biscuit maker, and more than 80 percent of customer transactions include a biscuit. The new biscuit theater design puts our biscuit making front and center."
Fried chicken shares the stage at Bojangles', of course, along with other proteins such as country ham, sausage and fried steak, but the new prototype ensures that biscuits get top billing. Graphics and imagery throughout convey that biscuits are made from scratch every 20 minutes. The biscuit theater and publicity around the chain's certified master biscuit makers, who compete each year in a National Biscuit Maker Challenge, further underscore how big biscuits are for the chain.
The new prototype is also central to Bojangles' growth strategy. It celebrates biscuits but does so in ways designed to engage a younger demographic. In addition to the biscuit theater, Bojangles' includes a variety of seating styles, free Wi-Fi, high-top tables and device charging stations throughout. Interiors are contemporary, with brick, tile, wood-look flooring, industrial-style lighting and exposed ductwork. The exterior design was updated as well and features brick, steel canopies, soft lighting and planters.
"With younger generations becoming a bigger part of our following, and as we have a growing digital presence that engages Millennial audiences, we thought it was important for our new prototype to appeal to younger consumers," Icard says. "We feel like we've created a unique design that is contemporary but that also honors who we are as an iconic Southern brand."
In addition to the Greenville unit, Bojangles' has new prototype units under construction in Charlotte, N.C., and Greer, S.C. The new kitchen design is already being implemented in the company's existing prototype, and the full new design will be tested and tweaked in several new units before the chain fully transitions to it.
While consumers in the brand's core markets already know and love it, Icard adds that the new prototype will help to introduce Bojangles' to customers in new markets. The company has achieved a 7 to 8 percent unit growth rate for the past several years and expects to maintain that pace, targeting existing markets as well as expanding further into the Midwest and northern mid-Atlantic.
"In our core markets, everyone knows we make biscuits from scratch throughout the day, but as we go into new areas, it's important for our guests to be able to see that," Icard says. "Southerners love great biscuits, but we find that people everywhere love great food, and there's just nothing like a scratch-made biscuit. We're very proud of ours, and this prototype gives us an opportunity to feature that no matter where we go."