How Flexible-Format Models Recreate the Dining Experience
When executives at Austin-based Mama Fu's Asian House decided to change their service model, they knew big alterations to their existing store design would be required. As an operator in the Asian fast-casual category, their goal to create a flexible-format service concept required a complete overhaul of almost every aspect of their in-store dining experience.
"We actually stopped construction during one of our build-outs in Austin and literally re-drew our plans because we knew we were on the precipice of doing something bigger," says Cody Armand, director of operations with Mama Fu's.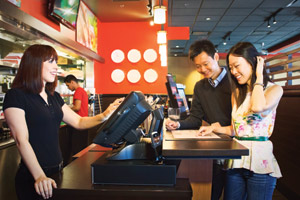 Since then, the company has designed and built each new location in its 12-unit system to reflect what the company has trademarked as a flex-casual service model: offering counter service during the lunch daypart and providing full service to guests during evening hours.
Even though the first flexible-format concept arguably dates back to the Cosi/Xando partnership launched in 1999, the notion of splitting service models by daypart is a relatively new phenomenon for fast-casual operators looking for innovative ways to better serve guests and boost revenues.
Flex-Format Design/Ops Elements Mama Fu's Asian House
POS moved closer to the front door and runs parallel to interior walls
POS counter makes a 90-degree turn, leading diners to the cashier at lunch and a host during dinner
POS line cycles into the beverage station
Lights dimmed for dinner daypart to reflect evening mood
Silverware on tables for both lunch and dinner service
Digital menu boards communicate different brand messaging at lunch and dinner
Lunch staff offers refills, and tables are pre-bussed for both lunch and dinner
Executives hire and train managers with full-service restaurant experience
Sales now split 36 percent/64 percent between lunch and dinner, respectively
Check averages $4 higher at dinner due to upsell opportunities and easy add-ons
"We're getting more questions about it from clients and potential clients," says Dennis Lombardi of Dublin, Ohio-based WD Partners. "Generally speaking, when a concept is limited service and wants to flip to full service in the evening, the design issues are not as challenging as when a casual-dining chain wants to go to limited service. This is because the customer flow doesn't have to change much."
While casual-dining chains such as Denny's and Mimi's Cafe have investigated offering limited service during the day, many have hesitated to take a system-wide approach. So far, implementing a flexible-format service style has worked best for smaller fast-casual chains such as Mama Fu's and independent operators such as NYC-based Despaña, and San Francisco-based The Plant.
"Fast casual has always been a very strong performer at lunchtime because full service struggles to compete on speed of service and even price. But very few fast casuals have succeeded at having a large dinner daypart," says Darren Tristano, executive vice president at Technomic, a Chicago-based foodservice market research firm. "The best examples of fast-casual success in this area might be in a neighborhood-oriented location in either a city or a suburb."
For restaurant operators looking to take a flexible approach to their service model, there are three key elements to consider: restaurant flow, staffing and consumer education. Here's a look at each one.
Restaurant Flow
Once the executive team at Mama Fu's knew they wanted to change the chain's service model, they started on the creation of a queue line and point-of-sale counter that could transition from limited to full service. Design elements now include a POS counter that runs parallel to interior walls and transforms into a host stand during evening hours. "We dual-purposed our counter, allowing our greeter to also be our lead cashier," Armand says. "At 4 p.m., that same cashier takes a position near the door and starts greeting people so customers don't feel like they're walking in and wondering what to do."
The POS line runs the length of the building and cycles into a beverage station that flows into the dining room. Meanwhile, colored flooring drives an intuitive pathway to the counter, drawing customers to the cashier during lunch and the host stand at dinner.
While changes to the Mama Fu's restaurants were drastic in measure, realistically taking such up-front steps won't work for every concept. For starters, fast-casual brands looking to add a flexible service model must first evaluate if it's strategically the right thing to do. And if so, experts recommend using a test store that incorporates a small amount of design changes to see what works.
"Operators need to make sure they have a trade area and a concept where this is going to make sense and pay off," Lombardi says. "If it doesn't, you find you've spent money to remodel the restaurant only to have it not work. Make sure it works before you adapt a new program."
Staffing
Having properly trained staff in any restaurant-operating environment can be a challenge. Add the element of a flexible service model, and the tasks of employee hiring and training become mission critical.
At San Francisco's The Plant, a six-unit organic café chain, owners run both a casual café and a full-service restaurant. A covered outdoor underpass with doors leading into each dining area separates the kitchen and café from the full-service restaurant and bar at their Pier 3 location.
The Plant co-founder Matthew Guelke says the restaurant team uses junior managers to run the limited-service side of the business while the chain's more senior managers run the operation's full-service component. "Staffing was easily the biggest challenge, and staff training," he notes. "When you have a fast-casual concept, staff is behind a counter, and they are all accountable to one manager. With full service, a lot more can go wrong, and customers have a lot of different expectations. Good managers are key."
Then there is the issue of communal tables.
For the owners of Despaña, a Spanish foods retailer and operator of Despaña Tapas Café in New York City's SoHo neighborhood, training for both shifts includes teaching cashiers how to seat parties coming in for full-service dinner in addition to waiting on multiple parties at the same table. The company uses its limited-service location in SoHo to train employees for the launch of its second location in Princeton, N.J., which will feature a flexible service model and communal tables.
"Labor does get higher because of the additional front-of-house service. If there are food runners and waitstaff, the reality is it's going to cost you more," notes Juan Martinez, founder of hospitality design consultancy Profitality.
Consumer Education
Despaña (Princeton, N.J., location)
Café on first level; full-service restaurant upstairs
Storage and prep area in basement
Industrial two-story space features open kitchen separated from dining room with glass partition
Café features takeout counter, retail component
Two tables on first level can go up or down in height for different service needs
Railing around the stairway, large ceiling fan, two-story red accent wall and a metal mesh used to make a visual connection between floors
Second-level balcony seating overlooks interior space
Having a well-educated staff and customer flow are important elements when launching a flexible-format service model. They work together to create the right kind of environment for guests, and each one plays an important role in customer education; but to make it work, customers need to know what they're walking into and which type of service they are about to receive.
"When you have a limited-service concept trying to add table service or full service in the evening, design-wise you have to find a way to communicate to the consumer what service is in play at various moments," Lombardi says. "At lunchtime, that could be a pathway that enables the customer to walk up and order, but when that comes to be full service . . . you want to guide customers to a table where there would be a menu they can order from."
One thing operators can do is use a host stand to block the pathway or remove the focus from the traditional counter menu board used during the day. In the case of Mama Fu's, each restaurant uses digital menu boards that transition from day to evening service.
"Every digital piece wraps up into what we call our digital DNA," Armand says. "We turn the digital menu board into our décor and messaging at night. Some of the other pieces we still use, such as table tents, but digital is what we feel is the future of communication to our guests."
Digital menu board displays during the lunch daypart are more frequent and highlight lunch specials along with a menu. During the dinner daypart, the digital boards feature pieces on Asian travel and architecture.
Meanwhile, in locations that open in new markets, Mama Fu's executives still rely on their employees to help customers navigate the changing service models. "One of the things we wanted to avoid was a full-service guest getting to the counter. That was one of our biggest fears in the beginning because by the time they get to the counter they don't understand why they have to sit down," Armand says. "In remote markets, questions still get asked, but the way we designed the building, there is usually someone there to service them."
At The Plant, Guelke and his team rely on separate entrances for each aspect of the restaurant's service model. "You go in one door for one thing and another door for another thing. It's really that simple," he says.
Tied to the component of consumer education is daypart marketing, with restaurant interior design providing operators with a way to swiftly and easily differentiate between service models.
At Despaña's new Princeton location, floors separate counter-service and full-service operations, with the lower level offering café-style seating and counter service and the upper level providing full service. The restaurant makes use of transitional tables downstairs to give full-service diners with special needs a place to sit on the lower level and answers the need for Americans with Disabilities Act compliance.
"The tables downstairs work like machines. They have a large screw element that allows them to adjust in height. During the day they will be high for people who want to stand while they eat, and for dinnertime, the tables will be lowered for dining," says Josh Zinder, principal of Princeton, N.J.-based architecture and design firm JZA&D.
The industrial-style space also includes a large metal railing wrapped around the stairs, a large fan on the ceiling and a red accent wall that runs the length of the two floors. The idea, Zinder says, is to use architectural elements that draw diners' eyes upward to the second-floor seating area. An open kitchen on the first level and two service counters — one for the café and one for the full-service restaurant — on each floor add to the visual appeal. "The space downstairs was a lot of redesign work," notes Despaña co-owner Angelica Intriago, "but we wanted to have the best of both worlds within that space."
Making it All Work
The Plant (Pier 3, San Francisco location)
Separate entrances for café and full-service components
Counter service ordering for café menu and baked goods
Cross-train employees to work both sides, but the café has a separate staff
Check averages run 30 percent higher for full-service operation
Separate full-service and café menus, although currently testing offering
full-service menu at café
A covered outdoor underpass separates the kitchen and café from the full-service restaurant and bar
The impetus behind such a shift in service models depends, in large part, on the operator. In order to pull off both service models, operators often change menus to reflect the differing dayparts, with Mama Fu's offering different portion sizes between lunch and evening. The Plant and Despaña also have one menu for their cafés and a second for full-service dining.
It also depends a lot on the space. While a full-service component would not work for Despaña's SoHo location, the building in Princeton, at 3,500 square feet, enables the flexible-format model.
"I think first it has to do with the community, and I'm not sure every community can support this kind of model. It's really about understanding the clientele," Zinder says. "The biggest challenge with any restaurant is balancing your vision with your budget. Any project has that challenge, and it's not always the easiest thing to have that balance. One of the things that's a benefit of this dual service is you're able to potentially save some money by not taking as much space for both day and night."