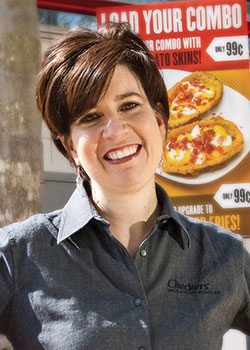 Jennifer Durham
Known for its iconic red, white and black double drive-thru buildings, Checkers & Rally's Restaurants, Inc., moved away from a retro image in 2012 to a more contemporary approach to its look with the debut of its Model 3.0 prototype. The update helped propel growth, and by the end of 2016, Checkers & Rally's had added 176 new restaurants and 175 new franchisees.
Checkers & Rally's Restaurants, Inc., is continuing its aggressive plan for growth. With nearly 840 restaurants nationwide, the company plans to open 1,200 restaurants by 2020 with a longer-term goal of reaching 3,000 units.
The Tampa, Fla.-based chain recently rolled out its Model 4.0 prototype. Model 4.0 allows franchisees to choose from three design plans when building new freestanding units: a traditional on-site build, a new modular building or a new container building that utilizes reclaimed shipping containers. The modular and shipping container builds are projected to be faster to construct and less expensive than traditional buildings, saving anywhere from 5 to 12 weeks and up to $100,000, according to the chain.
Jennifer Durham, chief development officer for Checkers & Rally's, recently shared some of the logic behind the Model 4.0 rollout. Modular building is a return to form for the chain, which was a proponent of the building style decades ago. Over the years, styles, demands and the company's own internal structure changed, necessitating an update.
How did the Model 4.0 prototype come about?
JD: We went back to our prototype design from 2011 and value engineered it to come up with a better, more cost-effective building, and then we took it to modular manufacturers. The goal and objective was to bring the cost of development and construction down in general. When we did that, it was a big win, even in the traditional building sense. To our surprise, we were able to create some savings when we went back to the modular concept. And we found there were now multiple builders, whereas in the mid-1980s, there were fewer options.
What does having more options mean for Checkers & Rally's?
JD: We're leveraging the opportunities as we look ahead with the new design. Now we will have multiple manufacturers to take advantage of the logistics of where the new units are located. It's a big cost to ship from Florida [where the chain's current modular manufacturer is based]. We're choosing multiple manufacturers to have closer proximity to manufacturing facilities.
How did that lead to utilizing reclaimed shipping containers?
JD: Container builds became an extension of modular. We are one of many brands looking at containers as a sustainable source to build restaurants. It's a way to get the raw materials in a more cost-effective way. We took both concepts — modular and container — to consumers and looked at the designs with them. What was interesting in talking to consumers was that they liked the more traditional-build look more than the container concept and design [that drew attention to the fact that it was clearly a former shipping container]. You can still tell up close. You can see the corrugation in the container. It's also different in that the roof lines are much more rectangular. When on-site, it has a different aesthetic and feel, but it was well-received by consumers. We've gotten positive sentiments about reusing containers, and it looks spacious and contemporary and cool, but it still has the branding elements of Checkers & Rally's that people love.
Do the styles within Model 4.0 have any other noticeable variations?
JD: The site layout is exactly the same for each. The difference is in the materials and the construction. There are no changes to the equipment packages, so the 4.0 design is all consistent. Franchisees can choose the building format that best suits them.
Where does the rollout stand?
JD: Several are in process and underway. Franchisees are picking the building style that makes the most sense for them and their market. In some cases, modular building makes the most sense, and in others, on-site construction makes sense. The primary driver is cost and return on investment. The selling point of a modular building is that it is treated as equipment, and it's a tax benefit to be able to record depreciation more quickly [at seven years]. The typical asset life of a building is 39.5 years. Owners are always looking at how to lower taxes. Some municipalities have additional tax incentives for sustainable designs that may create an advantage for a container building.
Which style has gotten the most interest so far and why?
JD: Right now, modular is coming out as the most cost-effective. It allows flexibility. Since modular units are built off-site and then assembled on-site, it can be very effective with 8 to 12 weeks' lead time. In the case of modular building, you can begin construction as you get permits for the site. Once you have permits, you can have the building shipped in. In traditional construction, things work more sequentially, but in this format, things can run concurrently.
One of our primary goals has and always will be unit-level profitability and strong returns. And we will continue to bring innovations that differentiate Checkers & Rally's from other brands in the QSR space.
The Checkers and Rally's model 4.0 Prototype. Photo courtesy of Checkers and Rally's