Mo Boutara Hiring and promotional news from across the restaurant development and design community includes news from Capriotti's Sandwich Shop and Del Taco.
David Bloom
Mo Boutara was named vice president of development and franchise sales for Boston's Restaurant & Sports Bar. Boutara has more than 10 years of franchise experience at several chains, more recently as senior director of franchise sales at Rita's Italian Ice.
Capriotti's Sandwich Shop named David Bloom its chief development officer. Bloom has been in franchising for more than 25 years, nearly 20 with Quiznos.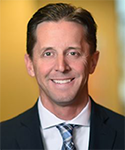 John D. Cappasola Jr. Del Taco promoted John D. Cappasola Jr to president and chief brand officer from executive vice president and chief brand officer.
Jeremy Mittlestadt
Erbert & Gerbert's Sandwich Shop promoted Jeremy Mittlestadt to executive director of Non-Traditional Division from director of new store development.