In March, Washington, D.C.-based GrizForm Design Architects teamed up with Chef Tim Ma to bring his Chinese-French inspired restaurant, Kyirisan, to the city's burgeoning Shaw neighborhood. Triple hung windows and simple white tiles on the facade set the minimalist tones for the 2,500-square-foot space.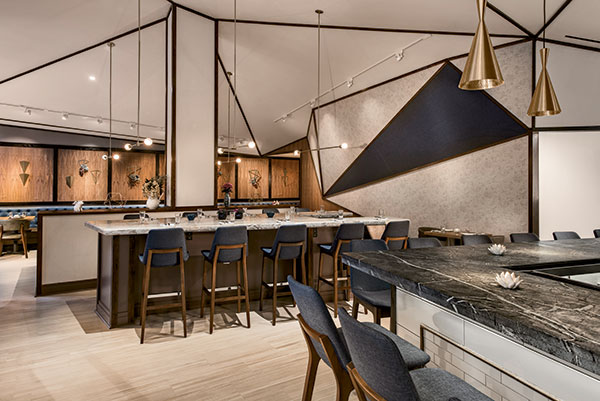 Photos courtesy of Amber Frederiksen PhotographyGeometric shapes and warm tones dominate the space. A painted repurposed barn door and a collection of ceramic animal planters greet guests at the reception stand.
Bronze accents are found throughout, from hanging conical light fixtures to the bar's foot rail to the angular sconce plant hangers that line the seating area. Warm oak and walnut wall paneling combine with light gray floors, Danish-inspired chairs, and blue tweed tufted banquettes creates a comfortable,
residential vibe throughout the bar and main dining area.
Custom-made planes protrude from the back wall, forming a triangular floor-to-ceiling installation that adds depth to the space. The geometric planes are complemented by a warm white ceiling, which creates a canopy over diners. Another unique design element includes a custom high-top table made out of stone in a narrow Y shape.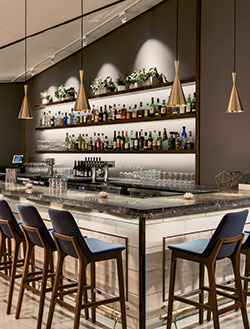 Photos courtesy of Amber Frederiksen PhotographyMa says that when he envisioned his restaurant, he wanted the space to feel like an extension of his home. Inspired by this concept, the project team incorporated family-owned art pieces throughout the space that are embedded with history and tradition. Ma's uncle, a restaurateur and the famed chef of Uncle Paul's Kitchen, a popular New York City restaurant in the 1970s, donated an art panel that he had commissioned in Shanghai. The panel had traveled with him for 30 years, making appearances in all of his restaurants before finally being passed down to Ma. The design team also created a space for Ma to display his parents' collection of marbles behind the hostess stand. Back in Communist China, Ma's grandfather would bring back unusual marbles from his travels and give them to his children as souvenirs. These objects personalize the space, allowing guests to imagine themselves inside Ma's home while enjoying his Chinese-French inspired fare.