Three restaurants put their dry-aging rooms on display.
Meatless Monday? Plant-based diets? Sure, they're red-hot trends, but for a large segment of the population, nothing defines a great restaurant experience quite like a big, juicy, perfectly seared steak with all the trimmings. Classic steakhouses, done simply and done well, have a vibe all their own and seem to never go out of style.
For some, part of that vibe includes the mystique and magic of dry-aging their own beef on-site. It's an old-school practice that's coming back in vogue as players in the competitive steakhouse segment seek to differentiate themselves and satisfy modern consumer cravings for both transparency and craftsmanship. So-called wet aging, in vacuum-sealed packages, is relatively quick and easy. Dry-aging, on the other hand, takes knowledge, patience and extra investment — in terms of both expensive inventory that can't be sold for weeks or months and in specialized rooms in which to hold it.
Dry-aging rooms, once commonly relegated to basements or the backs of kitchens, are being brought out of the shadows by a growing group of modern steakhouse operators to help sell the sizzle. Strategically incorporated into the front-of-house design, they give guests a window into the dry-aging process and use meat to make a bold visual statement.
Here's a look at how three high-profile steak-centric concepts, all of which opened within the past 18 months, have made dry-aged beef both a menu star and a design highlight.
Aspen Kitchen
Craveable Hospitality Group (CHG), Aspen, Colorado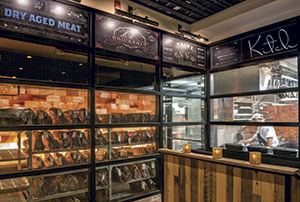 Designed to resemble an old-school butcher shop window, Aspen Kitchen's patented dry-aging room features a wall lined in pink Himalayan salt blocks. Positioned next to the host stand, it makes a bold visual statement for guests entering the restaurant. Photos courtesy of C2 PhotographyOpened in January of this year, Aspen Kitchen, a 4,000-square-foot second-floor restaurant with a rooftop garden patio, oozes rustic elegance and wows diners with floor-to-ceiling, 180-degree views of the town and the mountains beyond. The restaurant, under Executive Chef Matt O'Neill, touts contemporary American cuisine, local ingredients and its calling card: dry-aged steaks.
While the mountains outside impress, it's Aspen Kitchen's dry-aging room that generates big buzz inside. O'Neill worked with designers to make the restaurant's signature dry-aging room a design focal point that CHG (formerly the David Burke Group) has patented. Positioned adjacent to the host stand and next to the display kitchen, it's the first thing guests see as they enter the restaurant.
"At night, it really stands out because the shelves of meat sit in front of a wall lined in pink Himalayan salt blocks. That wall is backlit, so it glows and is really a bold statement," says O'Neill. "It also sends an immediate message to guests that we know what we're doing when it comes to beef."
While it lends design panache, the pink salt wall is also functional: It helps to maintain a sterile environment because it's naturally antibacterial, and the salt permeates the air to help season the meat.
Used in dry-aging rooms in other David Burke and CHG restaurants as well, the salt is purchased in large blocks and cut as needed. "We bought about six tons of it and have it stored in a warehouse," O'Neill says. "Over time, the humidity in the room erodes the salt blocks, so they'll need to be replaced — probably in a year and a half or two years. The design takes that into account: The blocks aren't glued into position; they're balanced on tracks so we can easily take them out and replace them."
The restaurant also serves some dishes made from the salt wall. "It's unique, and it's a material theme that we decided to run with," O'Neill explains.
The dry-aging room itself, which measures 13 feet long by 4 feet wide by 9½ feet high, stores roughly 2,000 pounds of bone-in New York strips and rib-eyes. It's kept at a constant temperature of 35 degrees F with 70 percent humidity.
"It looks cool, but the most important thing is its functionality," O'Neill says. "The humidifying unit on the ceiling is critical but a bit of an eyesore. I worked with a designer to help lose it by painting it black and mounting chalkboard-style signage on the exterior to block the view. We hired a local artist to paint the chalkboards, which help to merchandise the beef and explain the process. We wanted the guest-facing side of the room to look like an old butcher shop storefront window."
Inside the room, the meat rests on custom-made, nonporous antibacterial racks that can simply be popped out for a weekly sanitizing run through the dish machine. And every day, from 2 a.m. to 7 a.m., UV lights switch on to provide further sterilization.
The meat stays in the room, gradually fermenting and developing a protective crust that's trimmed off before cooking, anywhere from 30 to 100 days. The sweet spot for developing the umami-packed flavor and tender texture for which dry-aged beef is prized, in O'Neill's view, is 50 to 55 days.
Nick & Stef's Steakhouse
Patina Restaurant Group, Los Angeles
Chef Andreas Roller stands by the communal table that gives a bird's-eye view of the meat-aging room at Patina Restaurant Group's Nick & Stef's Steakhouse in Los Angeles. The recently renovated restaurant has made the room — and the steaks that come out of it — a signature feature. Photos courtesy of Patina Restaurant GroupA Los Angeles institution for 16 years, Nick & Stef's, operated by Chef Joachim Splichal and Patina Restaurant Group (PRG), reopened last October following a redesign that transformed it from an old-school classic to a modern, upscale steakhouse with a chic, midcentury aesthetic. Working with designer Christian Schnyder of Beleco, PRG reimagined the restaurant with new custom furniture and elegant lighting, new flooring and wall coverings, a new color palette, and a repositioned and redesigned bar.
One feature of the original restaurant that was kept — and given bigger play in the remodel — was the dry-aging room. Unique to the downtown LA marketplace, the room measures roughly 150 square feet and holds $50,000 worth of prime beef. Strips and rib-eyes are the stars here — the best cuts for dry-aging, according to Splichal, who says the average aging time at Nick & Stef's is 28 days.
"In my opinion, a meat locker for dry-aging, along with a wood grill and a wine display, are the most important things for any great steakhouse to have," Splichal says. "The original Nick & Stef's had those elements, and while we refreshed everything else in the redesign, we did so with those three elements as foundations. The meat locker is right next to the wood grill and wine display, and it's viewed by all of the guests. It's a powerful merchandising tool. A lot of times, when people bring their friends or clients to the restaurant, the first thing they do is take them over to the meat locker and talk about the steaks and what they're going to order. The servers are also trained to talk about the locker and the dry-aging process to reinforce the fact that we sell the best steaks in the city."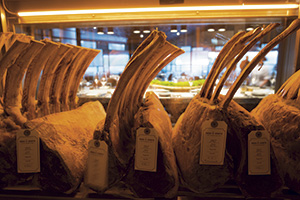 Prime cuts of beef are aged for an average of 28 days in Nick & Stef's meat locker, which is open to view from the dining room beyond.The room is a solid differentiator, Splichal adds. Because of the investment and operational diligence required to properly handle meat this way — aging it safely and just long enough — it's not for everyone. Those who do it are right to put it on display. "A lot of people these days are showing areas where they're aging hams or drying sausages," he says, "but a real meat locker where you age prime steaks — you don't see this very often."
The windows into the meat locker at Nick & Stef's are framed in elegant dark wood. The meat locker is visible to the main dining area, but a marble-topped communal table is situated in front of it, providing a bird's-eye view for up to 12 people.
Inside, the room is lined in stainless steel, and stainless steel shelving holds the big cuts of beef. "It's essentially a fancy walk-in, but it's kept at a lower temperature — 35 degrees — and at low humidity levels. In that environment, the meat loses moisture and gains marbling and flavor," Splichal notes. Directly next to the locker — and also part of the show — a butcher breaks down and trims the cuts before they hit the wood grill.
Now, perhaps more than ever, Splichal says, having a meat-aging room on display in the front of the house is more than just a visual treat. "Increasingly, people want to see their food and know where it's from," he says. "They're also very interested in the story of how and why we age those cuts. There's a genuine curiosity about the process. They love being given a window into that process."
SEARED
One&Only Palmilla Resort/Jean-Georges Vongerichten, Los Cabos, Mexico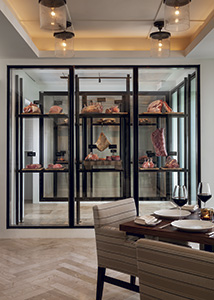 Designer Jeffrey Beers took a high-end retail display approach to the glass and bronze dry-aging case at SEARED, an elegant Jean-Georges Vongerichten restaurant at the One&Only Palmilla resort. Photo courtesy of One&Only Resorts Following extensive damage by recent hurricanes, New York-based designer Jeffrey Beers of Jeffrey Beers International was called on for the remodeling of One&Only Palmilla, a full-service, luxury seaside resort in Los Cabos, Mexico. Part of that project included designing SEARED, the premium steakhouse headlined by Michelin-starred Chef Jean-Georges Vongerichten where dry-aged steaks star along with fresh Baja seafood.
Opened in April 2015, SEARED is light and elegant with warm, creamy colors and Mexican-inspired materials and design highlights. But take one step inside, and there's no mistaking the fact that Vongerichten set out to create a serious steakhouse. A centerpiece of the front of the house is a glass-walled meat cellar that puts the restaurant's prime Porterhouse, Kobe Tomahawk, Wagyu A5 beef and grass-fed New York strip steaks on display.
While it makes a distinctive visual statement, the 8-by-10-foot cellar is also a functioning dry-aging room. Its design and construction required careful consideration to ensure success on both levels, according to Beers. "It takes a bit of work to do a room like this properly," he says. "Yes, it needs to look good, but temperature, humidity and condensation are critical details. Those are the starting points. From there, we decided to create a much more modern, tailored approach to the presentation of the meat than what's traditional — almost like a sweater or watch display at an upscale retail store. Its design is much more front-of-the-house driven than chef-driven, but Jean-Georges is very happy with it and so is his marketing team because it generates so much buzz. Everyone who comes into SEARED comments on it and goes up to take a look inside."
The dry-aging room — held at a constant 30 degrees with 85 percent humidity — is encased in double-glazed insulated glass and framed in bronze. Positioned near the entrance, adjacent to the kitchen and off one of the main dining areas, it's visible to all diners from the front while its back wall opens to the kitchen for easy accessibility.
While environmental controls were critical, Beers knew cooling and condensing units would detract from the look he sought to create. "We ended up concealing those units in the ceiling and floor so that guests get a very clean, retail display-style view of the meat," he says. "We've designed a lot of high-end retail stores, and the design of the meat case follows that aesthetic — almost like a display case at Barneys."