In restaurant design, every detail matters, from the ceiling to the floor and everything in between. While many bits and pieces come together in one harmonious design, those design elements that take up the most space visually and spatially, such as flooring, not only need to look good, but they also have to perform well.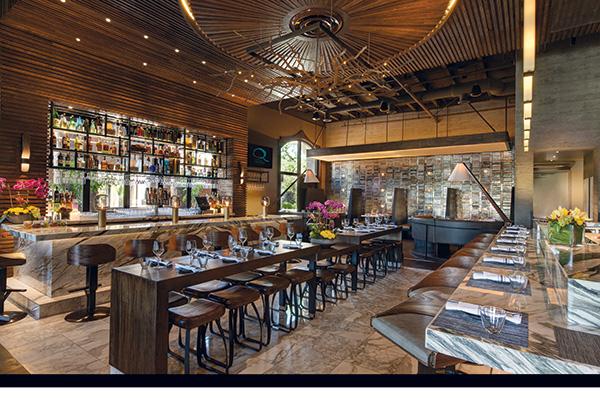 Q Sushi's floor features 30-inch by 60-inch ceramic tiles that look like concrete. Photo by Scott Snider PhotographyBecause of constant contact with customers and restaurant staff, a restaurant's flooring has to make an impression at every turn. "When first walking into a restaurant, people tend to look down and check out the floors, then look up to the ceilings, and they subsequently take everything else in," says Eddy Bitton, president of Bitton Design Group in Agoura Hills, Calif. "The flooring is the base that ties the whole palette together. It has a huge impact on the overall design."
Flooring serves multiple purposes: It provides a durable surface to walk on, visually connects everything in the design scheme and can also provide wayfinding. "Starting at the foyer, working toward the dining room, behind the bar, up to raised platforms, all the way to the kitchen and all the way out to the back door, flooring sets the mood for the area and lets you know where you are at a certain point in a restaurant," says Matthew Tripp, director of new business development hospitality for Shawmut Design and Construction, headquartered in New York City and Boston, Mass.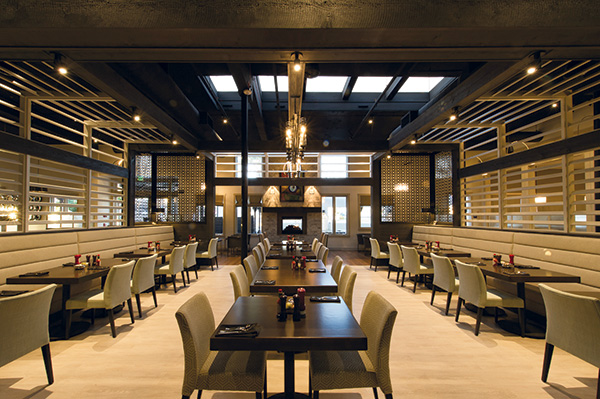 The Blue Door in San Jose, Calif., features a luxury vinyl tile floor with a wood plank look. Photo by Steve HanWhen specifying the right flooring materials for a restaurant, designers and operators should take into account several considerations. "Aesthetics are important, but first and foremost, you have to think of functionality and performance: Flooring has to endure a lot of traffic, be able to resist stains, be easily cleanable and it needs to be slip-resistant because it could be a liability for the restaurant," says Cristina Villalón, co-principal of Alvarez-Diaz and Villalón Architecture and Interior Design, with offices in San Juan, Puerto Rico, and Coral Gables, Fla. "The overall feel you're trying to accomplish is going to dictate what direction to go in. There are so many options now with advancements in technology that you should be able to find something that works aesthetically and performance wise."
The Latest in Flooring
The flooring for La Sirena Ristorante, Mario Batali's new restaurant in the Maritime Hotel in New York City, is designed with mosaic tile imported from Hungary and supported by an anti-fracture membrane. Photo courtesy of Shawmut Design and Construction Whether specifying for a fast-casual or fine-dining restaurant, today's flooring materials offer a wide range of products and price points for projects and budgets of all styles and sizes. Many new flooring products on the market offer additional durability, versatility and ease of maintenance when compared with more traditional flooring types and are ranked highly among designers and restaurant operators.
Some of these new flooring materials are lower maintenance, lookalike alternatives to other flooring products but are expected to have a better chance at standing up to the typical wear and tear of a restaurant.
Porcelain, for example, can now be made to resemble marble or wood without the constant upkeep of the real versions. "Porcelain is becoming popular because of the myriad options of tiles that are now available," says Brooke Taylor, director of interiors at Arcsine, based in Oakland, Calif. "It's a great choice once you start weighing the aesthetics and the budget. You could get a wide range of looks, everything from an old-world Spanish look to a wood grain look, and they're getting more sophisticated. It's much more durable and maintenance friendly than real wood."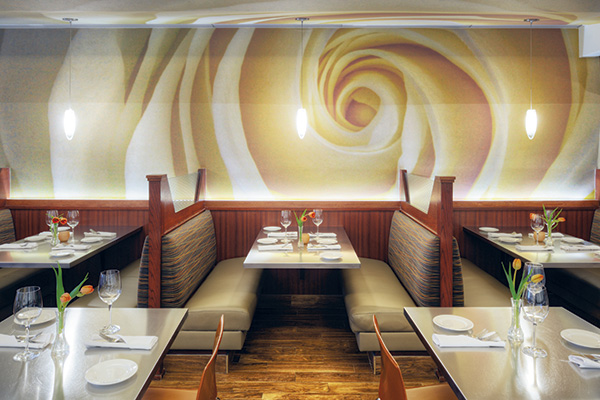 La Mezzaluna in Princeton, N.J., features a porcelain tile that looks like wood flooring and lends a warm touch to the contemporary design. Photo by Michael Slack, courtesy of JZA+D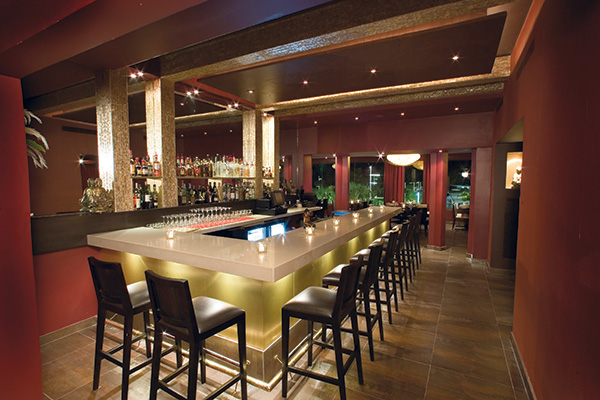 Budatai's dramatic interior elements include a gold ceiling and red walls. Photos by Carlos EstevaSimilarly, vinyl tiles can create a wood or concrete look for much less. The latter has been a trendy flooring concept for several years now. "We've used vinyl on the low-end, design-on-a-dime projects, and people are amazed when they look down and think it's concrete," says Joshua Zinder, principal of Joshua Zinder Architecture + Design, LLC, based in Princeton, N.J., who recently completed a small deli project with a wood-like vinyl flooring after originally considering ceramic tile (an estimated cost around $3.50 to $4 per square foot). "We wanted a big impact without the big cost; the vinyl was very durable and ended up costing about $1.50 per square foot, and for a small-business owner, that's a significant savings."
Durability and Maintenance
Restaurant flooring materials keep changing and so too do restaurant operator expectations. Most operators look for the most durable, cost-effective and easy-to-clean options.
"Our clients are getting more demanding with maintenance for restaurant flooring. It's been a real challenge over the years, specifying floors that are maintenance free or as close to that as you can get," Bitton says.
But with all of the choices available today, it's becoming easier to specify flooring that provides long-lasting beauty. "The top things we're looking for in the front-of-house areas are durability and ease of maintenance," Taylor says. "Because there usually isn't a lot of time set aside for routine maintenance, flooring has to be easy to maintain, really forgiving and able to withstand a lot of wear."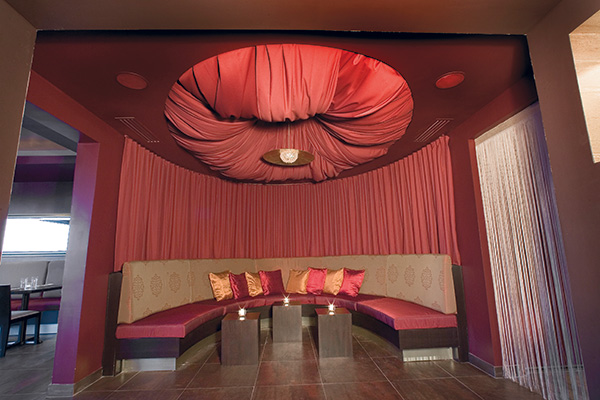 At The Blue Door, a sleek new Greek concept that recently opened in San Jose, Calif., the design team opted for a luxury vinyl tile floor with a wood plank look to add warmth and balance the restaurant's clean lines, contemporary millwork, dark wood screen dividers and cream-colored upholstery. "The vinyl flooring is durable, easy to clean and has a particular backing to it that's supposed to minimize sound," Taylor says.
Concrete flooring is popular because of its low cost, durability and ability to blend into restaurant environments of all styles. "Exposed, sealed and colored concretes are very prevalent these days. It's become part of the new aesthetic where chefs and restauranteurs want the food to be the star," explains Tripp. "If a sealed concrete floor shows some old cracks, aging and different aggregates, they're OK with it because it doesn't detract from the food or ambiance."
Bitton recently specified 30-by-60-inch concrete-look ceramic tiles for Q Sushi, a high-end Japanese restaurant, sushi and wine bar in Westlake Village, Calif. The paver-style tiles minimize grout lines, which means less maintenance is necessary.
Budatai's dramatic design is finished with ceramic tile that has an oxidized look.The gray tones of the tile floor contrast marble elements — including a central floor that connects a bar and a sushi bar on opposite ends of the space — but also complements a real hickory wood ceiling panel as well as a walnut community table and custom swivel stools.
"A lot of times, concrete is uneven, and you have to deal with imperfections in the concrete, but this floor gave us the opportunity to control our environment by doing a concrete look but with huge tiles and minimizing the grout lines — and it was really effective," Bitton says.
If you're going to choose exposed concrete, Tripp recommends adding integral color while staining the concrete mix and then sealing it. "If you don't use the integral color and just use a sealer, you'll get traffic pattern layers a lot quicker; you'll see where people are walking, standing and scraping chairs," he says.
Additionally, a regular maintenance program is necessary; otherwise, the concrete will quickly start to show wear. "It's a better, longer-lasting look with the integral color and the topical sealer. Ultimately, longevity is important. Restauranteurs don't want people having to come back to fix floors," adds Tripp.
Addressing Safety Issues
Slips and falls are the number one cause of accidents in restaurants, according to the National Floor Safety Institute. The type of flooring material in a restaurant can not only lead to guest and workplace injuries but can also open the operator to potential lawsuits, so you have to specify carefully to prevent accidents.
Because restaurants experience plenty of traffic and spills, flooring with a coefficient of friction, or slip resistance, is a must. "You have to pay attention to the coefficient of friction of the material in any flooring material that you're putting down," advises Zinder, who tends to specify tile and an aggregate that increases the amount of slip resistance for the back-of-house spaces, where there's a greater chance for spilled liquids, slips and falls. "The porcelain tiles that are coming out now offer texture and detail from mimicking natural stone or wood, which, as a result, gives them increased slip resistance."
Budatai, a Latin-Asian theme restaurant in San Juan, Puerto Rico, was designed with a ceramic tile flooring with an oxidized look all throughout, and its texture gives it non-slip properties. "The chef wanted it to feel like the inside of a jewelry box — velvety and rich with a lot of reds and golds," Villalón says. The ceramic tile is comprised of rust colors with a metallic sheen, which coordinates with the wine red walls, gold ceiling and rust-colored draperies and upholstery. "The slip factor is important with tile," she explains. "In a tile installation, the installer needs to know how to use the glue correctly and make sure it's completely even and flat because it can be a safety issue if just one tile's higher than the other."
In addition to slips and falls, restaurant operators should also keep in mind the effects of a hard flooring surface on restaurant employees. "Sometimes the staff complains that concrete flooring is hard on their feet, so the other products like the vinyls that mimic concrete can give the same aesthetic at a cost-effective rate and still be sensitive to the staff working there," explains Zinder.
Installation Tips
Flooring materials of all types come with their own set of installation challenges, but each one has a solution. For best practices, follow these steps.
Before the installation process begins, be sure your contractor is using the right materials and process for the job, information that is usually readily available from the manufacturer.
"Many times, there's too much guesswork that goes into the installation, and we're careful to have our manufacturers give us their exact breakdown of what they require, as far as the right mastic, grout, mortar and installation instructions that we put in our plans and specifications to make sure the installers follow it," Bitton says. This can prevent major mishaps. "So many times, the tile or wood will just show up to the jobsite, and then it's up to the subcontractor to use the material he wants. We challenge our manufacturers by saying, as part of the specification, they have to include the materials they will warranty."
Minimize your risk of having to go back and fix mistakes by educating your contractors on the flooring material because their unfamiliarity with a product can lead to expensive do-overs. Recalling an example in which a cement tile was sealed incorrectly by the contractor and had to be redone, Taylor suggests, "Have an open communication with the contractors, identify if it's a material they're not familiar with and make sure they understand what the intent is. Because there are advances in materials all the time, it can be difficult to keep up with it, and you don't want them to make assumptions about the material, either."
Stay ahead of the curve by constantly learning about the latest advances in flooring materials to find and install the best product for your project. "Stay in touch with the right reps, and ask if there's anything new on the horizon. Go to the design trade shows. Visit the showrooms," says Bitton. "Every once in a while, a new flooring will be introduced that will resolve a lot of problems that you've had in the past, and sometimes there's a process from when they come out to being available, so we try to be proactive instead of waiting for them to come to us — stay on the forefront that way."