Chicago shows no signs of slowing down any time soon when it comes to new restaurant openings. Here's a look at four design-forward restaurants you won't want to miss if in town for the National Restaurant Association show this month.
Band of Bohemia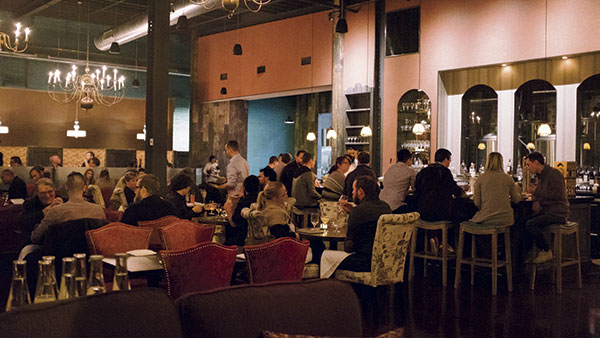 This culinary brewhouse boasts an urban bohemian vibe reflective of its namesake. Former Alinea baker and Half Acre brewer Michael Carroll teamed up with former Alinea general manager and sommelier Craig Sindelar to take his design concept to the next level. The project transforms the wide-open, 1920s-era warehouse, which was also once a factory for equipment that made Oreo cookies, into an eclectic, multi-use space. The design includes many vintage pieces and art deco lamps from the former landlord, who collects antiques and art. The expansive space divides into four distinct areas: a welcoming front parlor reminiscent of a small, boutique hotel desk with lounge seating for enjoying cocktails before dinner (or coffee and pastries in the a.m.); a long, arched bar with seating, decorated with herbs, tinctures and other craft cocktail ingredients; a 110-seat dining room with a mix of tables and banquettes; and a chef's counter with six seats looking into the European-style open kitchen and cast iron, medieval-looking wood-fired grill. Just above the back bar, windows offer a glimpse into the brewery. Throughout the dining room, industrial accents like leather-stained concrete flooring, steel ceiling beams and exposed brick are softened by rich, rust-and-gold wallpapering, handpicked tapestries and ornate rugs, live plants, yellow paisley fabric-covered chairs, faux emu skin banquettes and elephant-print drapes lining the floor-to-ceiling windows street side. Pieces by local artist Elizabeth Webber add colorful portraiture and combine abstract with realism.
Urbanbelly
Photo courtesy of UrbanbellyWhen Bill Kim's beloved Urbanbelly uprooted from its Avondale neighborhood digs a few years ago to merge into Cornerstone Restaurant Group's larger-format BellyQ restaurant downtown, North Siders were saddened by the distance. Now, Kim has struck a deal: opening an Urbanbelly-only restaurant in Wicker Park. With a 72-seat, 2,500-square-foot interior and 32-seat, 500-square-foot patio, the new, larger location features plenty of room for dining in but still offers takeout and delivery. Designer David Shea of Shea, Inc., in Minneapolis kept the design "raw" and simple to add more focus to the food; think natural wood with just a few pops of red, exposed brick, a semi-green wall with a series of potted plants, pendant lamps, steel-framed menu boards and glass-paneled garage-like doors that open up to the outside patio just off bustling Damen Avenue. Communal, picnic-like tables fit groups of four, six and eight with backless wooden stools. Guests can place their orders at the main front counter as they come in and take it to go or grab a table number and sit down to wait for their food. The menu includes Kim's famous pork belly ramen and other brothy noodle bowls, rice dishes, tender dumplings and house-made soft-serve ice cream for dessert. The restaurant plans to secure a liquor license to sell wine and beer.
3 Arts Club Café at RH Chicago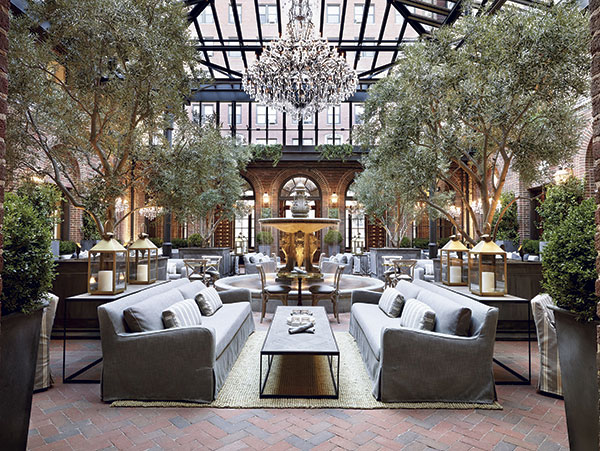 Photo courtesy of 3 Arts Club Café at RH ChicagoRestaurateur Brendan Sodikoff of Hogsalt (the brains behind Au Cheval, Gilt Bar and Doughnut Vault) teamed up with Restoration Hardware to build a coffee bar and elegant café in the retailer's six-floor flagship store inside the completely refurbished, 102-year-old landmarked Three Arts Building in Chicago's glamorous Gold Coast neighborhood. RH CEO Gary Friedman says he's always set out to blur the lines between residential and retail, but for this project, with the help of Sodikoff and design architect James Gillam of Backen, Gillam & Kroeger, he looked to "blur the lines between home and hospitality." Sodikoff's breakfast, lunch and dinner concept, 3 Arts Club Café, is situated in the courtyard atrium under heritage olive trees and natural skylight. The operation includes a small coffee shop, dubbed the pantry, with a menu of grab-and-go doughnuts, pastries and juices. The restaurant features a menu of salads, veggie plates and sandwiches. Guests can lounge in the café on the plush RH sofas, take a seat at one of the ornate tables or visit the 3H Wine Vault and Tasting Room, a living room of sorts outfitted with reclaimed fireplaces, original herringbone brick floors and iridescent gold, vaulted ceilings. The original 1914 building was a residence for young women studying music, drama and the visual arts.
Monteverde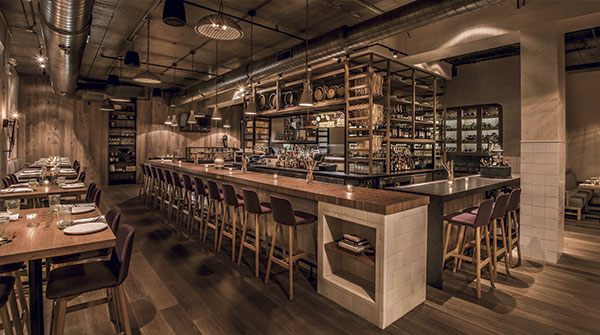 Photo by Anthony Tahlier PhotographyFor her solo restaurant debut, Chef/Owner Sarah Grueneberg, of Spiaggia fame, recruited Karen Herold of Studio K to conceptualize Monteverde's captivating design, which channels the decor and atmosphere of an Italian home. Rustic woods balance out an earth-toned palette of rich creams, earth-toned greens and plums. Guests can dine comfortably at the custom tables with plush, denim-colored fabric armchairs. Industrial pendant droplights overhead provide lighting. The long, butcher block-topped bar provides guests with a glimpse into the pastificio (pasta-making station) and aqua-tiled kitchen just beyond. Doors on all sides open to Madison and Carpenter streets, allowing natural light to spill into the space. Plasterwork from Northern Italy, designed and mixed by artisan Antonio Pinto, complements handmade wood shelving throughout.