The dining and drinking scene in Minneapolis has changed dramatically in just the last few years. As more chef-driven, design-forward restaurants and casual eateries open in burgeoning neighborhoods, it's easier to get a taste of this expanding culinary market. Here are three design-forward concepts making an impact in this market.
Spoon and Stable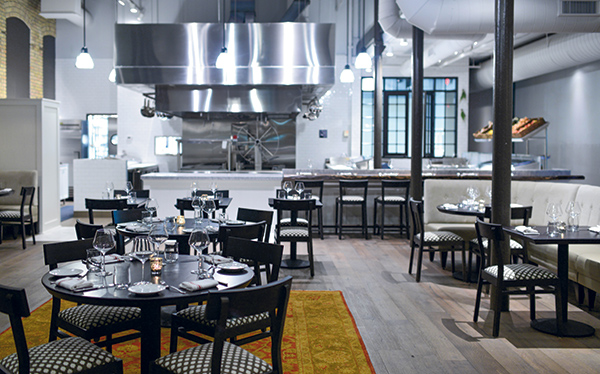 A Rising Star Chef of the Year and the former executive chef/culinary director for Daniel Boulud in New York, Chef Gavin Kaysen turned toward Minneapolis in 2014 where he opened his first restaurant, which just last year earned a nomination for the coveted James Beard Best New Restaurant award. In partnership with his wife Linda and local designer David Shea, the team built the modern American restaurant out of a late 1800s horse stable and loading dock in the city's North Loop area near the river. Shea worked with a neutral and gray palette to highlight the space's historic details — from the high ceilings to the overhead glass doors, old brickwork and skylights — and the three distinct "theaters," including a nearly 30-foot-high bar area, an expansive dining space featuring plush banquettes and a completely open peninsula kitchen flanked by a marble-topped chef's counter seating eight. Behind the bar, shelves stacked against natural exposed brick and holding wooden logs signal the live-fire grilling going on in the kitchen, while a jewel-like, illuminated glass "box" in the center of the dining room holds bottles upon bottles of wine with ladders for staff access. Shea kept the artwork to a minimum, choosing only to showcase Kaysen's extensive spoon collection by layering the spoons vertically in a slab of roughed-up natural wood. Nearby, blue-and-white wainscoted walls enclose the narrow private dining room, which seats 12 to 28 people and has windows overlooking the main dining area. Photos courtesy of Bonjwing Photography
St. Genevieve
In the southwest neighborhood of Lynnhurst, veteran chef and restaurateur Steve Brown of the award-winning Tilia has created a modern-day refined French tavern or "buvette" for his latest concept, which opened in December 2015. In a minimalist-meets-art deco approach by lead designer Heather Keena of Machine Scenic, a metal and woodworking shop, the 60-seat space features plenty of neutral leathers and natural light, creamy white walls and shiny enamel balanced by more ornate woodworking, corbels and crown molding concentrated predominantly around the centrally positioned cocktail bar. An intentional focal point in the room, the bar also boasts boudoir-inspired curved shelves for various glassware, a refurbished antique mirror and a built-in wine and champagne bottle chiller. In the dining room, maple floors and unglazed porcelain tile reproductions from the 1920s stand alongside refurbished wicker-backed chairs from the 1960s. A decorative plastic ceiling, made using antique tin molds, tops the room. Copper-clad French doors will open up to a small sidewalk patio in the warmer months. Developed in part by Tilia executive chef Paul Backer and chef de cuisine Jason Hansen, formerly of Chicago's Blackbird, St. Genevieve's menu focuses on modernized French bistro fare served from the afternoon to late evening hours, ranging from a variety of small plates like mille-feuille pastry layered with foie gras and blood orange marmalade to hazelnuts and crispy ham to tartines and larger entrées like roasted chicken leg with sweetbreads, mushroom velouté and sage.
Surly Brewing Co.
Dubbed the Mecca for craft brew lovers and Surly cult followers alike, this $30 million brewery and restaurant in the Prospect Park neighborhood of Minneapolis was a labor of love for Owner Omar Ansari, Head Brewer Todd Haug and many others who contributed to the project. In making this flagship location, the project team had to fight a Prohibition-era Minnesota law to become the first brewery in the state to be able to serve beer to the public right on the premises. Since opening in December 2014, Surly has become one of the city's most popular dining and drinking destinations, especially on warmer days when garage-like doors at the back of the dining space roll up to an outdoor patio and lounging lawn beyond. HGA Architects used the massive silver brewing tanks, located behind a 30-foot-tall glass wall, as a focal point for the dining hall, which features a long bar and communal dining tables made from reclaimed Minnesota elms. Even the chairs are "sustainable," in that each are made with 150 Coca-Cola bottles, while the outdoor furniture was made from reclaimed milk jugs. A funky, alternating red-and-blue LED display lights up the back bar, and signature burgundy-colored Surly caricatures and artwork add pop to the space. Acclaimed Chef Jorge Guzman offers an elevated, eclectic menu ranging from griddled burgers to handmade gnocchi and barbecued brisket with homemade sauce, all perfectly paired with the range of lighter brews, ambers, stouts — even a caffeinated beer infused with cacao beans and vanilla. Upstairs at the Brewer's Table restaurant, Guzman showcases even finer dining fare in a separate, enclosed space with its own kitchen and peek-a-boo views of the tall brew tanks across the way.