For the 14th straight year, Cintas Corporation asked people around the country to vote on a group of creative public restrooms as part of America's Best Restroom Contest. The ten finalists will compete for the coveted title and a $25,000 credit to spend on cleaning supplies. While the entries come from a variety of operations, we chose the top restaurant, bar and ballpark restroom designs to feature here.
Great American Ball Park, Cincinnati, Ohio: This mom-focused restroom and lounge features comfortable gliders, changing stations, lockers and even a kitchenette with a sink, ice and refrigeration as well as flat-screen TVs so fans won't miss the game while tending to their children.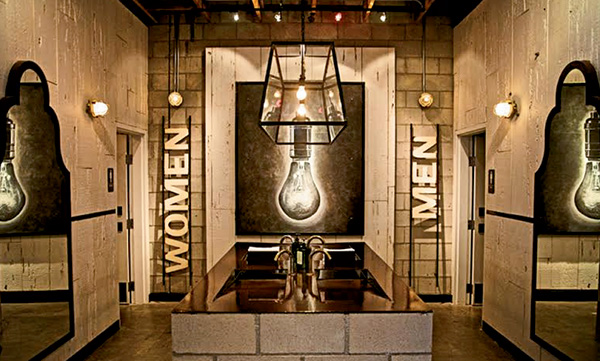 OB Warehouse, Ocean Beach, Calif.: For the restrooms, designer Philippe Beltran incorporated retro, handheld vintage mirrors; oil cans; tools like vintage plumber pipes, old wrenches and metal letter stamps; and other recycled materials to fit the restaurant's industrial-vintage look.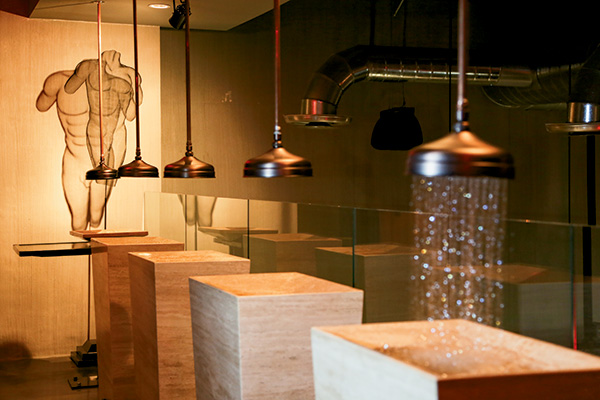 Cibo Wine Bar, Miami, Fla.: A creation of Liberty Entertainment Group's Vice President and Creative Director Nadia Di Donato, the restrooms feature faucets mounted to the ceiling and activated by motion sensors as well as pieces from renowned artist Randy Cooper.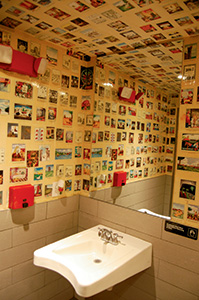 The Salty Pig, Boston, Mass.: Owners Jim Cochener and Mike Moxley plastered the restroom walls with The Far Side comics.
The Fitton Center for Creative Arts, Hamilton, Ohio: The men's and women's restrooms were designed by Cincinnati artist Jan Brown Checco, including the central "Mother Nature" sculpture using rainbows, flowers, seashells, fossils and colorful glass. Some of the painted tiles were created by students in the Center's pottery classes.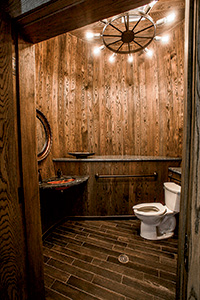 Charleston Distilling, Charleston, S.C.:
Two restrooms are designed as giant wooden barrels to fit the atmosphere and décor of the distillery and tasting room.