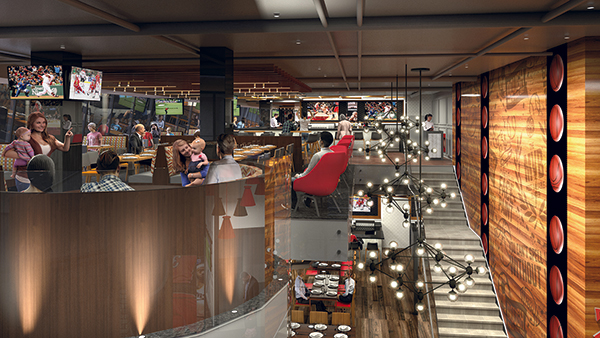 Canada's largest casual-dining chain, Boston Pizza, unveiled its new urban flagship, which showcases the brand's new prototype in Toronto at Front and John streets. It is the first in a series of planned openings targeting Canada's urban centers.
The newly renovated 11,000-square-foot location will serve as a test spot for new initiatives before they are rolled out to the rest of the chain. All new openings and renovations will take cues from the Front and John location.
"We believe there is a big opportunity for Boston Pizza to expand within downtown markets," says Alan Howie, executive vice president, operations and development for Boston Pizza International. "Many families live in downtown centers in condos and are looking for family-friendly restaurants that have something for everyone. In addition, urban areas are natural hubs for those interested in enjoying sporting events. Our dual concept of distinct and
approachable sports bar and dining room under one roof is the perfect option."
The new design features updated branding and a contemporary color scheme. On the exterior, glazed windows allow passersby to see the action inside. There is also a separate entrance for takeout that features a grab-and-go area. Inside the restaurant, seating is flexible and incorporates modular elements to scale for small and large groups alike.
The sports bar aspect is important to the chain. "Boston Pizza is known as Canada's sports bar," says Helen Langford, senior vice president, Food Services. "Screens of all sizes throughout the restaurant will not only show all the important games but will feature local sports content, leader boards and other fun graphics to encourage guests to put down their phones and interact with the restaurant environment. The bright color scheme, use of lighting and contemporary design materials completely transform the look and feel of Boston Pizza moving forward."
New technology being tested at the location includes options for customers to check wait times and pay at their table and with integrated apps. USB ports are also located at tables and bars throughout the restaurant.
Boston Pizza has more than 380 locations in Canada with a goal to open 15 new locations in 2017. In addition to moving aggressively into urban markets, the chain is looking at nontraditional locations in airports and hotels.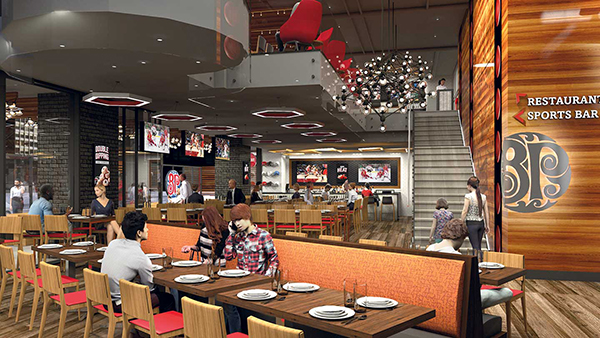 Renderings courtesy of Boston Pizza