UFood Grill rolled out images for its new prototype for a traditional in-line design that the fast-casual restaurant chain plans to make available to franchisees.
The new prototype, designed by Interior Systems, Inc. (ISI) and its Studio 500 design firm, averages 1,800 square feet with enough flexibility to accommodate larger or smaller spaces in any shape with seating for up to 36 guests.
The design features plenty of natural wood tones and wording such as "raw" and "simple" to further support the brand promise of providing better-for-you menu options.
UFood Grill plans to open one of the first locations in the greater Boston market by early 2016. The restaurant will be in close proximately to corporate headquarters to fulfill site visits for the growing list of franchise prospects targeting experienced restaurant operators and multi-unit franchise investors.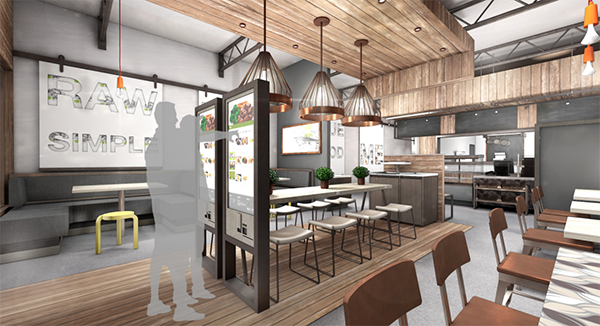 "Our new prototype ushers in a new era for UFood Grill and will serve as a key for expanding the UFood Grill franchise network to more than 100 franchise locations over the next four years," said Sal Rincione, CEO.