Adam Winig (left) and Daniel Scovill founded Arcsine, an architecture and interior design firm, in Oakland, Calif., in 2003.
The firm counts hotel renovations, restaurants, commercial spaces and custom residences among its portfolio of award-winning projects. Restaurant work on the boards right now includes Calavera and Gussie's Southern Table & Bar in Oakland; Foundas Restaurant in Silicon Valley; and Tenderloin Restaurant and Teleferic Barcelona in San Francisco. Here's a look at some of the trends, products and materials they're currently jazzed about.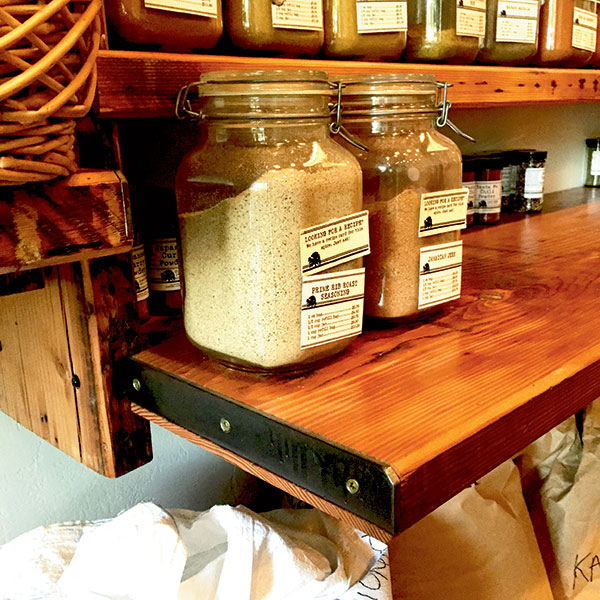 + More-Than Reclaimed: The response to the economic downturn and the maker-movement put reclaimed wood on center stage. Recently, we started employing the technique of skip planing, where very little is taken off the surface of the wood in an effort to maintain character, while still knocking down the rough and splintered texture. We have also been using chamfered edges to relieve splinters and juxtapose rough and smooth, as well as dado joints with reveals for shadow play and to marry a rustic look with a clean cut.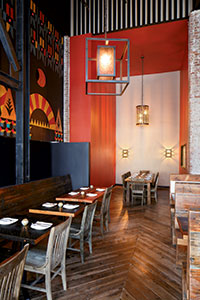 + Look Up: Our team loves using the ceiling and light fixtures to help define space. At Duende Restaurant & Bodega we used large pendants to define the dining room and accentuate the volume of the space (far left). Currently, we're designing two private dining areas with lowered complex geometric ceilings to add to the sense of privacy and intimacy. We love the Pleat Box pendants by Marset Lighting and use them in a restaurant in Northern California (near left). The terracotta finish creates a warm and inviting environment, while the white enamel interior adds to the light quality of each fixture. We are also working with an Oakland artist to design lamp shades using his translucent ceramic techniques. These fixtures set against dynamic ceiling finishes allow guests to enjoy the design of the entire space, not simply fixate on the fixtures.
+ Musical Chairs: Restaurants today need to be able to multi-task and offer different environments for different occasions. We accommodate this by designing in multiple seating types that can also be joined together. At a recent restaurant project, we used three seating opportunities (from left): Designform's Benson and Jane chairs to create different seating experiences in the main dining room, and Gaber's basket chairs with arms to create a more enclosed, luxurious dining experience in the private dining room.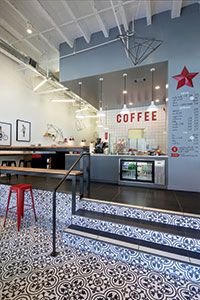 + Patterned Tile: Our excitement over patterned tile is alive and well. At Modern Coffee no.2 in Oakland, the concrete tile floor by Granada (left) provided us the perfect graphic pop to welcome guests to the small café. We also used Hannover Blanco woven porcelain tile from Porcelanosa for a full height installation at a Silicon Valley restaurant to provide depth and dynamic visual interest.
+ Leather: Because of new technologies for maintenance, we can now use leathers in really interesting applications. We recently installed a leather bar countertop in an Oakland restaurant. It has a lovely sense of warmth and recognition, which invites you to let your fingertips linger on this textured surface. A leather from the Moore & Giles Mariposa collection gives us a decorative pattern that is embossed in an oiled suede (above). The Vintage Amber color is rich and sophisticated, creating a unique and visual focus at the bar.