Restaurant designers were among the culinary world's glitterati feted at the 2015 James Beard Foundation Awards gala, held May 4 in Chicago. Those taking home top awards for outstanding recent restaurant design or renovation projects were Michael Abboud of SOMA Architects in New York, for Workshop Kitchen + Bar (76 seats or over), and James Gorski and Tom Nahabedian of Bureau of Architecture and Design, Chicago, for Brindille (75 seats or under).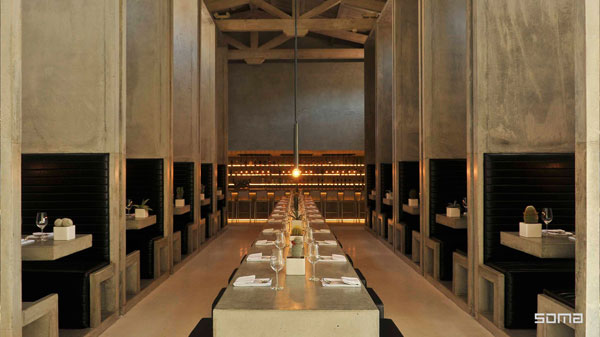 Cast-in-place raw concrete elements highlight the design of Workshop Kitchen + Bar, Palm Springs, Calif.
Working with an existing 3,500-square-foot space in the historic El Paseo building in Palm Springs, Calif., Abboud and the SOMA team strived to maintain the structure's original character in the design of Workshop Kitchen + Bar. Designed for chef-owners Michael Beckman and Joe Mourani, the restaurant was completed in October of 2012. "Our goal was to create a fresh, new architectural identity to correspond to the Workshop Kitchen + Bar," said Abboud, SOMA principal. "We treated the existing historical building with the utmost respect. Our design approach was a simple insertion of poured-in-place cast concrete brutalist elements using an ecclesiastic design approach."
The aesthetic of the design is inspired by classical layouts of churches, where the different elements such as the pews, altar and high-ceilings are appropriated to create both a beautiful and spiritually inspiring space, he says.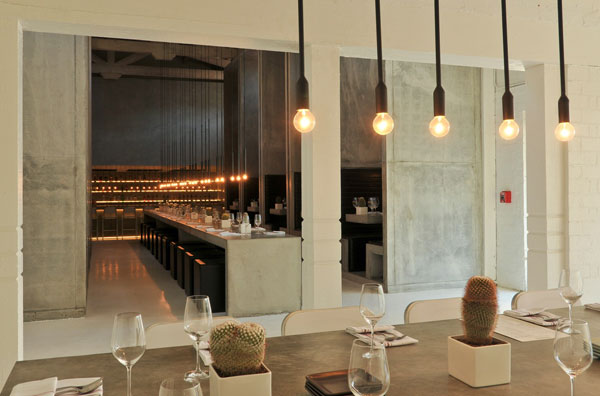 Design highlights at Workshop include a 35-foot-long communal table that runs down the center of the space, while large, monolithic concrete booths provide a more intimate dining experience. Additionally, a private dining area at the back of the space (above) allows guest to dine at the monolithic altarpiece.
"The simple insertion of poured-in-place cast concrete brutalist elements in the towering space afford an ecclesiastic aesthetic that is at the same time awe-inspiring and minimalist," Abboud notes.
Brindille's design, as well as its menu, evokes a modern, luxurious, Parisian-inspired dining experience in the heart of Chicago.
Brindille was opened on Chicago's Clark Street in the spring of 2013 by James Beard Award-winning chef Carrie Nahabedian (of NAHA fame) and her cousin, Michael Nahabedian, also an acclaimed Chicago restaurateur (Green Dolphin Street, Café Absinthe). Another cousin, designer Tom Nahabedian, along with his business partner James Gorski at Chicago's Bureau of Architecture and Design, sought to transform the intimate, 50-seat space into a "Parisian-inspired, luxuriously-appointed, jewel box of a modern restaurant."
The name Brindille is French for twig, new growth. That name is interpreted throughout the space, in the artwork, lighting, materiality and serving pieces. Concrete, walnut, stone and antique brass were detailed in warm grey, deep brown and lavender tones, providing texture, warmth and modernity. Deep plum-colored silk wall covering is the backdrop for custom works of art that depict views to the sky from the forest floor. Along the back wall an intimate booth is lined with curved, alternating bands of smooth and travertine-finished plaster.
At the street, a board-formed concrete bulkhead provides a backdrop for signage and base for a storefront featuring a curved glass corner that leads guests to the entry. Inside, host stand display cases change seasonally, like Brindille's cuisine, one month displaying the latest ingredients from local farms, the next the owner's collection of antique lobster forks.
Say the designers, "We sought to create a space where the entire experience is reminiscent of something you've enjoyed in the past, only now everything is modern, more ethereal; transporting the diner into a thrilling urban novel set in Paris during La Belle Époque --via Chicago, 2013."