Images courtesy of Panda Express
Panda Express' latest prototype accomplishes two objectives for the chain: adapt to changing consumer behaviors and celebrate the Chinese-American experience in a thoughtful way. The chain worked with experience agency ChangeUp to develop the new design which was applied in a location in Dripping Springs, Texas.
The Celebration Story design draws inspiration from the Lunar New Year, which "pays homage to Chinese heritage in a bold and fun way." Key design elements include terrazzo tables symbolizing Chinese New Year confetti, traditional fretwork tiling, red lanterns, a moon gate-inspired entrance, and a signature neon welcome sign. The restaurant also includes a custom hero mural that tells a story of heritage and celebration.
The restaurant's exterior features a sweeping roofline with warm wood tones. The building uses the brand's signature color palette of black and white, with red accents. And pictograms line the drive-thru, telling a Chinese American story.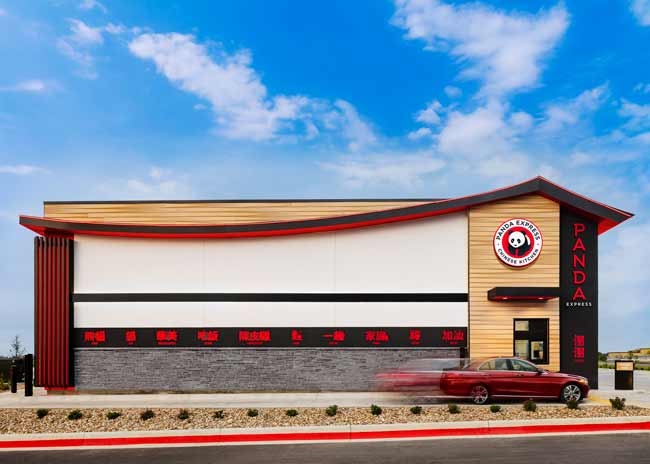 The Panda Sculpture installed at the Dripping Spring location is the first of its kind and features custom artwork by local Asian American artist Steffi Lynn, highlighting the culture and landscape of Dripping Springs and the surrounding Austin area. Panda Express intends to continue to collaborate with other local artists of diverse backgrounds who represent multicultural communities where the chain will open restaurants in the future.