Paying homage to the former auto dealership and ambulance garage that once occupied the space, designers for Steel & Rye in Milton, Mass., blended existing industrial and historical accents with newly minted blonde wood and innovative fixtures using salvaged building materials.
"We looked closely at the history of the area when building the restaurant — particularly at the lower mills that were built around the first water-powered rye mill in the country nearby," says Dan Kerrigan, co-owner with Chef Chris Parsons. "We will soon have a fully functional grist mill to grind our own flour using heirloom grains for pasta, pizza dough and other breads."
The nearly 7,000-square-foot "Americana" concept focuses on clean, classic dishes using local produce and seafood as well as house-made grain-based foods. The cocktail menu features many small-batch and specialty ryes and Whiskeys.
Both the menus and the restaurant's design aesthetic reflect the working class milling, farming and factory community that once dominated the Boston suburb, which has seen an influx of younger residents and families in the past few years.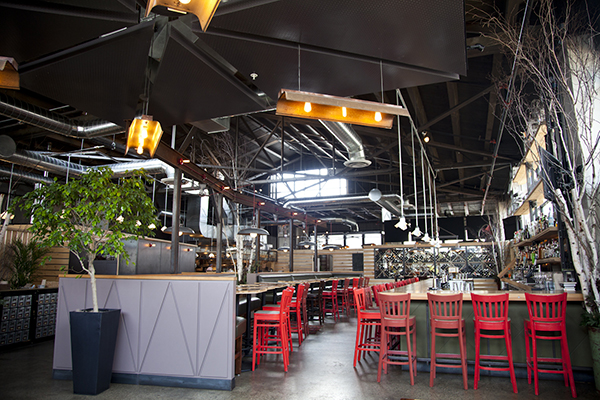 Parsons and his team cook many of the Steel & Rye's dishes on an old-school range stove and cooking suite, handcrafted in France, that he procured online from renowned chef Norman Van Aken. The suite, which Parsons says is one of only 38 of its kind in the U.S., is equipped with a flattop, gas burners, a fryer, grill, plancha, Salamander and even a wok. A production space in the back of the kitchen offers extra room for making fresh pastas and pizzas.
Working with the open, warehouse-like space, designer Brendan Haley, of BHaley Designs, kept many of the original architectural features intact. Glass garage doors and massive 10-foot-tall windows wrap around the 40-year-old building, offering plenty of natural light and a view of the skyline and treetops outside. Exposed brick, distressed pine and steel truss work on the ceiling balance the more modern accents, such as "chandelier" light fixtures constructed of salvaged gas pipes and iron sprinklers, and pops of red signaling the primary colors found in auto garages.
"We wanted to design the space as if we stumbled upon an abandoned garage and started working in the building but didn't finish," says Hayley. "We used as much of the original materials in the space we could find. We would find objects and take them apart and weld them to something else for different fixtures. Our approach was reactionary — all of the inspiration came from inside the building rather than from imposing new ideas and objects into the space."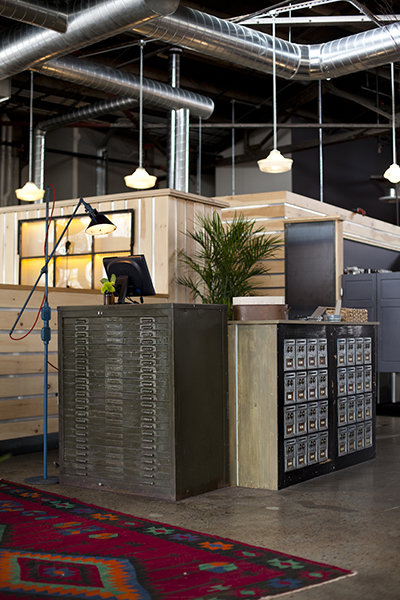 Other creations include a host stand made out of a toolbox for architectural drawings, repurposed auto repair lights for incandescents, and patio planters made out of old duct work, as well as a central high beam structure fabricated using salvaged steel. Above the blonde wood bar, a temperature-controlled, glassed-in shelving unit holds bottles of wine, while at the tables medicine bottles and cast iron skillets are used as serving pieces.
Steel & Rye's project team also included Barry Ganek of Ganek Architects, Jason Hoynash of Blue Barn Builds, and Chris Lucas of Lucas Electrical Services.