In the ever-evolving world of restaurants, much positive change has happened over the past few years when it comes to a growing acceptance of diversity among the ranks of foodservice frontline workers, managers and even executives.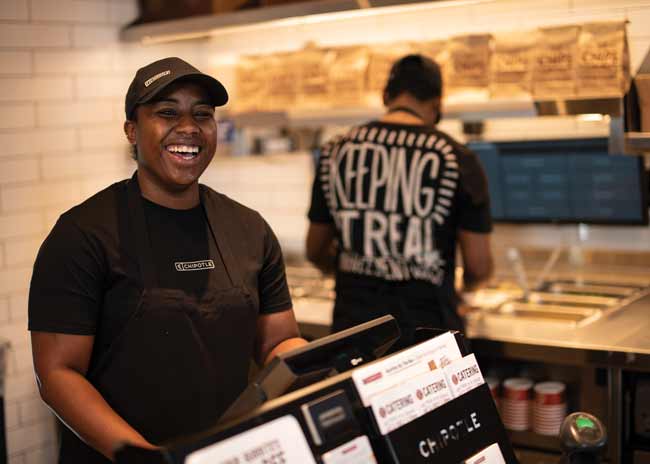 Chipotle offers six employee resource groups that ensure an integrated community and help build the company's culture. Diversity, equity and inclusion (DEI) have moved beyond being buzzwords at many organizations and have become key components of organizational infrastructure. It's a movement that seeks to ensure the fair treatment and full participation of all kinds of people but particularly those that have been thus far underrepresented or subject to discrimination.
To aid restaurants in offering an inclusive environment to employees at all levels, the National Restaurant Association (NRA) and the Multicultural Foodservice & Hospitality Alliance (MFHA) created ELEVATE: A DEI Framework for the Restaurant Industry, which they launched last year.
MFHA's research (conducted with the NRA, the National Restaurant Association Educational Foundation, and Cornell University Nolan School of Hotel Administration) had shown that while restaurant employers believe they're doing a good job with DEI, employees didn't share the sentiment. So, the goal of the program is to ensure all employees feel respected, valued and heard.
ELEVATE offers hospitality organizations a guide to being inclusive, says Gerry Fernandez, president of MFHA. "Diversity success is sustainable over time, and it's not quick. You've got to keep doing these things and ELEVATE gives you a starting point, proven ways that you can think about this, and it's a whole lot better to take off on a journey when you've got a roadmap, than trying to do it yourself," he says.
Employees who feel they belong to an organization are likely to work harder and stay longer, Fernandez adds. "DEI matters, especially to younger workers, and if you don't have a solid culture they won't stay, and they probably won't come back. They want to know your company stands for something. When you have a DEI initiative, people know you care and can see themselves being successful in this culture. They need to feel their voice matters."
The program offers step-by-step tools to encourage organizations to set the foundation for effective inclusivity, implementation, and ways to measure success. Companies that have signed up with ELEVATE include Fat Brands, Texas Roadhouse and Red Robin.
"Front-of-house people have been asking for managers who are willing to understand the unique challenges they have, whether it's their identity or their income status," says Michelle Silverthorne, diversity and inclusion consultant, founder and CEO of Inclusion Nation, Ann Arbor, Mich., who worked with the National Restaurant Association in 2022 to create ELEVATE.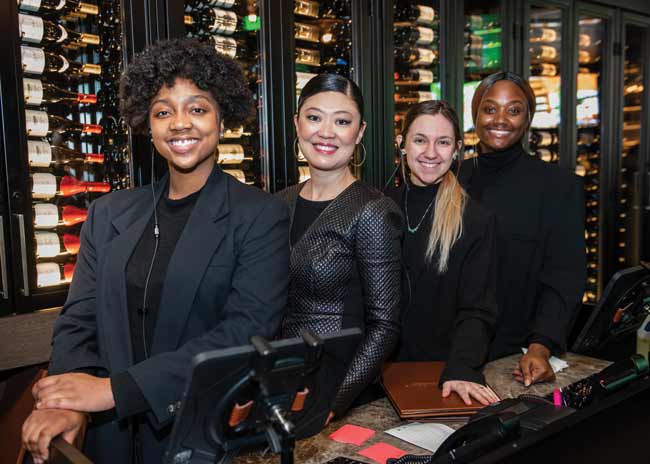 Cameron Mitchell Restaurants team at a WHOLE (We Help Our Leaders Evolve) event.Restaurants need to ask themselves what they are offering that would make people want to stay there, according to Silverthorne. "[Operators should ask:] How can they offer a community where [all employees] feel accepted, included, and where their authentic differences are welcomed," she says.
Restaurant leaders should be giving DEI as much attention as anything else, from finances to marketing, says James Pogue, DEI expert, coach and speaker, and founder of JP Enterprises, Dallas, Texas. And the first thing they need to do is identify the gaps in their organization, where they're not yet inclusive, and what needs to be done to fix it.
First, it's important to get the company's leaders on board, Pogue says. "If the leaders aren't engaged, it's not going to go well or it's not going to last," he says. So first, Pogue assesses where leaders are on what he calls DIBs (Diversity Inclusion and Bias). This includes religion, age, race, politics, geography, differing ability, sexuality, gender and socioeconomics.
Once the leaders are assessed, they know where they need to do better, "so now you have a much more sophisticated approach to becoming a more inclusive leader," Pogue explains.
To understand their own gaps, Pogue says, leaders need to have humility and grace. "It's OK not to know everything or even anything. You have to stretch yourself and be uncomfortable and ask other people to be uncomfortable, and you have to do it with grace because you're going to fail every now and again," he says.
Cameron Mitchell Restaurants
In 2017 a low-grade rumbling started moving through the executive team at Cameron Mitchell Restaurants. A group of five women among the senior management team began to discuss gender equality in the wake of the #MeToo movement and launched a series of roundtables with female salaried managers. They soon added two men to the team.
As word spread through the company, associates started talking about specific groups they identify with and wanted to know how they could be involved and included.
"We realized there was a larger, very important, initiative at hand," says Melissa Johnson, vice president, Cameron Mitchell Premier Events & Community Relations, Columbus, Ohio, and one of the founding members of WHOLE, which became the name for the team.
WHOLE stands for We Help Our Leaders Evolve and the council includes 12 employees from Cameron Mitchell Restaurants (CMR) — six from the executive team and six leaders, from director to assistant manager level, representing traditionally marginalized groups that includes women, people of color, and LGBTQ+.
What happened at CMR is something many in the restaurant industry have been thinking and talking about but not many have done anything about.
According to the Multicultural Foodservice & Hospitality Alliance, while 73% of enterprises believe a diverse workforce improves a company's innovation, 54% of enterprises don't believe the money spent on diversity programs has a noticeable impact. At the same time, just 30% of current employees and 14% of former employees believe the diversity programs at their restaurants had a positive impact on the workplace.
Johnson knew Cameron Mitchell Restaurants was built on its strong culture, but in the wake of the #MeToo movement in 2017, the leadership team heard feedback from the company's manager roundtables, which led to learning about more about inclusivity. Johnson says "when you know better, do better."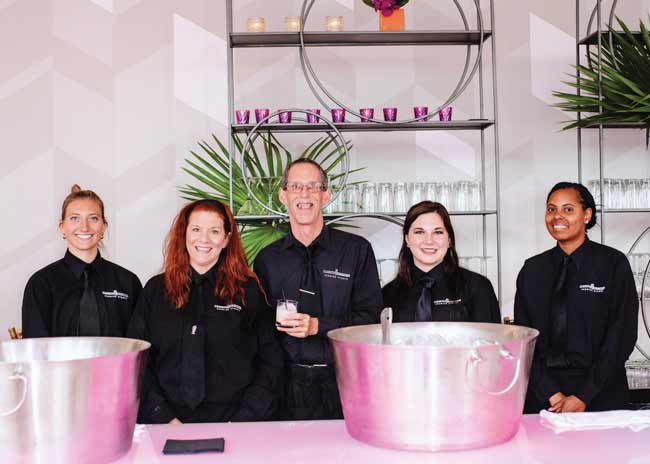 In the wake of the #MeToo movement, Cameron Mitchell Restaurants launched WHOLE (We Help Our Leaders Evolve), a DEI commitment that evolved from a series of round tables senior executives held. The WHOLE initiative is now a core aspect of the company's culture. 
Realizing the company could only go so far with DEI and inclusion on its own, CMR brought in Courtnee Carrigan, CEO and senior consultant with Raising the Bar Performance Group, Columbus, Ohio, as a consultant because employees had the passion and the drive, but they didn't have the education or experience to execute a plan for this kind of cultural change.
"With [Carrigan's] guidance we came up with our mission statement and culture statement," Johnson says "[Carrigan] was able to walk us down this path with milestones or spots along the way. The top priorities were training and awareness."
Carrigan's first task was challenging unconscious biases across the organization. She also trained all salaried managers. Now, all new managers are taught the company's WHOLE commitment. It's ongoing, too. In all manager meetings there's time allotted for WHOLE trainings and moments.
"[Carrigan] took us to a different level of testing ourselves and asking tough questions about our company and our management style that really made us think," Johnson says. "You really need to think about it because if you don't have the right voices at the table, and the right perspectives of those you're trying to be inclusive with, you're missing something." Carrigan also "helped us learn to pay attention to who isn't making noise, who isn't talking," says Johnson.
Carrigan encouraged the team to think big and act small. "It's so big and so important because you're dealing with human beings and you're trying to be inclusive," Johnson says. "You're on a journey and you're always learning, educating, including."
Since launching WHOLE, CMR has become a more diverse company, recruiting in new colleges and different neighborhoods, thereby "opening ourselves up to more diverse candidates, and we're more aware when we're hiring," says Johnson. "And we do so much more promoting from within."
The WHOLE initiative is now part of everything that happens within CMR restaurants and is present in every department. In 2020, the company added this pledge to its corporate values: "To create a diverse, inclusive and equitable environment where all are valued, welcomed, heard, and supported." Integrating the sentiment into action is now part of what defines the entire organization, according to Johnson.
Chipotle's Commitment to Diversity
Chipotle has long been committed to supporting DEI efforts and supporting the success of all employees.
"With the creation of our values in 2018, we were intentional to ensure that we identified values that spoke to our commitment," says Tawanda Starms, vice president of restaurant support center, people experience and chief diversity, equity and inclusion officer at Chipotle.
Two of those values are "Authenticity Lives Here" and "the Movement is Real." This, says Starms, "essentially means we do what's right even when it's hard. We continue to focus our actions on work that elevates the employee experience and creates an equitable environment."
Approximately 50% of Chipotle employees are female; and 68.6% of its U.S. workforce is comprised of racial and ethnic minorities.
The Newport Beach, Calif.-based chain, which has more than 3,200 locations worldwide, continues to refine its DEI efforts. In October 2021 it launched a Leadership Evolution and Development program, which was designed to develop emerging talent for future leadership roles. "In our inaugural cohort, over 50% of the participants were diverse," Starms says.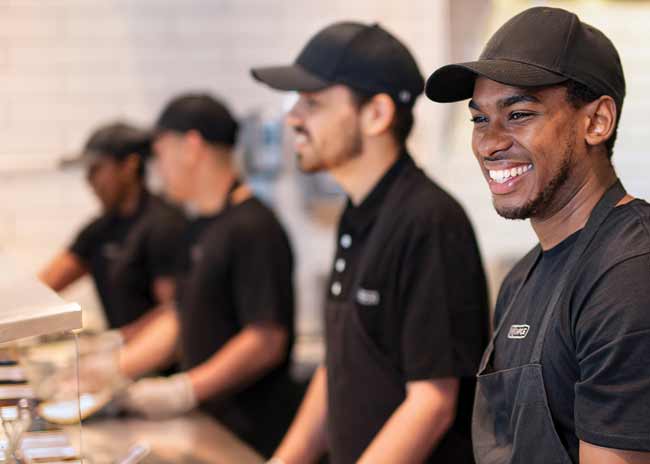 At Chipotle, approximately 50% of employees are female and 68.6% of its U.S. workforce is comprised of racial and ethnic minorities.
For staff, Chipotle also offers six employee resource groups that ensure an integrated community and help build culture. These are: UNIFIED (United Network of Influencers Furthering Inclusion and Ethnic Diversity), PRIDE, Chipotle Serves, The HUSTLE (Humans Uniting to Support the Ladies' Experience), SERVES, Chipotle Wellness and Culture Committee.
Also in 2021, Chipotle conducted an independent pay equity analysis of its U.S. workforce to identify risks and pay gaps by gender and race/ethnicity to ensure equality. While the results did not identify preferential treatment to any class of employee, it did identify several isolated discrepancies between actual compensation and its policies, "and we quickly made pay adjustments to close all identified gaps," says Starms.
To ensure it's hitting the mark with employees, last year Chipotle conducted engagement surveys with all staff and received insightful data. Now, it's planning to create an avenue for employees to share their feedback more frequently, at any time, rather than just once a year. "We have also continued to host listening sessions, which have allowed leaders to hear directly from team members on how they are feeling about important issues," Starms points out.
It's not enough to simply look within itself and Chipotle last year kicked off its first-ever yearlong Pride program dedicated to ongoing support of the LGBTQ+ community, in collaboration with Chipotle's PRIDE employee resource group.
It also teamed up with Happy Hippie, a nonprofit organization whose mission is to fight injustice facing homeless youth, LGBTQ+ youth, and other vulnerable populations. Through this partnership, it provides $250,000 in free Chipotle meals to Happy Hippie's partner LGBTQ+ centers across the country, giving them access to real food throughout the year.
And, Chipotle has begun to collect feedback from consumers to better understand their sentiment and how they view Chipotle from a diversity perspective. "We will gather and review this data regularly to consider if we need to evolve our strategy related to how we support our communities," Starms points out.
Chipotle's purpose, Cultivating A Better World, starts with its workforce. "Over the next five years, we'd like to be sure that our talent management programs, processes and practices provide an equitable experience for all our employees," says Starms.