Planning a renovation for a landmark location calls for a creative eye and a clear vision. This is precisely what designers had when undertaking the renovation of The Langham, Boston.
Originally constructed in the early 1920s as The Federal Reserve Bank of Boston, the building's Renaissance Revival-style facade was designated as a Boston landmark in 1978, shortly before being converted into a hotel in 1981. It was the building's last major upgrade.
After a two-year, multi-million-dollar renovation The Langham, Boston re-opened its doors in July 2021. In addition to revamping guest rooms and suites, a new lounge, restaurant and bar were on the docket.
The Fed cocktail bar is located inside the Langham, Boston. Image courtesy of Nina Choi
The project's primary goal was to preserve the history of the building and highlight its architectural elements while bringing the national landmark to a new standard of modern luxury. The Langham, Boston paid specific homage to the building's history with the debut of a new cocktail bar aptly called The Fed.
The British-inspired cocktail pub is the sister restaurant to The Wigmore, at Langham Hospitality Group's flagship hotel, The Langham, London, but with a New England twist.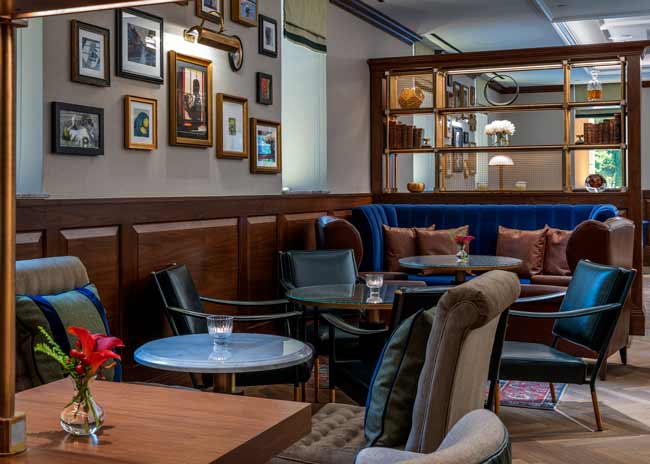 Image courtesy of Richard Mandelkorn
This bar was inspired by the classic gentleman's club, as well as its namesake the Federal Reserve Bank, as some elements of The Fed's walnut millwork were inspired by safety deposit boxes.
Shelving units with mesh panels separate the bar and restaurant to create a sense of privacy for diners. Image courtesy of Richard Mandelkorn
Located near the hotel's entrance, The Fed is visible enough to draw guests in while still separating patrons from the disturbance of lobby activities. Designers used shelving units with mesh panels to separate the bar and restaurant and create a sense of privacy for diners.
The Fed offers a large central bar along with surrounding seating for a more intimate experience, as well as a seasonal terrace with luxe lounge furniture offering views of the city.
Project: The Fed – The Langham, Boston
Location: Boston, MA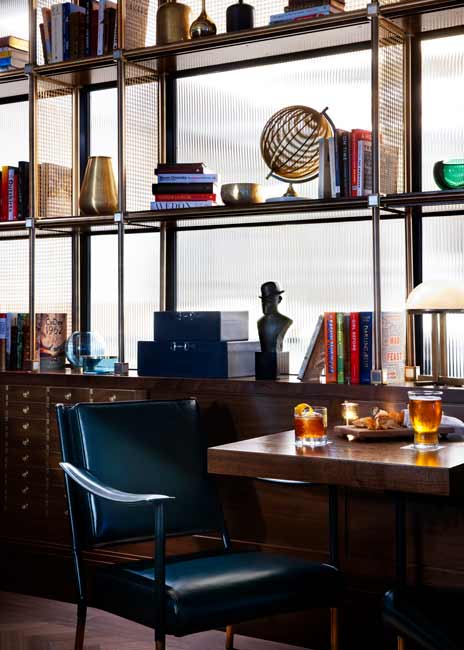 Image courtesy of Nina Choi
Project type: renovation
Concept style: hotel bar
Opening date: July 12, 2021
Size: 3,201 square-feet with 86 indoor seats and 22 outside
Project team:
Construction Manager: Shawmut Design and Construction, Boston
Architect: Dyer Brown Architects, Boston
Hospitality Design: Richmond International, London
The Fed's sister restaurant GRANA is a 2023 rd+d award winner. See more of the Langham, Boston here.