Two-and-a-half decades after the juice bar chain Juice It Up! launched, managers concluded that the store design urgently needed a reboot. Initially focused exclusively on smoothies, raw juice drinks and fruit bowls had been added to the menu over time. However, the assembly area hadn't changed much, so what was once an efficiently laid out kitchen no longer worked.
"We had team members passing by each other while trying to produce one product," says Carlo Verdugo, vice president of operations, Juice It Up!. "Things didn't flow correctly. As times changed and the menu evolved, the kitchen and the back of the house didn't really evolve with those changes."
The chain's plight illustrates how attention to detail is essential for juice bar design. While menu items lend themselves to quick preparation with no cooking equipment, meticulous planning for the prep area's layout is essential for optimal efficiency. Given that many juice bars are high-volume businesses, small details can make huge differences in service standards and profitability. In addition, smartly displayed ancillary products can boost impulse buying and upselling. And, aesthetically, making orders can be sensory-rich entertainment, so highlighting the production process adds customer appeal.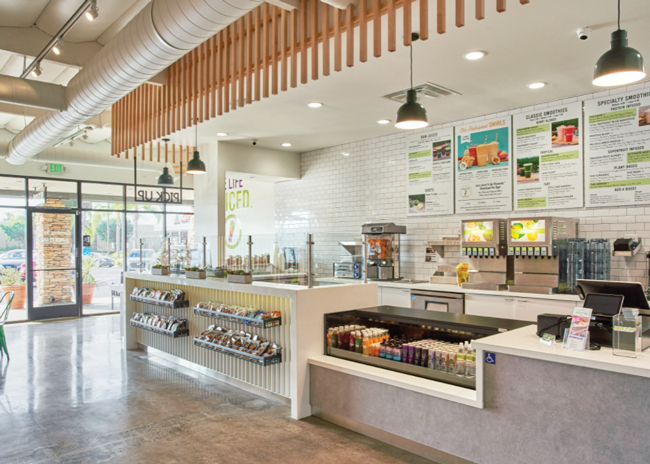 Juice It Up!'s latest design includes a long, linear production area with great transparency for guests. Images courtesy of Juice It Up!
Business Model Guides
Every business should have a plan. "It might seem like overkill to do a business plan for a juice bar, but it really is the most important part of planning," says Victor Cardamone, president, Mise Designs. The business plan should guide design planning, he adds.
The business plan should center on analysis of the projected customer base. Demographics provide cues on how to approach the menu. In a trendy area such as Soho in Manhattan, you would expect a younger clientele that is looking for fresh, organic ingredients and environmentally friendly practices, Cardamone says. That will guide the menu, the array of ingredients, pricing, and the design of the prep area along with the look of the establishment.
If an owner wants to appeal to an earthy, vegan clientele, opt for a wide array of fresh vegetables including root vegetables. If so, a heavy-duty juicer, which looks and performs like a mechanized meat grinder, would be a must-have to process carrots. This piece of equipment is very loud and creates a great deal of vibration — both of which have design implications.
Whether the juice bar will offer solely or mostly fresh fruit or frozen fruit and/or juice from concentrate determines the storage scheme. More fresh fruit requires more refrigerated storage areas both within the prep area and in back in the storage room. Juice bars relying on fruit concentrate, on the other hand, need only a small refrigerator for garnishes.
Brands that offer fruit bowl fare add counter space and storage dedicated to that product segment. That means more refrigeration units and space for nonperishable ingredients such as granola and nuts.
Another aspect of the business plan with layout implications is pricing. A standardized menu with fixed prices per item lends itself to payment before the order is prepared. This arrangement, common for large chains, typically leads designers to place the POS station at the beginning of the production line. Some mom-and-pop establishments, by contrast, opt to locate the POS station at the end of the line with customers choosing their ingredients on the fly.
The latter arrangement is less efficient, as employees typically must take notes to keep track of the make-up of multiple orders for accurate pricing, which slows the process, Cardamone points out. This less regimented approach can be perceived as more folksy and flexible, however, which may appeal to customers wanting the feel of a neighborhood deli or coffee shop. It should be noted that most large chains do allow customers to add ingredients for additional fees, similar to how pizza restaurants charge extra for a certain number of toppings.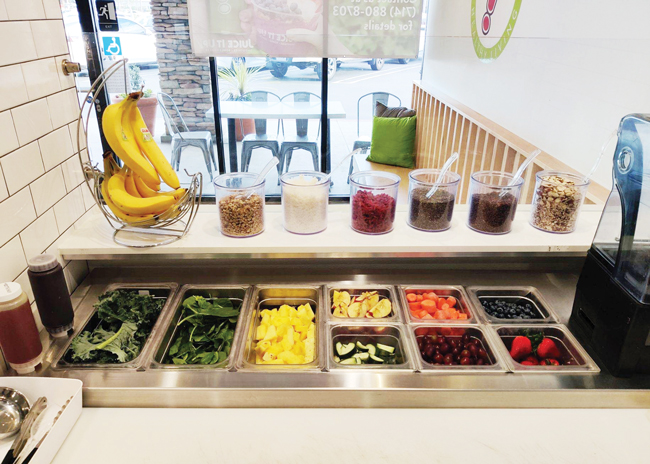 Juice It Up!'s bowl-making station holds all of the ingredients within arms-reach.
Efficiency Principles
Regardless of the business model choices, every owner strives for order-making efficiency to ease labor demands, provide excellent customer service and boost profitability. "At the core, speed of service is very important," says Geoff Henry, president, Jamba. "For us, seconds matter." Jamba's customers expect a rapidly filled order and to spend little time inside the venue. "We don't design our stores for customers to hang out," Henry says. Most sites have little to no seating. Jamba's service standard is to fill an order in less than three minutes, and during off-peak periods it is possible for drinks to be made in under 90 seconds, Henry says.
A few years ago, Jamba embarked on a redesign that included a close examination of production efficiency. Working with internal designers and hired consultants, the brand conducted controlled experiments to study how orders were made in several different existing store footprints. The studies tracked how far employees traveled and monitored the time spent at each station as orders proceeded through the production line.
This painstaking work led to a new standard counter and fulfillment area design. The result was a series of stations for specific order types — smoothies, juices and bowls — laid out in a circular order flow pattern behind the counter. Customers place an order at the POS station. Then the workflow moves to one of three distinct prep stations — one to the right side, one to the back, and one to the left of the POS station, next to the pick-up area. Each station is configured to produce each type of menu item.
The person at the POS station hands off any order by taking just a step or two to the person making the order. With each order able to be created within a defined area, employees don't have to move much and are not bumping into each other. All ingredients for each type of offering are within arm's reach of the employee creating the product.
Jamba's redesign got efficiency right, according to Cardamone's approach. "I look at it like creating an assembly line," he says. "My objective is to arrange things so the employee doesn't have to take more than one step to execute the order," Cardamone says.
Juice It Up! opted to retain a linear production line in its redesign. A detailed reexamination of how space layout impacted production efficiency yielded changes, though, most notably on the counter itself. The customer-facing counter's shape and size was modified to be longer (roughly 20 feet in length) and more rectangular. Raw juicing tasks were relegated to the back counter.
Jamba's redesign features muted tones with a few splashes of color. Image courtesy of Jamba
Sight and Sound
Both Jamba and Juice It Up! made design adjustments to better present the theater of the production process and highlight the fresh fruit and vegetables used. Jamba added refrigerator units with glass doors that allow customers to see the array of colorful ingredients.
Juice It Up! installed custom-made, undercounter refrigerators that lack the usual clamshell top covers. Instead, these units are topped by trays recessed into the counter that are cooled by the refrigerators below. It's an efficient design that serves double duty by holding perishables in undercounter storage while providing cold stations on the counter. This arrangement replaced the old configuration of stacked cooling trays that obscured customers' views of fruit bowl assembly. Obstructions such as stacked trays can also degrade communication between employees and customers as orders are fulfilled. Thus, maximizing transparency above waist height is a design must.
To that end, newer designs often include recessed compartments within the counter for blenders. In addition to providing more transparency, this scheme helps to muffle the noise made by the machines. One important consideration, though, is that blenders produce significant vibration that can crack materials such as stone and marble over time. If such natural materials are part of the design, make sure that any recessed blending equipment is not placed within this part of the counter. Laminate is a better choice in that case.
The choice of materials within the juice bar area and in the store should relate to the type of products being sold, Cardamone emphasizes. Venues that pride themselves on healthy ingredients should choose natural materials and muted colors. On the other end of the spectrum, an establishment that offers sugary items like cotton candy-flavored smoothies would be better served by brighter, flashier colors to connote a fun vibe.
Space planning should include displays for upselling extra ingredients and ancillary products such as protein bars, baked goods and protein powders. An eatery offering coffee and other hot drinks might put jewelry cases visible from the customer side of the order counter for fresh muffins, scones and cookies. A display case for packaged snacks next to the order station or POS can spur impulse buys. Nut milks and other specialty chilled products could be placed in a refrigerated unit next to one that holds to-go orders for pickup. These are all sound upselling strategies.
Social Media-Friendly Installations
Many customers enjoy posting selfies that show them enjoying juice bar treats on social media. Both Jamba and Juice It Up! added branding elements as suitable backdrops for social media posts. The latter added an Instagram-worthy statement wall with a graphic highlighting the brand's "Live Life Juiced" motto.
Indeed, though juice bar products often promote a healthy lifestyle, designers should consider that many customers see juice bar fare as special treats and want to express that feeling online. While function is critical to efficient service and profitability, form should include elements that contribute to a fun customer experience. Blend both well and you have a real winner.