In 2017 Sahil Rahman and his business partner Rahul Vinod opened the first location of Rasa, an Indian fast-casual restaurant, in Washington, D.C., which has now grown to three units.
Rasa's interior design is unique. It's an explosion of color, natural materials and decor elements that reflect the concept's Indian heritage. The restaurants feel welcoming and not too far-flung from their East Coast location to be too foreign to guests not familiar with India.
Rahman talks to rd+d about how they designed a restaurant with an American audience in mind, while still being true to the concept.
1. Source select pieces.
Rahman and Vinod wanted to make a grand gesture before customers even walked in through the front door, so they had a door custom-made in Rajasthan "to create this grandiose and palatial feel that sparked some curiosity from people walking by," Rahman says. This was an important piece, he says, "because it felt like the opening to our store but also our culture."
2. Communicate with color.
Color is a simple way to brand a restaurant, and it's something that's neither offensive nor too much to people unacquainted with India.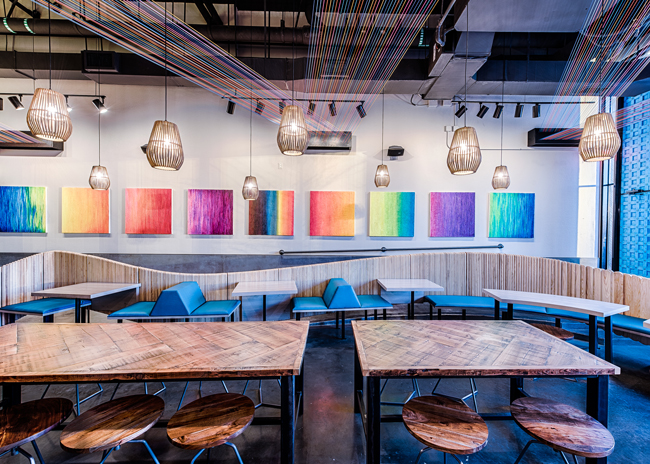 Rasa, Washington, D.C.Rahman and Vinod started by creating their logo, which includes five colors. "We felt India's such a vibrant, colorful place, that it was important to bring that energy into our brand," Rahman says.
The name really stands out on the exterior of Rasa because it's bright and the rest of the exterior is black. Inside, the same colors are used in strings that run across the air high above customers' heads as decor.
3. Don't overcomplicate the name.
Rasa is an easy name for Americans to say, though the name was very carefully chosen because "rasa" means "taste" in Hindi, in having a taste of something, literally and figuratively.
It also reflects the nine rasas, or the nine essential emotions, in Indian aesthetics. To subtly reflect that, the owners have interwoven some subtle signs into their brand: Their logo is broken up into nine pieces; inside there are nine individual paintings, each one depicting one of the rasas (in the third location it's one painting with nine sections).
Casual visitors to Rasa would just think these are nice pictures, Rahman says, but to people who know Indian culture, they take on a deeper meaning. And, for those who want to learn more, a small sign underneath each picture gives details, though this is easily missed by patrons who are not interested.
4. Have some fun.
The owners of Rasa feature several angled boxes on one wall of each of their restaurants, which look as if they've been jumbled. Different items are placed deliberately in the boxes "to really showcase and highlight our backgrounds both locally and from India," Rahman says. There are trinkets and books, instruments and cooking vessels. "We highlight a number of minorities and southern Indian authors. It allows us to showcase our cultural history."
But the boxes also feature items that highlight the neighborhood they're in and their beliefs such as a map, a Michael Pollan book, paintings by local artists, and bobble heads of the Nationals in the Navy Yard store. Every so often they'll change up what's in the boxes. "As the times change, so do we," Rahman explains.
There's a secondary element to the boxes that link back to Rahman and Vinod's Indian roots: Their design represents the top of a mandala. "It's very subtle and that's the idea: To have these relational pieces and it's not in your face," says Rahman.
5. Tie in the neighborhood.
Some elements appear in all Rasa restaurants, such as swings in the windows, the doors, the boxes, but each one also reflects the neighborhood it's in. The door is pink at the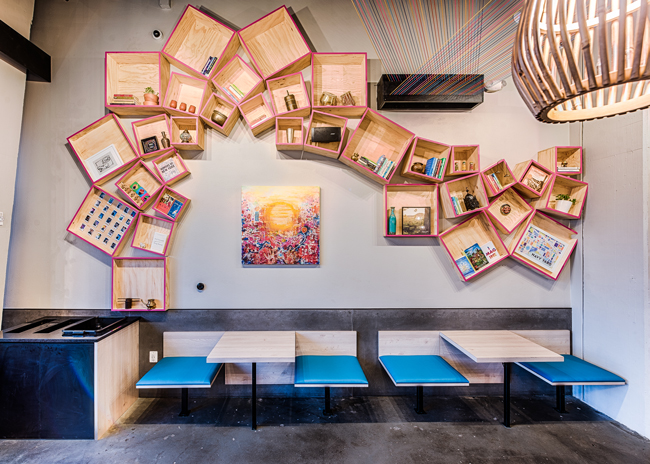 second restaurant, for example, and green at the third. Each restaurant also serves beers from local breweries and foods from local producers.
"We try to give each location its own character," Rahman says. "We want people to know they're coming into a Rasa and have that familiarity and comfort and trust. But we want them to have their favorite Rasa and for there to be a unique character to each one."
6. Think inclusivity from the very beginning.
"Inclusivity has been our vision from the beginning, to hold this duality where you can have someone who has never tried Indian food before be walking by and think it looks good and want to check it out," explains Rahman.
"You create an environment where someone feels safe to try something out of their wheelhouse. We've also designed it in a way that someone who is South Asian or has an Indian background can come in and have it be a space they are proud of, that they can feel seen in and can bring their friends in to celebrate rather than apologize for who they are. We want people to be able to share their culture through our restaurant."