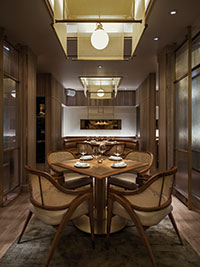 China Live in San Francisco is as immersive a Chinese experience as you're likely to find in the United States.
The brainchild of George Chen, it features a 15,000-square-foot marketplace, half of which is retail and the other half a full-service Market Restaurant, a tea salon (Oolong Café) and Bar Central. Upstairs, there's a high-end restaurant, Eight Tables, a bar and private dining. In the works are three more bars, including a rooftop lounge.
Chen's goal was to create a hub for Chinese food and to showcase Chinese fine dining.
The marketplace is designed to mimic Chinese markets, and the Market Restaurant actually extends out into the retail area, explains Greg Bradshaw, a principal with AvroKO Design, which led the development of China Live. "All these kiosks become part of the design, and you're surrounded by the dynamic cooking stations."
There's a lot of brick in the marketplace — what AvroKO dubs Shanghai brick — because it's what the design team saw everywhere in that city. It's a dark gray, longish brick based on the clays available in Shanghai.
Oolong Café has its own aesthetic, with hand-painted blue and white tiles depicting local and Chinese landmarks.
Upstairs, Eight Tables offers refined elegance, though the experience begins for guests with a walk down an alley, then a ride in a service elevator, transporting them from the hustle of everyday life.
Each of the eight tables are housed in a private room. "When you're eating, you can hear the buzz and see other people, but it was scaled to feel like eating in a home," Bradshaw explains. Scalloped wood-paneled walls and family portraits throughout the area add to the ambience.
An interesting area of the design here is the plaster work, which was imprinted with Chinese fabrics.