Saints + Council, a new tech-enabled, guest-focused restaurant serving chef-driven, seasonal menus for breakfast, lunch and dinner, opens in December at the Colony Square in Atlanta's Midtown neighborhood.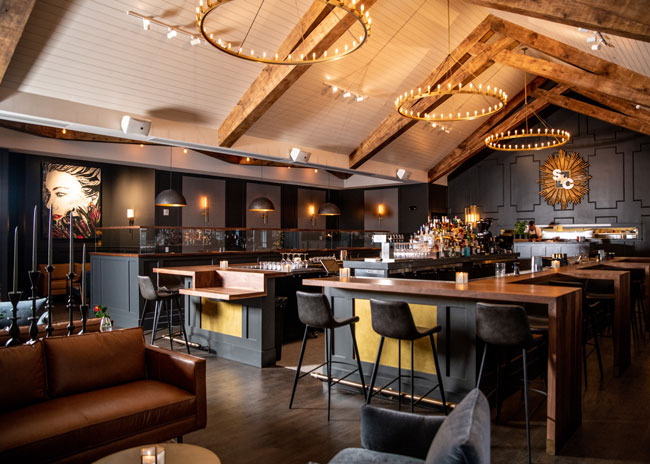 Saints + Council. Photo by Mia YakelLocated on the corner of Peachtree and 15th Streets, the 6,000-square-foot-plus space features dark charcoal walls, modern brass fixtures and reclaimed wood beams on vaulted ceilings. The design is clean and contemporary, but eclectic — "comfortable nostalgia" as Founder William Pitts describes it. A central island bar features small peninsulas that allow guests to sit face-to-face. Comfortable booths, tables and six living room pods — two around a huge stone fireplace —invite guests to choose the type of setting in which they would most enjoy their meal or drink, all while in their own exclusive area. Guests can also capture the exciting action of the chef putting the finishing touches on their meal from a stage overlooking the dining room. The outdoor pergola beckons guests to enjoy a fire pit and cozy booths with heaters and individually heated seat cushions in cooler months while enjoying Midtown's cityscape.
The new restaurant boasts a digitally enhanced, guest-focused service model. The goal is to make the experience as customized as possible. To order, guests can scan digital tiles around the dining room, living room pods and outdoor pergola to view menus and order directly from their phones. Their order will then be served to them wherever they're located in the restaurant. The new service concept will free guests to start on a sofa with friends and cocktails, move to a table for a chef-driven meal, and then retire to the fire pit under the pergola. Staff will offer customized service and handle everything from checking in on guests to clearing tables, running food and more.
Saints + Council Peanut Buttercup Hot Chocolate. Photo by Mia YakelThe season menu offers both sweet and savory breakfast items such as Bruleed Brioche French Toast and Saints Sweet Potato & Chicken Sausage Hash. At lunch, a seasonal menu will offer an ever-changing selection of soups, salads, sandwiches and shared plates like Crispy Apricot Glazed Pork Belly and Roasted Winter Squash Toast. Dinner extends the lunch menu to include more entrees, including Miso-Bourbon Glazed Bone-in Pork Chop and Cast Iron Seared Yellowfin Tuna. Each daypart includes an item inspired by Pitts' favorite dish: Dutch Babies. So the dessert menu, for example, includes Baked Apple Crumble Dutch with twice-bakes apples, pecan streusel and vanilla ice cream.
The cocktail program offers handcrafted cocktails made with fresh ingredients and small-batch spirits. There are also local and craft brews, a selection of wine and zero-proof options.
Food and drinks are also available for carryout.
Images courtesy of Mia Yakel