Modular and repurposed shipping container construction options can be flexible and eco-friendly. They typically go up faster and cheaper than traditional builds — though not always. These three companies see a bright future for these types of builds.
Biggby Coffee
East Lansing, Mich.
Biggby Coffee opened its first modular coffee shop that focuses on drive-thru traffic in West Alpena, Mich. As of July 2021, the company has 13 modular shops and another 48 stores in development (though not all will be modular). The growing chain has 257 stores, mostly in Michigan and Ohio.
The main advantage of the modular units, says Co-Founder and Co-CEO Mike McFall, is visibility. "They're very dynamic and have an incredible street-side image. Each location has a blue tower "so they're very visible, while when you're in a strip mall, you bleed away a little bit," he says.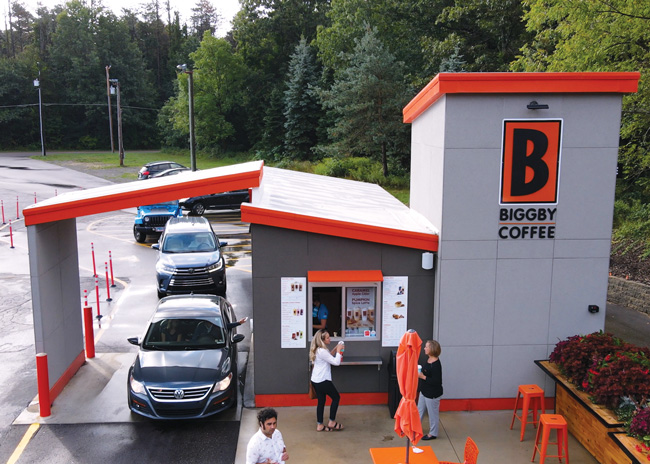 Michigan's Biggby Coffee has 13 modular units. Image courtesy of Biggby Coffee The modular units are 28 feet long, and 386 square feet including the kitchen, the mechanical room and back room. Traditional Biggby Coffee shops are 1,200 to 1,700 square feet though that includes a dining area and bathrooms. Still, the comparable area in traditional builds is close to 480 square feet, McFall estimates.
All modular units are made at the same construction plant and come ready to connect to water, sewer and electrical lines. The kitchen fills most of the space; they have a drive-thru on one side and most have a pickup window, too.
Dining areas are available in modular builds. The dining area would also be modular and bolt onto the side of the first container. "No one has chosen one at this point," says McFall. However, he adds, "in our business the third space could be even more in demand after the pandemic, potentially."
Most modular units have some outdoor seating that's "visually very pleasing when you have umbrellas and colorful Adirondack chairs," says McFall.
Another option to add on to the standard modular design is a storage module. A handful of franchisors who do exceptional volume have purchased that option.
The modular units are not necessarily less expensive than a traditional unit, says McFall, because the site work can be costly. "A lot of municipalities require things" such as significant landscaping and rainwater retention, he says. For one location the bill for that alone was $60,000, a huge increase on the pre-opening costs. All told, the cost to a franchisor to open a modular Biggby's is similar to the cost of a traditional location.
And the site work can be challenging, McFall notes, due to difficulty finding labor, high construction bids and the cost of materials. They aren't necessarily quicker to open either, he says, due to protracted zoning processes and working with municipalities, which is usually minimal in existing strip malls.
The advantage in modular construction in this case is that everything is made to Biggby's specs "so we know everything is properly installed. Also, we don't need foundations, which can be a big part of preparing a site, so that saves time and money."
As time goes by, McFall expects modular buildings to pay off in bigger dividends. "We'll be able to scale production," he says. "Right now we have seven or eight in inventory and as we get better at the zoning site work we'll be able to deploy these very quickly." Another advantage to modular units is that the entire store can be easily moved. And, perhaps most alluring to franchisees during the current tight labor market, modular units require about 20% less labor to operate.
Biggby's modular units are doing well, with sales tracking within 5% of their strip center units.
---
eegee's
Tucson, Ariz.
Fast-casual brand eegee's opened its first shipping container store in Tucson, Ariz., in May, and its second in Tucson this summer.
The brand, which has 26 traditional brick-and-mortar locations, wanted to move to container construction over budget and timing concerns. "They give us a consistent building that's easy to reproduce, it gives us a consistent product, and we can then forecast with the factory based on upcoming opening plans," says CEO Ron Petty. "It also helps control labor cost and eliminates the need to work with local subs."
By the end of 2021 there will be 31 eegee's restaurants in Arizona, and Petty plans to build another 10 to 12 units per year, all within Arizona and all company owned. However, the majority will employ modular buildings as opposed to shipping containers.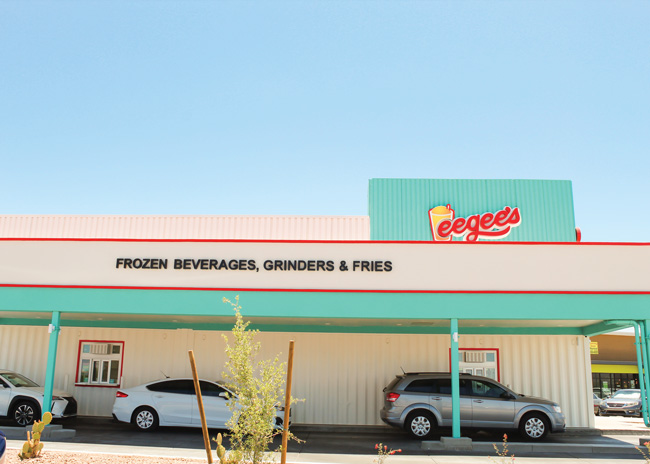 The Tucson store operates out of three 40-foot shipping containers. Two are connected end-to-end, giving it an 80-foot-long kitchen, and the third, connected at a right angle, houses the restrooms. The dining room offers a fully air-conditioned space with garage doors that can remain open during cooler months.
The second location is comprised of two 40-foot shipping containers, but Petty's testing this one with a covered patio with ceiling fans and seating, instead of a dining room. "Only about 10% in a given store is eat-in," Petty points out.
The shipping containers do have some challenges: They need to be ultra-high — 9.5 feet rather than 8 feet, says Petty, and must have never contained anything toxic. They're also pretty scarce right now, so are more expensive, and he needs two, placed end-to-end.
For the time being, eegee's will utilize modular buildings instead of shipping containers, Petty says, because they are 2 feet wider, providing larger kitchens. Cost-wise, the modular units are a little cheaper, too, and have the appeal of a fixed price.
The final piece of the puzzle in switching to modular is that the units will meet the standards required in the mega shopping complexes eegee's is planning to move into.
So modular works better for the concept now, he says, "because I can design it to fit what my total construction needs are. And it comes pre-done, pre-wired, pre-plumbed. A crew comes from the manufacturer to set it up." Petty's team specifies all it needs in terms of plumbing, electrical, HVAC, and where he'd like doors and windows placed.
The chain has discovered that, for them, container construction is more complex than modular. "It's just a box, and you have to cut windows, doors. You have to put a metal bar around it and make sure it doesn't collapse since they're pretty fragile, and you have to have the correct heating and insulation," says Petty.
What he's trying to do, Petty says, is cut development time and standardize everything so it's a cookie cutter model geared for rapid growth. "It comes, it's ready, I don't have to deal with a contractor or subs, so I get a standardized building that we've designed and it goes up in seven days." The modular units take about 45 days to build before they arrive on-site.
Images courtesy of eegee's
---
Secret Creamery
Las Vegas
Brian Mosko opened Secret Creamery in a shipping container in Las Vegas at the end of April — and business is booming.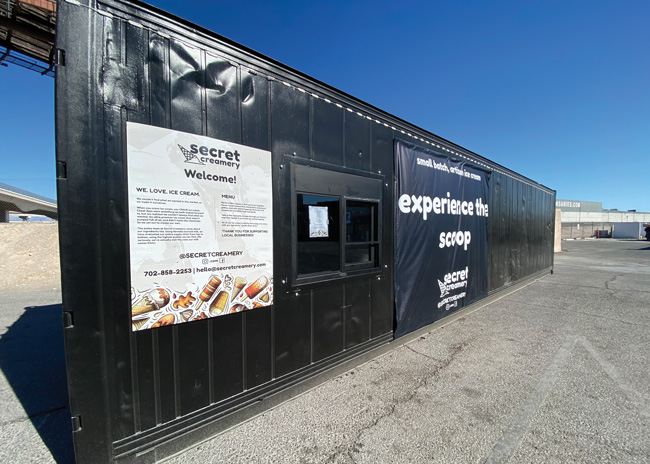 Secret Creamery's shipping container stores are mobile and environmentally friendly. Images courtesy of Secret CreameryHis 40-foot container sits in the parking lot of a closed restaurant, which Mosko leases, a quarter mile from the Strip. Earlier this summer he opened a second location, in a 20-foot-long container, at the opposite end of the Strip, in a parking lot, pulling power from a lightpole. The containers have no drive-thru; they're walk-up only, so have "that nostalgic feel," he says.
"We don't need a lot of space to scoop and serve ice cream," says Mosko. The ice cream is all made in a central commissary kitchen.
One reason Mosko chose to locate in a shipping container was environmental. Shipping containers he says, tend to sit once they've been used, "so it was an upcycle, reuse thing." Just as importantly, the container designs help his business stand out. "We have a container park downtown but we're the only stand-alone shipping container in Vegas."
Another big plus is that the containers are portable, so if business slows, Mosko could move them, since even in Las Vegas ice cream is seasonal. "So, we get to pick the best real estate because we've got such a small footprint and can run off an electrical hookup or backup battery."
Mosko could also store the containers during the off-season at the facility where they're fabricated for a monthly fee.
Because of the potentially transient nature of shipping containers, Mosko has negotiated specialty lease agreements for all future sites, which are easy to terminate if he moves. The shipping containers do all need external power for the freezers, hand sink, lighting and AC, so units need to be near a commercial building or a power supply. So far, the only site work Mosko has needed to do is electrical, which has ranged from $2,000 to $6,000.
Mosko's got big plans to expand Secret Creamery but says he will continue to source his shipping containers from the same company, which outfits them to his specs in about three weeks.
To prepare the shipping containers for use costs around $65,000, according to Mosko. This typically involves putting in electrical, a hand sink, tile floor and graphics, design and signage. The health department requires that the shipping containers have smooth, easily cleanable walls, and so far, they've come insulated and lined with stainless steel — hopefully future ones will, too.
As for the downsides, "we legitimately haven't found one yet," Mosko says. "It's a showpiece, and it checks a lot of boxes that a traditional brick-and-mortar location doesn't."