The COVID-19 pandemic led to a surge in drive-thru and curbside pickup, and QSRs were well-positioned to take the lead. As demand for drive-thru service spiked, car queues and wait times lengthened. As a result, many chains scrambled to find ways to make drive-thrus more efficient.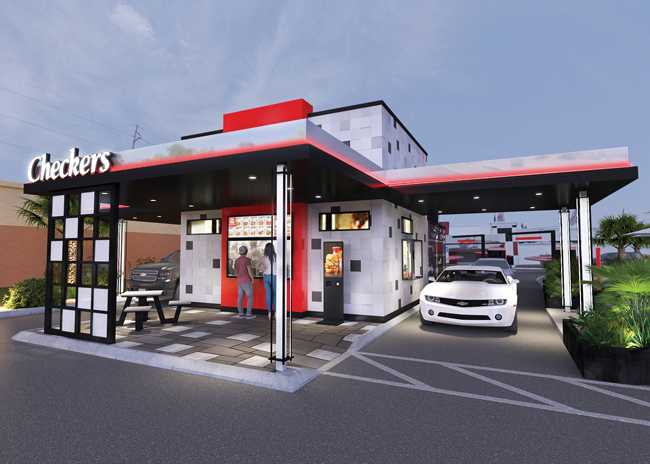 With the expectation that consumer purchasing habits have changed permanently due to the pandemic, more brands are devising plans for multiple lanes.With the expectation that the new normal would continue after the pandemic subsided, the sudden shift in customer habits prompted top executives and designers to reimagine how customers interact with brands. The paradigm shift accelerated plans to add more lanes, using the parking lot as an order fulfillment center, and building new drive-thru-only stores.
It's clear that the design and functionality of drive-thru lanes is changing and is now an area of innovation and experimentation. Technologies like digital menu boards, mobile apps and artificial intelligence will help the fast-food industry adapt to increased pickup and delivery service. Even fast-casual chains that never had drive-thrus before — like Chipotle — are adding them.
Each brand will devise its own designs and prototypes but the solutions will be based on how to best engage with customers. "Customers want to interact with the brand on their terms," says Steven Derwoed, vice president, global design & construction at Wendy's. "We are giving them options."
Wendy's takeout and delivery business has risen by two-thirds from pre-COVID levels, Derwoed notes. Most Wendy's locations have a single drive-thru lane, a format that remains standard but may change as the chain reevaluates its prototype. "We are studying adding a separate lane for mobile and delivery pickup," Derwoed says. That's a common theme in the industry.
Checkers & Rally's Restaurants have featured dual drive-thrus at each location for decades, making it easier for the chain to absorb the market spike in takeout and delivery orders. Most of the chain's locations, in fact, have no on-premises dining, offering just an outdoor patio area for dining. "This was already our model," says Kristen McDonald, vice president of development, Checkers & Rally's. "We were already equipped for robust drive-thru business, unlike a lot of our competitors who had to pivot." However, the pandemic did catalyze a notable change at the chain. Checkers & Rally's rolled out its first mobile ordering app in February 2021 and began converting one of its two lanes to exclusively serve delivery drivers and customers that ordered ahead using the app.
Prominent wayfinding elements are a must. At Checkers & Rally's, this includes pavement markings and large, brightly lit signs. Images courtesy of Checkers & Rally's
Digital Transaction Centers
With the expectation that consumer purchasing habits have changed permanently due to the pandemic, more brands are devising plans for multiple lanes. "More of the physical footprint is going to be [allocated] to drive-thru lanes," says Bethany Allee, executive vice president of marketing, PDI Cybera, an IT consultancy serving the restaurant industry. "I see plans for footprints with three and four lanes."
A new Taco Bell under development in Brooklyn Park, Minn., offers a possible window into the future. The unique two-story design features four drive-thru lanes. One lane will be reserved for customers who order off a menu board and pick up and pay for their food at a window — the traditional drive-thru delivery model. The other three lanes will be dedicated to customers ordering via a mobile app and for food delivery service drivers. The restaurant's kitchen and prep areas for those lanes is housed in the second story of the building — directly above the drive-thru lanes. Orders distributed for the three under-structure lanes will be lowered from the kitchen to customers below via dumbwaiters.
The unusual structure will have no on-premises dining and will be 47% smaller than the brand's traditional prototype.
Parking lots are now digital transaction centers. Image courtesy of Checkers & Rally's
Segregating a lane or lanes for delivery drivers and customers that order via mobile devices makes lanes flow more efficiently. When customers order via app they give the kitchen crew advance time to prepare the order, and by paying in advance they eliminate the need for staff to process payments. These mobile advantages yield significant time savings. Touchless payment options such as mobile wallets, apps that hold preloaded credit card information, and one-touch credit card readers, speed up service through conventional drive-thru lanes and reduce means for disease transmission between customers and staff.
For dedicated lanes drivers must have clear guidance on which lane to use. Prominent, eye-catching wayfinding features are a must. Checkers & Rally's multipronged wayfinding approach includes prominent pavement markings and a large, brightly lit sign placed at the fork where the two lanes diverge. In addition, the brand's social media and ordering app serves to direct drivers to the proper lane.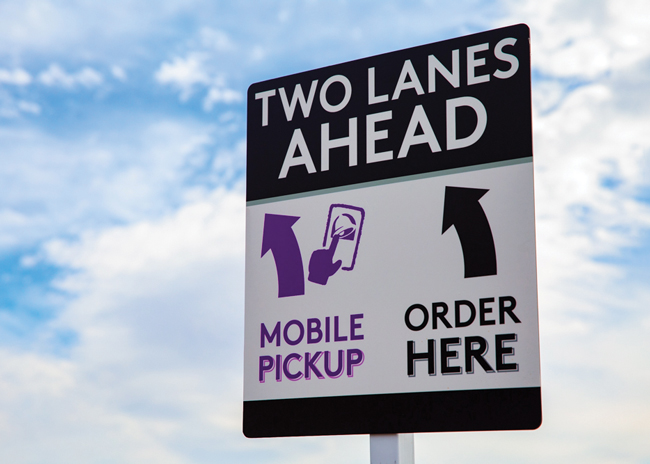 Signage and wayfinding are key concerns as double and even triple drive-thrus gain in popularity. Images on this page courtesy of Taco BellBrands that want to expand drive-thru service may face some space constraints, particularly at existing sites with a single lane. While Wendy's considers adding an additional lane, it directs some customers that ordered ahead via its mobile app to designated curbside pickup parking spots or to an interior vestibule. Staff delivers meals to those waiting outside. Indoors, customers simply pick up their order from a holding area as do delivery drivers.
Having runners go between the kitchen and parked customers is an old-fashioned strategy that helps alleviate pressure on drive-thru lanes. Taco Bell's Go Mobile prototype features dedicated "bellhops" who facilitate tablet ordering and curbside pickup. The pandemic has changed how designers conceive of the entire paved area of a site, Derwoed notes. "We now think of them as digital transaction centers," he says.
To track orders, some brands, including Wendy's, have added a feature in mobile apps to specify the customer pickup point. Color codes direct the crew to either deliver the order to a waiting area in the lot, to the drive-thru or to a holding area inside the restaurant.
Diverting vehicles from drive-thru lanes via these methods at peak times can prevent the queue of cars from spilling out to the street, potentially causing traffic tie-ups. Vehicles waiting in line on a roadway is a circumstance that runs afoul of most local regulations. Each municipality has its own minimum capacity requirement to accommodate vehicles stacked in line, McDonald points out, and designers must incorporate that requirement when calculating the length of pavement allocated for drive-thru lanes. Planning the size and layout of the lot must also include adequate lane width and enough area for large SUVs to turn while staying in the designated lane.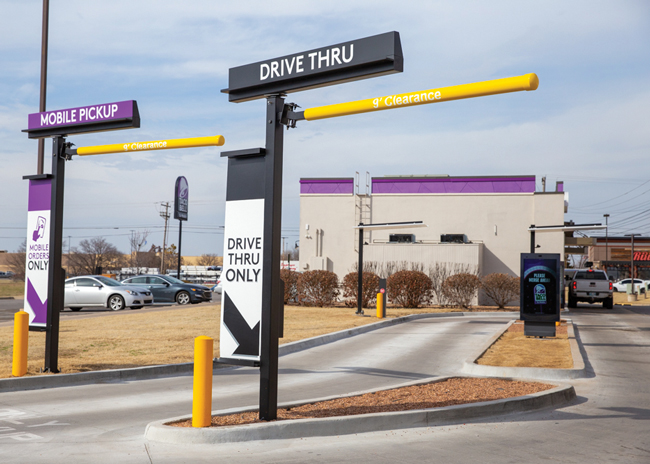 The technology identifies each customer and quickly offers them choices based on past purchases and preferences on the digital menu board or mobile app, making it easier and faster for customers to place their orders.
High-Tech Menu Boards
Many brands have switched from standard, static menu boards at the drive-thru to digital screens that offer a variety of high-tech options. Going digital enables restaurants to make instant changes to the menu. For Wendy's, which launched its breakfast menu in 2020, digital menu boards provide a smooth transition depending on daypart. A single digital board that can switch between these two menus takes the place of two conventional boards, saving space and making for a clearer, more concise presentation. Digital boards can also be easily updated to promote new items or seasonal offerings.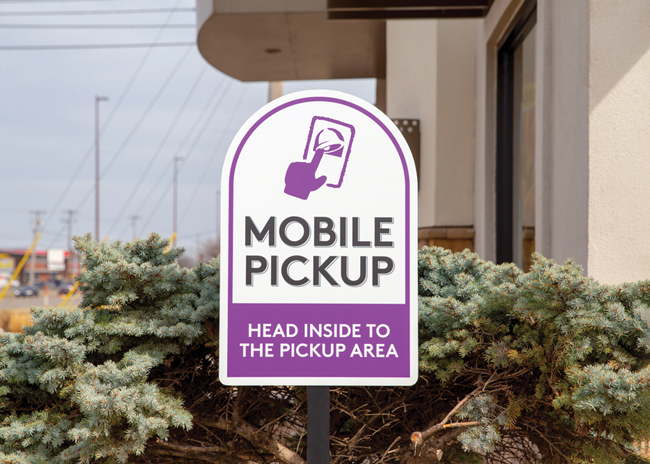 Artificial intelligence can now work in conjunction with digital boards and mobile apps to speed up the ordering process and upsell items. Hardware and networking technology has advanced in recent years to support sophisticated AI analytics that can be rendered quickly. In the past, this data crunching had to be performed from a central location, making the process somewhat slow and cumbersome, Allee says. Today, the analysis can be done on-premises, decreasing lag time.
The technology identifies each customer and quickly offers them choices based on past purchases and preferences on the digital menu board or mobile app, making it easier and faster for customers to place their orders. AI can also be programmed to suggest items based on local conditions. When the temperature falls to a certain point, for example, the technology can suggest that the customer buy a cup of hot chocolate or soup. AI is gaining ground fast. "Most of the major chains are already doing this or working on it," Allee says.
Two technological imperatives face brands that offer mobile ordering capability: improve on-premises Wi-Fi and beef up cybersecurity. With some brands having staff take and fulfill orders on tablets outside and guests expecting robust Wi-Fi access in the parking lot, a reliable wireless network is critical, Allee notes. Data security is critical as well, especially if staff are taking orders using Wi-Fi. "Your POS system must work just as effectively and securely over your Wi-Fi network to protect cardholder data and support PCI [Payment Card Industry] compliance as any wired system," she says. One way to add resiliency to your technology is to have the ability to automatically fail over to a wireless backup network if the primary broadband connection is interrupted.
The post-pandemic momentum to increase drive-thru capacity may spread beyond the QSR segment. "Fast-casual chains that haven't had drive-thru lanes before are now evaluating how to retrofit to add drive-thrus," Allee says. "People are going to get really innovative in how they use drive-thru."
Indeed, technology opens new avenues for customers to interact with the brand, and expectations of improved convenience and service quality will rise as the public accepts new digital features. "In order to thrive, you are going to have to keep adapting," Allee says.