According to Euromonitor, ghost kitchens could be a $1 trillion global business by 2030. Ghost kitchens are restaurants with no seats, whose business is all takeout. Depending on the setup, customers pickup their food from cubbies, counters, pickup windows or drive-thrus, but most often they have it delivered.
Ghost kitchens operate in several ways: An operator may open a ghost kitchen out of a small space and operate it independently; an operator may open a ghost kitchen in a commissary, which houses a number of other restaurants, all operating as ghost kitchens; or, finally, some brands license their brand and menu to another operator that preps, cooks and sells the food through its own kitchen.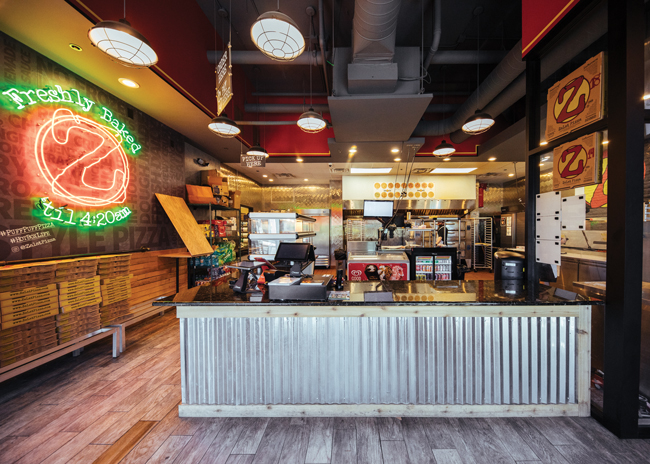 Zalat Pizza has 10 locations in the Dallas area, eight of which are ghost kitchens. Image courtesy of Zalat PizzaGhost kitchens offer a tremendous opportunity to restaurant operators. The investment to open one is smaller than launching a traditional concept and they can open much faster. And, in the wake of the pandemic, the rewards have been reaped much faster than was ever anticipated.
Zalat Pizza has 10 locations in the Dallas region, eight of which are ghost kitchens, operated by Zalat staff. "Our model's going to be 100% smaller box, no dine in, going forward," says Khanh Nguyen, CEO and founder.
In fact, he had decided this was the direction he wanted his business to go in two years ago. "We made a determination that the less traditional our restaurants were the more efficient they were the more profitable they were, and the fewer headaches."
The ghost kitchens are around 1,500 square feet, compared to around 2,000 for the traditional locations, and offer a streamlined operation, including additional prep areas and pickup windows directly into the kitchen "to create better flow," says Nguyen. The restaurants are open concepts so guests can see the kitchen directly behind the counter.
This size space "is just enough," Nguyen says, for a pizza line, refrigeration and an expo window. But the smaller kitchens also work better, he says. "When we had a larger kitchen we tended to spread out but the larger size just caused extra footsteps from one station to the other."
To be able to fit into a small space but also to offer the best food possible, Zalat Pizza offers nothing but pizza and side salads. This means minimal storage and refrigeration is needed.
At first the restaurants also had their own delivery staff but to simplify operations Nguyen axed that and moved to third-party delivery. Between 70% and 80% of Zalat Pizza's business is through third-party delivery companies, Nguyen says. Mostly, the ghost kitchens have one window, though two have a second. "We've found that for up about $2 million in sales, one window is sufficient," Nguyen says.
The windows are walkup only, deliberately, because so many orders come in at once and the pizzas take 8 to 10 minutes, so a drive-thru would get backed up, Nguyen says.
Because it can be hard to get a foothold as a ghost kitchen in a market that's bustling with restaurants trying to retool their business into smaller locations, gaining loyal customers can be hard. To help form relationships with customers, Zalat has a Pizza Gram program "to extend our individuality and brand identity," Nguyen says. "We write Pizza Grams on our pizza boxes — inside the top of the pizza box — so it's the first thing customers see when they open it."
Shared spaces
Famous Dave's, Minnetonka, Minn., is operating three different types of ghost kitchens, the first of which opened in April 2019. On average, each ghost kitchen's revenue is $10,000 per week.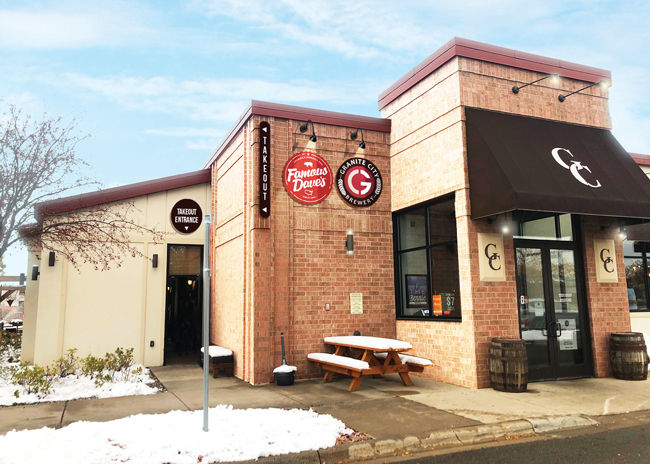 Minnesota-based Famous Dave's has three different ghost kitchen models in operation. Image courtesy of Famous Dave'sThe company has one ghost kitchen that operates out of a commissary with other brands, and it has seven that operate out of the chain's own Granite City Food & Brewery locations as well as others that operate out of Johnny Carino's and Stanford's Restaurant & Bar franchises. The chain expects to open another 15 ghost kitchens this year.
The ghost kitchens can go in almost anywhere, says Chief Operating Officer Al Hank. The only limiting factor is if there's a traditional Famous Dave's location nearby, or if the franchisee has another restaurant that's close, since they'd be in competition.
Mostly it's turnkey to begin operating a Famous Dave's ghost kitchen within another restaurant, Hank says, because the only piece of equipment that's usually needed is a smoker. This is 3 to 4 feet wide and deep and 5 to 6 feet tall, so isn't too difficult to fit into any kitchen, he explains.
And when Famous Dave's goes into another concept, it usually gets an area of the line in the back of house, though sometimes it gets an entire dedicated line. However, the prep is usually done in a general prep area, and sometimes food can be double-prepped, provided it has the same specs for each brand, Hank points out, "though mostly they're different."
"That's the benefit of the ghost kitchen; you can drive incremental revenue for minimal expense and use existing fixtures and equipment in the kitchen," Hank points out. "And, at the same time, you're driving revenue and hours for your staff."
Beyond that, ghost kitchens have another benefit: They're a great way to test a market without a large investment," Hank explains. "And we can be up and running in three weeks versus around six months for a traditional location." The ghost kitchens are also much less expensive to build — even if more equipment than the smoker is required, the cost is still a fraction of a traditional location, and leases are typically much shorter.
When Famous Dave's opens a ghost kitchen, for the most part it's been able to use existing staff, which it cross trains for both concepts, though on busy nights, they're
dedicated to a brand.
Opening a ghost kitchen, with no storefront and no branding, can be difficult, but "education is key," Hank says. Famous Dave's uses social media, local PR, banners and other exterior signage. It's important, he points out, "to educate, inform and deliver."
Trial and error
Last September, Will Schlaeger and his business partner Shawn Clendening opened the Japanese concept Cat-Su Sando in a cloud kitchen in Chicago. It's the first restaurant for the duo, who have fine dining backgrounds. They operate out of a large commissary with nine other restaurant concepts, all operating as ghost kitchens.
The location they chose came down to funding. While their dream custom build-out would require at least $300,000, they opened their ghost kitchen for $15,000, though that took some work, says Schlaeger. "You've really got to scour the market for used equipment and be disciplined in how you spend your money."
So, they purchased flexible equipment, including a French top stove instead of a four-top gas burner because it can hold almost double the number of pots, Schlaeger says. "We decided to buy things we can do a lot with." He also bought three refrigeration units, a fryer and a binchotan grill.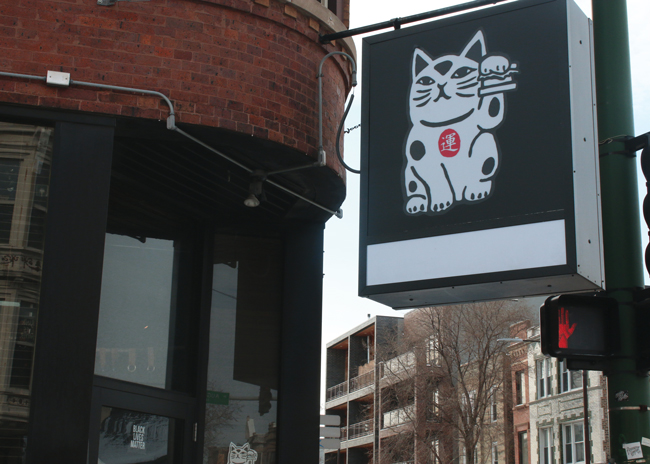 Image courtesy of Cat-Su SandoHowever, there were problems with the commissary cloud kitchen — the rent was expensive, and the cloud kitchen employees didn't provide very good service to customers — so in December Schlaeger and Clendening relocated Cat-Su Sando into a new location owned by their real estate broker, operating it as a virtual restaurant out of a storefront, though with their name and signage outside.
The Cat-Su Sando owners now pay around half the rent they paid at the cloud kitchen. They also have their own staff who know how to treat customers and also pass on valuable feedback and constructive criticism from customers. They also have around 3,000 square feet compared to 250 square feet they had previously. Eventually, they hope to move to a permanent location and open a traditional restaurant.
Operating a ghost kitchen has been a great advantage, says Schlaeger. "Being able to build a customer base is huge. You need to slowly develop a loyal following of customers. Plus, it's an easy way for us to pay ourselves and a great way to R&D different concepts, different food, and stay involved with the community."
The current location is about half a mile from the first virtual kitchen and when Cat-Su Sando reopened, "we got a huge influx of local people coming in to try for the first time," Schlaeger says. And he hopes to retain those customers when they eventually find their permanent spot, and perhaps gain more in that neighborhood, though they don't want to move too far away and lose the customer base they've built up.
"It'll essentially be our third opening, so you get all this hype and it drives so much business in," Schlaeger says. "Moving a restaurant is not easy but you do reap a lot of benefits from the hype."
Having a period of several months operating as a ghost kitchen has meant Schlaeger and Clendening have been able to play with the menu and make many tweaks. "We have to make sure everything we do is efficient," Schlaeger says. For example, they've eliminated products that don't work, like okonomiyaki (a savory pancake). "It came down to efficiency, customer feedback and how well it traveled," he explains.
They've also taken a deep dive into packaging and decided they needed someone full-time packaging to-go orders. "Finding responsible packaging that's tight enough to keep food from moving around, ensures the food stays hot, and that stacks well in a bag is crucial. We put a lot of thought into packaging, so the customer has the best experience possible."