A refreshing dip into Austin's lake culture.
Sounds like an inviting escape right about now, doesn't it? Indeed, Summer House on Music Lane, a new Austin, Texas, hotspot within the Hotel Magdalena, was programmed and designed to evoke the type of relaxed, casually sophisticated getaway that its owners say characterized the city's 1970s summer lake-house culture. The newest offering from Austin-based Bunkhouse Group, which owns and operates multiple boutique hotels and restaurants in Texas and beyond, Magdalena opened to guests last September and Summer House on Music Lane, its signature restaurant, debuted in November.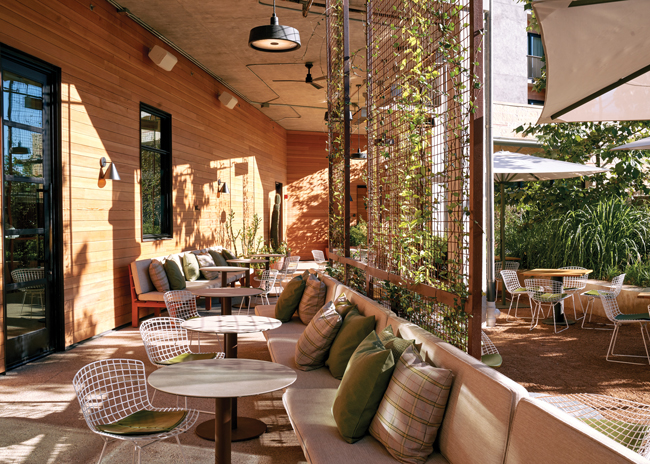 The courtyard offers additional outdoor seating surrounded by trees, grasses and edible plants native to Texas Hill Country. Images courtesy of Nick Simonite
A new build, the hotel comprises 89 rooms spread across four buildings on a long, narrow lot that includes multiple elevation changes and five majestic heritage oak trees. The two-, three- and four-story buildings are positioned around a lushly planted center courtyard anchored by an 80-foot swimming pool, an architectural ode to Austin's popular Barton Springs watering hole. Guest rooms are accessed by broad, elevated timber walkways furnished as comfortable front porches. And while new, both the hotel and restaurant exude a retro-hip, old-soul vibe thanks to the heritage trees, the hotel's mass timber construction — the first of its kind in the nation — mid-century design influences, and strong architectural and conceptual homage paid to the site's history.
During the mid-1950s and 1960s, the 300-plus-room Terrace Motor Hotel, one of Austin's premier mid-century motor lodges, operated there. Summer House, the old hotel's ritzy pool-side restaurant and lounge, became the namesake and inspiration for the new Summer House on Music Lane, according to Tenaya Hills, vice president of design and development at Bunkhouse Group.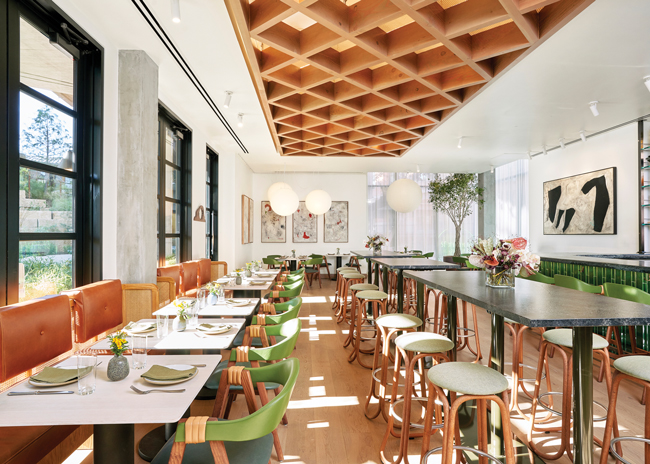 A wood lattice ceiling feature adds gravitas to Summer House's airy, open aesthetic and pays homage to a design feature discovered in old photos of the property's original restaurant.
"The Terrace Motor Hotel was a very popular vacation destination," Hills says. "Eventually, a connecting convention center was built that became a major venue for music acts back when Austin was emerging as such a great music city. Willie Nelson purchased the convention center in the 1970s to create the Austin Opry House, and eventually bought the hotel, as well, which had been by then been converted to cheap lodging mostly for musicians and their friends. The properties became pretty seedy and were eventually demolished. Most of the land was sold off and redeveloped, but there was this one small parcel left. The developer who owned it, who we've had a longstanding relationship with, wanted to build a hotel there. He loved the site and the story behind it, so about five years ago we started working on conceptual design for Magdalena."
Chef Jeffrey Hundelt Collaborating with Lake|Flato Architects, Bunkhouse from the start planned to give the hotel a signature restaurant, one that would appeal both to locals and visitors. The goal was to create a relaxing destination with a lake-house vibe and strong indoor-outdoor appeal, and to offer up a menu of "straightforward cooking with a slow-food mentality," according to Executive Chef Jeffrey Hundelt. Showcasing wood-fired grilling and rotisserie cooking, the menu now features signatures such as whole branzino with pickled chiles, preserved lemon saffron sauce, broccoli greens and charred garlic vinaigrette, and caramelized scallops with baby mushrooms, bacon and grits.
Within the Hotel Magdalena complex, the restaurant was strategically positioned and designed both to activate the hotel's interior courtyard and to beckon guests into the property from Music Lane, the bustling mixed-use development along South Congress Avenue on its front side.
"From the beginning, we collaborated with Bunkhouse to think about how the program would work, how the restaurant could energize the courtyard, draw people in from South Congress and also be different from the typical hotel lobby lounge-restaurant experience," says David Lake, FAIA, partner at Lake|Flato. "Usually, it's all one, cohesive interior space, but here we separated the restaurant from the lobby. The lobby is in a building to the right of a main exterior staircase entry that leads up into the hotel complex and the restaurant is in the building to the left of that entry. Separating the two buildings is one of the beautiful heritage oak trees. Everything is linked visually and the whole complex is designed so that you're always moving through the landscape, through courtyards and past heritage oaks to get from lobby to restaurant, to pool and pool bar, to guest rooms, to street, etc."
A display kitchen showcases Executive Chef Jeffrey Hundelt's straight-forward, slow-food-inspired live-fire cooking.
Airy, Mid-Century Aesthetic
Like the site on which it is located, Summer House on Music Lane is a long, rectangular restaurant that, consistent with all areas of Hotel Magdalena, was designed to foster strong connections to nature and the outdoors. Guests enter via a loggia along the side of the restaurant that offers a covered lounge and dining, and that fronts an open courtyard with additional outdoor seating.
Inside, the 60-seat space features a wall of glass-paneled doors looking to the courtyard and, in the front corner, floor-to-ceiling bay windows overlooking the hotel's Music Lane entry. That corner, warmed with sheer drapes, the restaurant's neon logo outside, large sculptural globe ceiling lamps, a potted tree and abstract art, is prime dining-room real estate, Hills says.
"It looks right out at one of the heritage oaks and feels like you're in a tree house. But we also wanted to evoke that lake house feel," Hills notes. "White oak flooring and window sheers help add a residential touch. I'd describe the general aesthetic as having mid-century bones and 1960s and 70s interior design sensibility. We loved the lights, in part because they felt very mid-century modern. From outside at night, you see them glowing through the corner windows. It's really lovely and inviting."
Overall, the restaurant's relatively small space — just over 1,000 square feet for the front-of-house — was designed to feel open, airy and clean and to showcase Hundelt's seasonal live-fire cooking. A display kitchen along the far end of the room gives guests a bird's-eye view into the kitchen line. It fronts a larger production kitchen in back, which serves Summer House on one side of the building and an event space on the other as well as a pool bar and room service. A service elevator runs to the lower level, where the architects designated space for auxiliary walk-in coolers, trash and various preproduction functions.
"Everything's coming out of this one kitchen, so we had to more than double the capacity of what the restaurant might have needed in order for it to be able to handle the load," Lake notes.
Summer House's inside seating includes loose tables and chairs in the bay window end of the dining room, a straight banquette with two-tops along the courtyard-facing wall, and three high-top communal tables down the center in front of a small, eight-seat bar. Almost all seats have sightlines to the display kitchen.
While Hills' team considered reworking the seating plan in light of COVID-19, they opted to stick to the original plan and deal with providing socially distanced seating operationally. "We really wanted to make a strong design-first impression," she notes. "If we'd removed half of the seating, it would have detracted from that. One change we are making, however, is to install a corner banquette in the front portion of the dining room."
The restaurant's materials palette centers on warm, natural woods, ceramic tile and stone. A design highlight is the wood lattice ceiling feature. It's a riff on concrete lattice ceiling detail seen in vintage photos of the original Summer House restaurant at the Terrace Motor Hotel. "We wanted to reference that, so we had the same lattice replicated in Douglas fir," Hills says. "We used caning that's also used in the banquette to cover the openings in the lattice and screen the view to the ceiling. The whole feature is illuminated from within."
Along the restaurant's wall opposite the courtyard, the soapstone-topped bar is faced in custom emerald green ceramic tile. That green serves as Summer House's singular accent color, also appearing along the display kitchen wall, in the leather chair backs, and shades of which are picked up in menu covers, neon signage and outdoor chair cushions.
Banquette seating along the courtyard wall offers dual views to the outdoor dining areas and the display kitchen.
Glass backbar shelving provides bottle storage and display space for a collection of vintage accessories. "The backbar was an interesting challenge," Hills notes. "They needed a lot of shelving but there are windows behind the bar that look over Music Lane along the front side of the building. We wanted open shelving and took the opportunity to pop some color into the space. We sourced vintage glass shelves in hues of green, brown and blue, like you might see in liquor bottles, and added '60s and '70s period accessories there, as well."
An Outdoor Oasis
COVID-19 was nowhere in sight when plans for Hotel Magdalena and Summer House on Music Lane were developed, but the architecture and design teams' commitment to creating strong connections to the outdoors throughout the property proved fortunate. Outdoor dining space doubles Summer House's seating capacity, and gives restaurant guests an opportunity to enjoy a serene, beautifully landscaped courtyard oasis in the center of the city.
To separate the restaurant's outdoor dining space from an adjacent event space and lawn, landscape architect Christine Ten Eyck installed a large berm. Limestone blocks provide terracing and create planting beds in the courtyard for native trees, grasses and edible plants.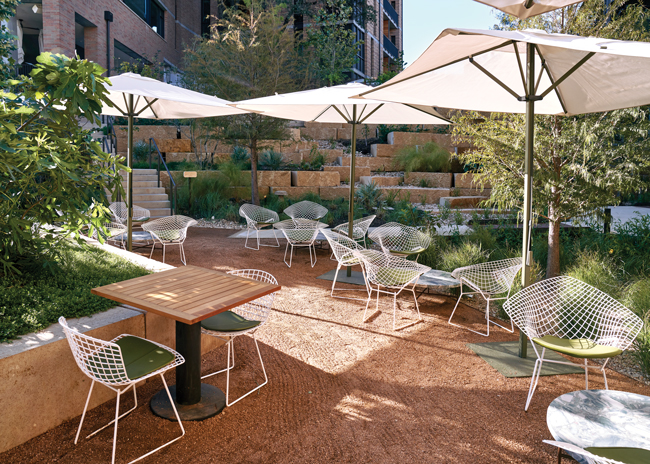 A concrete loggia along the front of the restaurant provides sheltered outdoor seating with mid-century-style chairs and simple wooden banquettes.
"Originally, we thought of the outdoor areas as being more for lounge-type seating, or nice places for guests to sit while waiting for tables," Hills notes. "We hadn't developed them as much for full dining service, and focused much more on the inside of the restaurant. The landscaping outside was gorgeous, there's beautiful decomposed granite beneath the uncovered seating area, we found some furniture and figured, 'Easy, done!' But guests quickly let us know that they do want to dine outside, and I don't think it's just because of COVID. It's such a beautiful courtyard, they just want to stay out there and enjoy it."
As such, Hills says she's rethinking some of the initial outdoor furniture decisions. Latticed, mid-century-style side chairs and lounge chairs now pair with custom stone-topped cocktail tables, a few teak dining tables and simple wooden banquette benches beneath the concrete loggia.
"One of the things we've learned is that the lounge chairs and cocktail tables aren't working well for dining outside," Hills notes. "And, of course, now people just want to be outside. We love the look and feel of the outdoor furnishings. It happens a lot, when you like your design and you're like, 'I want this to be the lounge area,' but customers have other ideas. They love the experience and want to eat there!"
Adding to that experience, and helping to evoke the sort of lake house vibe on which Summer House was conceived, is the subtle aroma of wood smoke. "Even though the exhaust from the live-fire cooking equipment goes up and out through the rooftop, some of the aroma wafts out into the courtyard," says Lake|Flato's Michael Britt, AIA, AIA, LEED AP BD+C. "It's almost like a subtle campfire aroma and it really supports the outdoorsy, lake house-inspired concept. None of us thought about that beforehand, but it's a very special and welcome addition to the space."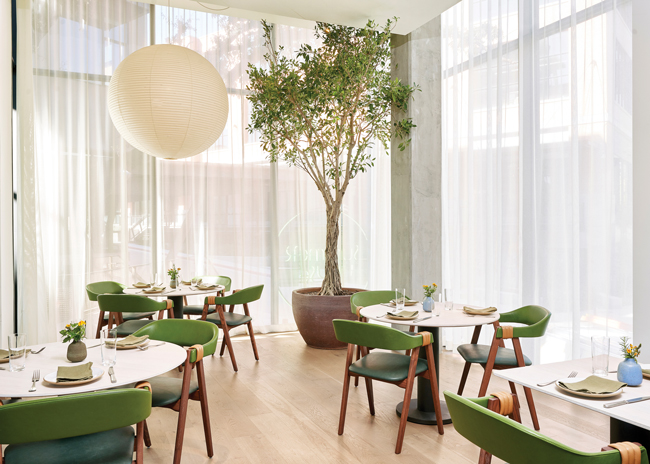 A full window corner of the dining room overlooks the entrance to the hotel. Sheer drapes and white oak flooring evoke a breezy, lake-house aesthetic, while pops of green, globe lanterns and a potted tree add design sizzle.
Snapshot
Location: Hotel Magdalena, Austin, Texas
Opened: November 2020
Dayparts: Breakfast, lunch, dinner, weekend brunch
Concept: Upscale casual, wood-fire, farm-to-table cooking
Square footage: FOH, 1,050; BOH, 2,230 sq. ft.; covered outdoor dining/lounge, 730 sq. ft.; uncovered outdoor seating, 800 sq. ft.
Capacity: 60 inside, 60 outside
Project type: New build
Project duration: May 2018 - November 2020
Design highlights: Corner window wall overlooking heritage live oak and hotel entry, globe ceiling lanterns, warm woods, mid-century modern furnishings, caning accents, abstract art, custom emerald green ceramic tile, lattice ceiling feature, live-fire display kitchen, terraced courtyard dining
Project Team
Ownership: Bunkhouse Group
Design: Bunkhouse Group - Tenaya Hills, Vice President, Design & Development
Architecture: Lake|Flato Architects – David Lake, FAIA, Partner, Michael Britt AIA, LEED AP BD+C
Landscape Design: Christine Ten Eyck, Ten Eyck Landscape Architecture
General Contractor: MYCON
Kitchen Consultant: Cosper & Associates, Inc.
Kitchen Equipment Vendor: NOLA Restaurant Supply