For our complete profile on Nico Osteria click here. 
Design Insight: Tara Bernerd, Tara Bernerd & Partners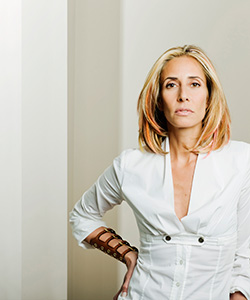 Synergy. We felt huge synergy with Donnie [Madia] and the team at One Off Hospitality. They liked where we were coming from, and we really needed and respected their input. That allowed for a far better journey than it could have been, given that we had the design direction set and work well underway before they came on.
Details. The floor plan is the big thing. You have to have that solid before you get into finishes, but then it's all about detailing. An atmosphere is created through layering. There are a lot of layers to this design, from the bar, to the rugs and tiles on the floors, the brick, the greenery, lighting and chairs, to the places to store the plates above the kitchen. It takes time and toll on design, but in the end it pays off.
Challenges. The biggest challenge, as with any project, is making sure we come in on time and to the budget. But another thing is that today we have a much more savvy audience. They're more design savvy; they're much more food aware. And because of that the benchmark is very high.