Designing for maximum flexibility was important before the pandemic, but the nimbleness that operators had to exhibit in 2020 was unlike anything the industry had ever seen. Designing for a future that allows for maximum flexibility is sure to be a key concern across all market segments.
When Scott Davis pulled into Louisville, Ky., on Nov. 17, the goal was to celebrate the opening of CoreLife Eatery's latest franchise location. Nestled close to a busy and thriving suburban intersection, the endcap location holds the promise of pulling in more than $1 million in annual sales. And, with an abundance of surrounding residential housing projects in development, expectations are high for a post-pandemic boom.
Just one day after his arrival and the restaurant's opening, however, Davis had to prepare and train staff to close the dining room as the restaurant was mandated to transition to takeout only. The news was a surprise; given the events of 2020, though, Davis was ready for the transition.
His team shifted to off-premises dining, communication flowed between corporate executives and store managers, and menu items were scaled down to accommodate the shift.
Restaurant operators have learned how to be nimble; however, the future remains to be seen.
Where Convenience Meets Design
Quick-service and fast-casual restaurants continue to jump into drive-thru traffic to capitalize on their strengths in these challenging times. For example, KFC unveiled its Next Generation prototype that features, among other things, double drive-thrus, pickup cubbies, fewer seats, self-service kiosks, and parking for delivery drivers, all with the intent to better integrate technology, mobile orders and off-premises dining.
KFC executives expect their drive-thru business, which grew 60% in Q3 of 2020, to remain in high demand post-pandemic.
Seeing the direction the industry was headed prior to the pandemic, Chipotle added a second makeline in nearly all of its stores. This second makeline has a singular purpose: handle orders generated through digital channels.
"Prior to COVID, there was a barrier for most [full-service] restaurants doing any kind of meaningful takeout or off-premises business. As consumers, we viewed it as a not really viable option. Now, that barrier is broken," says Steve Starr, principal of Charlotte, N.C.-based starrdesign. "So now, everyone should be building their facilities and capabilities/production engine within their restaurants to handle the takeout and off-premises delivery business. And a lot of that means creating takeout stations. People really need to now think about how a takeout customer or off-premises customer comes in and gets their food or how a runner takes out food for curbside."
At Royals Hot Chicken, a fast-casual in Louisville, Ky., cubbies labeled with specific delivery company names sit just outside the kitchen. Upon receiving a digital order, staff produce the food and place it in the cubby designated for the third-party delivery company picking it up. It's a new addition to the Royal's interior design and will remain post-pandemic.
"We had the privilege of designing some of the final elements for our newest Royals Hot Chicken location once the initial March shutdown had already happened in Kentucky," says Founder Ryan Rogers. "Right before the shutdown occurred, we were seeing the shift toward contactless order pickup rapidly increasing, and we quickly installed self-serve carryout shelving units in all of our locations. The shutdown prompted us to think about what a future looks like opening a new location of a restaurant during a pandemic and how our previous traffic flow may be impacted in the long term, even post-pandemic."
Opening with conveniently placed, contactless carryout shelves seemed like the obvious next iteration for the brand, which is owned by multiconcept operator Eternal Optimist Hospitality. Curbside signage was also incorporated into the exterior design package so food can be run out directly to a customer's vehicle.
Eternal Optimist Hospitality includes three Royal's Hot Chicken restaurants, two Feast BBQ locations and Italian restaurant and bar Vetti. The company implemented sectioned-off wire shelving at their restaurants prior to the shutdown. Rogers says they will most likely move forward with the cubbies on new builds.
"Diving a bit deeper into the carryout shelves, we had been working with utilizing some heated shelving applications at another location for carryout orders, but the opportunities to overheat the coleslaw or miss a milkshake that had been stored separately led us back to unconditioned cubbies where everything could be kept together," Rogers says. "The technology in our POS systems and with third-party delivery marketplaces seems to be strong enough to fairly accurately estimate what time the order is going to go out, so usually it's not sitting very long, if at all."
Where to Invest
Shelving seems to eliminate driver wait times and helps to maintain the integrity of food items, an investment worth making given the operational challenges restaurateurs face with increasing off-premises dining.
"I've heard horror stories — and we have experienced it ourselves — of customers waiting 45 minutes for food because the kitchen is so backed up handling takeout orders. When that happens, you've lost that customer because they're already taking a risk to dine out, even if it's outside," Starr says. "The risk/reward benefit is now gone. Restaurants across all segments need to figure out how to do a 35% takeout business post COVID, in addition to their dine-in business."
Restaurant operators across all segments need to think through how their operations can handle a surge in off-premises orders. Additionally, they should think through how the expediting process works with dine-in vs. takeout and how the POS handles the mix.
"Now is the time to start looking at this stuff, because it's not going to happen overnight," Starr says. "It will take 6 to 12 months to make the changes necessary, and it's hard to do that. It's ballsy, but you have to do it. To me, one of the keys to success [going forward] is a good off-premises program that doesn't sacrifice dine-in business. To do that, restaurateurs have to look at their labor differently. They've got to look at their facilities differently and they've got to start learning from QSRs."
CoreLife, a 350-plus unit fast-casual chain, had ample outdoor seating during the summer months and a technology stack in place that allowed them to shift operations to takeout and delivery. The team knew from the mandated closures in March that it had four areas of flexibility: the pantry, production, technology and people.
In the pantry, flexibility meant moving around what to buy and what to use. CoreLife's menu shifted to include tacos, which was not something the restaurant chain previously offered.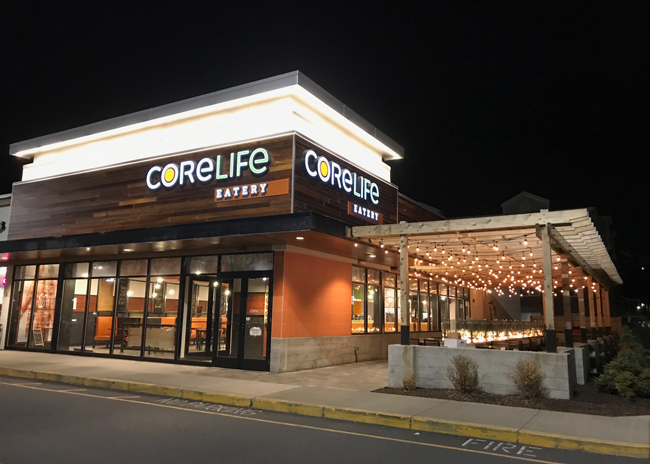 "We decided it was a good time to try something people don't usually know us for but we had the ingredients for," says Davis. "So, it was about creating a new category of items and rethinking how we use them to launch a new menu category. Because we're a scratch kitchen, it's easier for us to do that kind of stuff."
The pantry aligned with production in terms of equipment and space flexibility. With no one coming into stores, staff ran order production of the tacos through their frontline. They also temporarily took items off the menu that had a relatively short shelf life or were slow sellers, like cream-based soups during the summer months. "You've got to optimize against your skus," Davis says.
The company also leveraged the equipment it had to put its unique twist on menu items. "We couldn't do a deep-fried taco, but we could pan-sear it. And we have an oven that enables us to roast vegetables and make mac n' cheese."
Peter Christensen, founder of Christensen Consultants, says operators with units already in place should purchase casters for equipment that staff can safely roll around and use as either a make station or a holding cart, for example.
"It's a lot easier to build flexibility in from the outset; it's not as easy with an infrastructure already in place, but it can be done with creativity and need," Christensen says. "It can also involve a rethinking in how you do something, but it has to make sense from labor and practicality standpoints."
Ventless technology is also something operators should consider moving forward as that's one way to help with current labor issues. "If operators already have a hood system, they should look at [adding] ventless [equipment]. That would allow them to augment the equipment they already have," Christensen says.
For operators preparing for future openings, the recommendation is to review how much space is available for the hood system "because that's going to tell you how much equipment you can have in an operation," Christensen says. "If you're going to be as flexible as possible, make the hood as big as possible. If the budget doesn't allow for all of the equipment in the beginning, leave some extra room under the hood so if anything changes, you have a hood in place where you can add new equipment without having to add a hood. All things being equal, if you know what you're doing and know what you want to do, you can build in that level of flexibility."
Christensen also recommends operators use part of their dining rooms as staging areas while these areas remain closed or restricted in some way to the public. That could save on labor costs, and/or create greater efficiencies for areas where outdoor dining remains an option. Regardless, operators need to be mindful of local health codes, notes Christensen.
Prior to making any big decisions, operators should be careful not to invest in sweeping changes that may not remain popular with customers.
"The one thing we're sure of is consumer behavior after COVID is going to be different than consumer behavior before COVID," says Starr. "In North Carolina, restaurants can open their dining rooms up to 50% percent [of capacity during the state's Phase Two coronavirus mitigation plan], but most of them don't because it's cheaper to operate a drive-thru. So, what you can do all depends on the jurisdiction you're in. But how does a restaurant group make significant design changes based on COVID? I'm a designer, and I'm telling people to do the bare minimum. Don't spend the money now on things that are in response to the restrictions now. Do the bare minimum so you can drive revenues and get through COVID."
Fine Dining and Fallouts
While most of the operational emphasis centers on limited-service and casual dining brands, fine-dining establishments had to make big shifts as well.
Some shifted to outdoor dining and high-end takeout. A few have even taken to offering meal kits and other make-at-home dishes.
"Every restaurant has to have some sort of food retail component going forward that's specialized to their most signature dishes. Like Capital Grille, for example and their Lobster Mac-N-Cheese. I would never make that at home," Starr says. "But if they had that as I'm walking out the door after I eat, and it was in a really nice cooler with all the ingredients ready for me to make, I would buy that. When compared to Blue Apron — one is an impulse purchase and the other is planned — I think there's opportunity on the restaurant side for much more impulse buying."
For meal kits to work, they have to be visible and well packaged, says Starr. "It can't look like something you find in the grocery store. It has to look like it comes from the restaurant or like there is some craft behind it."
Segments aside, one thing is certain: The restaurant landscape will look very different post-pandemic.
The National Restaurant Association estimates 110,000 locations are closed either permanently or for long-term durations, while an estimated 3 million employees are out of work.
"Honestly, restaurant operators have no choice than to be flexible and pivot. It's sad, because there is no choice and some people don't have deep pockets," says Bruce Reinstein, a partner with consulting firm Kinetic12. "For those people who are waiting for the old normal to come back, they'll be gone because there is no going back."
Moving forward, operational changes will center on productivity, efficiency and having multifaceted facilities. "Is it realistic to think all of these restaurants can be all of these things? I do think it's possible. I also think the prototype of casual dining and fine dining will be smaller in-house and they'll end up with flexible dining when they can," says Reinstein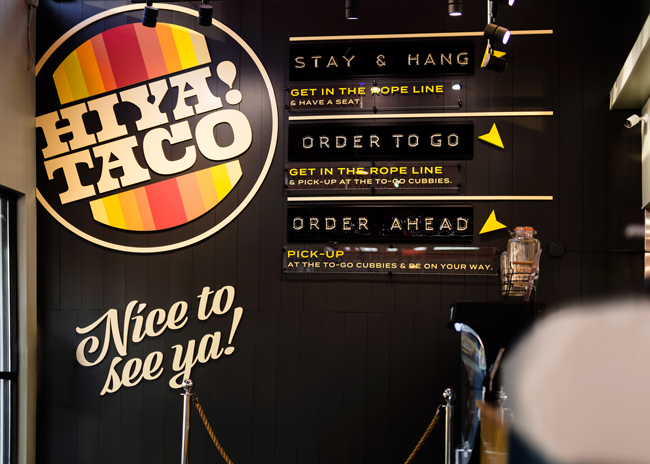 That means having dining room spaces that convert between outdoor and indoor spaces. And a blurring of the segments. "Restaurant operators are now taking elements from each of the original four categories: QSR, fine dining, casual and fast casual — and operators are not as snobby as they were," Reinstein says.
This means more fast-casual chains may adopt drive-thru while casual and fine dining chains figure out how takeout, curbside and delivery can work better for them.
"Flexibility is really about a lot of things. It's about being able to be more efficient and how you view your products and staffing, too. People now have to be cross-trained and we have to go back to the days of the full certification of employees across all areas of the restaurant," Reinstein says. "In my life, I don't need someone waiting on me anymore. I think those types of individuals you have to set up to be flexible and they need to be prepared. There has to be full flexibility of what a team member can do. And operators should be able to do more with less."
In March and April of 2020, CoreLife, like many other restaurant brands, held onto critical staff members and worked to cross-train them. They leaned on a cloud-based training system to do that, says Davis.
Of course, it's difficult to determine how the pandemic will change American culture going forward or how that will affect design. "I think restaurateurs need to take a deep breath so that they can focus on two very different things: One, what to do to get through the pandemic; and two, what they need to do to be ready for when the pandemic ends," says Starr. "This will end!! There will be a vaccine and there will be reliable therapeutics. Until the pandemic is over, there isn't a one-size-fits-all approach. Every state and almost every county or city has different restrictions that drive very different requirements and opportunities."