Brazilian-style steakhouse chain Fogo de Chão will open an all-new flagship restaurant in Coral Gables, Fla., late in 2021 that features a new design, an on-site butchery and lounge.
"Fogo de Chão is steeped in 40 years of rich history that spans the globe," says Barry McGowan, CEO of Fogo de Chão. "What started in the foothills of Brazil has now grown to become so much more than just a steakhouse, and with our new flagship destination in The Plaza Coral Gables, we are once again reimagining how guests can discover the best of our brand beyond a traditional restaurant setting."
Fogo's newest location will be part of a $700-million-plus ground-up development from Agave Holdings LLC. The restaurant, designed in partnership with architecture and design firm Harrison, will offer a mix of indoor and outdoor dining space with natural wood finishes, dramatic chandeliers, a vaulted ceiling and additional experiential elements first launched in Fogo's Brazilian locations, including a first-of-its-kind Butchery and the sophisticated Next Level Lounge and cigar bar that balances modern elegance with timeless heritage.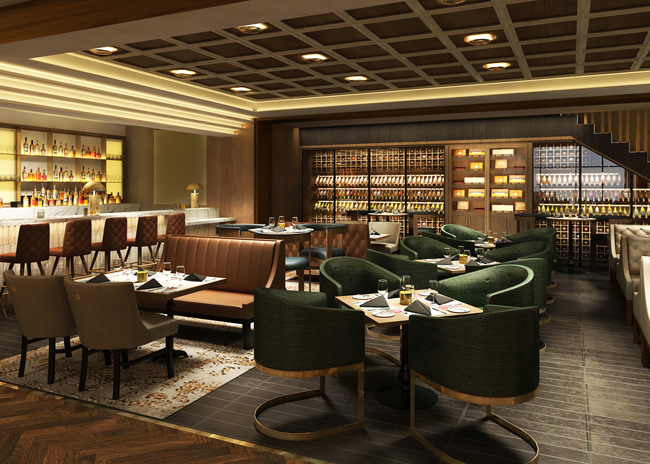 Next Level Lounge from Fogo de Chão
Guests will be able to enjoy a glass of South American wine and charcuterie in The Butchery as they consult with Fogo's expert butchers, their gaucho chefs, on the best cut of meat, freshly carved and packaged to grill at home. Bottles of South American wines, artisanal cheeses and other Brazilian-inspired menu items will be available to enjoy around the butcher's table or for purchase. In the Next Level Lounge, guests will be able to relax with a craft cocktail, featuring a premium whiskey and bourbon menu, and purchase hand-rolled cigars.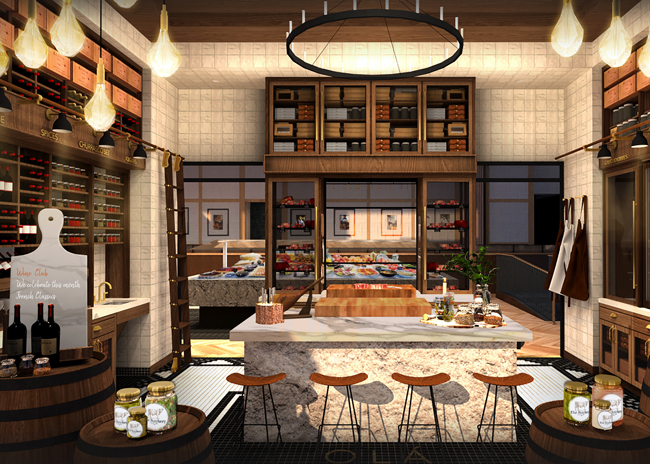 The Butchery from Fogo de Chão
Fogo's "next level" design concept, which began in 2019 with a complete remodel of the chain's Jardins location in São Paulo, Brazil, evokes the warmth and hospitality known throughout Southern Brazilian culture. Harrison considered every detail in the creation of the new flagship location, including rich textures, timeless colors, cozy furnishings and traditional nods to the culture of Fogo's home country.
The steakhouse has also signed lease agreements to bring the new design, complete with butchery and lounge, to White Plains, N.Y.; Albuquerque, N.M.; Burlington, Mass.; Coral Gables, Fla.; and Oak Brook, Ill.