Even before COVID-19 hit, Chicago's Bonhomme Hospitality Group planned to re-concept Black Bull, its popular 9-year-old tapas restaurant in the city's Wicker Park neighborhood. Pandemic-induced closure mandates simply sped the process up, creating a window of opportunity to fast-track a concept and design transformation before on-site dining could resume.
Within the span of eight weeks, Black Bull was stripped away and Mama Delia emerged in its place, offering a more elevated, contemporary and immersive Spanish dining experience, one that includes a sherry bar, chef's counter and "ultramarino" (Spanish for neighborhood gourmet market).

"There were really two things we wanted to do with the re-concepting," says Daniel Alonso, co-founder and managing partner of BHG. "First, we wanted to tell a new, more ambitious culinary story, both on the menu and at the bar. Since opening Black Bull, we've evolved, we're different people, we have different culinary dreams and visions and stories that we want to tell. And we've seen that over the past nine years our customers' tastes and culinary interests have evolved, too. Second, we wanted to introduce our retail concept, our ultramarino, and do it in a way that would reflect our menu. We wanted a very curated experience that takes some of the best ingredients that the kitchen is cooking with, makes them a little more affordable and offers them for retail sale."

The restaurant's physical conversion was completed by BHG's internal design and development studio, Maison Bonhomme, which set out to create a distinctive setting for Executive Chef Marcos Campos' contemporary takes on Spanish cuisine. From its rosy pink facade and tropical-plant-filled sidewalk patio to its enclosed rooftop event space, Mama Delia's canvas blends modern strokes with old-world flourishes and the occasional touch of whimsy.
The first BHG concept to include a retail element, Mama Delia's ultramarino adds design interest and underscores the team's commitment to showcasing fine, authentic Spanish ingredients and wines.
One Element Sets the Stage
Alonso, who also leads Maison Bonhomme, says the restaurant's existing kitchen and bar locations and infrastructure worked well, so no significant layout changes were required. Black Bull's dark wood flooring was also deemed well-suited to the Mama Delia aesthetic, in part because the new design would include a variety of vintage Persian rugs as primary flooring features.

With those few exceptions, Alonso and his team tore out and/or replaced all furnishings and finishes to bring Mama Delia to life. Ultimately, he says, his vision for the new concept's look and feel emanated from a single element — antique apothecary cabinets and shelving imported from Belgium. The foundational feature of Mama Delia's design, it was painstakingly reconstructed to cover multiple walls in the front-of-house retail market, displaying a variety of small-production wines, gourmet foods and specialty ingredients from Spain.

"In some projects, I start with an overall design vision but in others the vision starts with certain pieces," says Alonso, whose company has developed and operates a diverse collection of F&B concepts in Chicago. "I tend to source large, monumental, historical pieces and really enjoy the ability to reuse and repurpose them in our concepts. For Mama Delia, the 100-year-old, carved wood apothecary pieces became the nexus of the ultramarino and a lot of the overall visual cues started to fold out from its historic, old-world feel."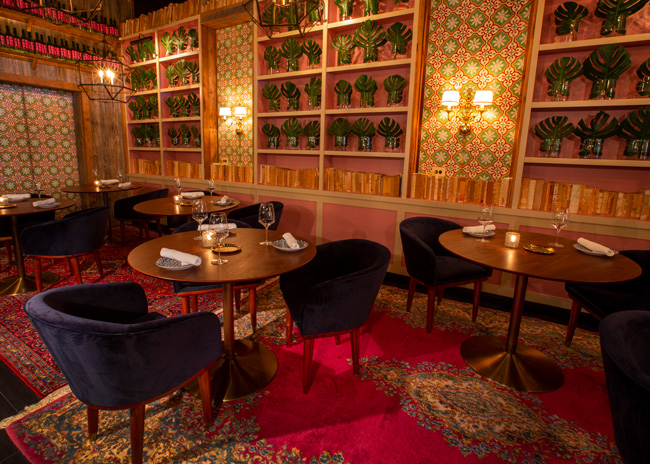 Rich colors, plush fabrics, Moroccan tile and vintage rugs set the tone for the dining room, which includes a large banquette facing the sherry bar.

BGH's first concept to include a retail component, Mama Delia uses the ultramarino to both set the design stage and underscore its team's passion for fine, authentic Spanish ingredients and wines. Positioned right up front and open to the sidewalk patio in good weather, it's the first area guests experience when entering the 2,500-square-foot restaurant. Featuring specialties such as gourmet tinned seafoods; natural potato chips fried in olive oil and flavored with jamón and pimentón; piquillo peppers and white asparagus; dried saffron and smoked paprika; and cold-pressed and smoked olive oils, it adds a unique conceptual and visual element.

It also adds an opportunity to create immersive experiences for guests, as the ultramarino sits adjacent to and surrounding the front end of a 30-foot-long marble-topped, carved oak sherry bar that extends to a chef's counter in the back. At the sherry bar, diners can try a wide selection of Spanish sherries, cheeses and charcuterie. "One of our chefs is always on hand there to speak with customers, to explain the retail items and to offer ideas for how these exquisite ingredients can be used to elevate their own cooking at home," Alonso says.

Further integrating Mama Delia's restaurant and retail offerings is a single marble-topped table in the center of the ultramarino. Crafted at its base in the style of the antique apothecary cabinetry, it seats up to eight guests. "It's right in the middle of things and is my favorite table, especially when the front facade is wide open to the sidewalk," Alonso notes. "It adds a lot of energy and, again, helps to create an immersive experience in the front of house."

With inside dining prohibited for Mama Delia's first few weeks of operation, its sidewalk patio became critical. Wide and generously spaced, the patio is set off with lush greenery in planters and repurposed wine barrels painted pink to match the restaurant's exterior. The planters provide a barrier between tables and traffic and can be arranged to help keep guests socially distanced, while engineered wood flooring, wicker chairs, light strings overhead and white tablecloths create an inviting outdoor dining experience.

Of the particular shade of pink selected to dress up Mama Delia's exterior, Alonso says finding it was a painstaking process. "I love the color pink and didn't see any harm in having a statement piece right from the facade," he says. "The Spanish film maker Pedro Almodóvar is well known for his pops of color and he's a constant source of inspiration for me. That's what led to choosing that particular color. It took a while and lot of sampling to get just the right shade of pink, but it ended up working beautifully."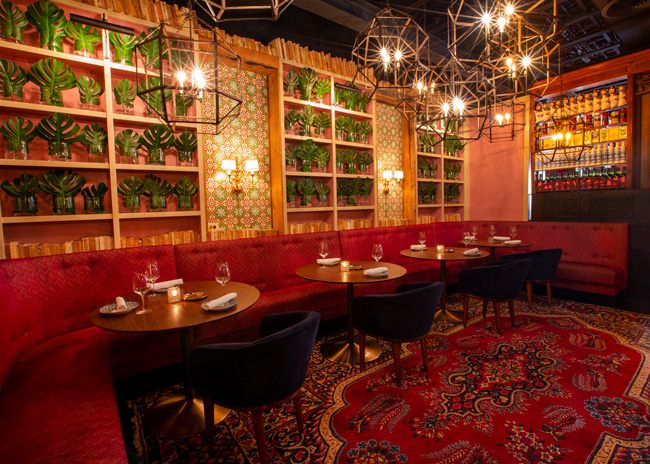 Round walnut and brass tables and chairs with a mid-century feel balance the dining room's old-world, romantic aesthetic, lending a slightly swanky, more modern feel.
Old World Meets Mid-Century

With the antique apothecary cabinets and shelving setting the tone for Mama Delia's overall aesthetic, an eclectic array of finishes and furnishings was curated to complement its look and feel. Rich, saturated colors, plush fabrics, vintage rugs, and natural wood and stone figure prominently throughout. Handmade concrete Moroccan wall tiles add color and pattern, and a collection of vintage brass and wrought iron chandeliers add character. They're kept dimmed to near-candlelight levels at night.

"That was another aesthetic decision I was going for," Alonso says. "I really wanted the space to have an old-world, rich and romantic feel."

Positioned behind the ultramarino, Mama Delia's 30-seat dining room features a large, burgundy-red banquette facing the sherry bar at the front end and loose, round tables facing the chef's counter and open kitchen toward the back. Here, antique rugs help carry the old-world aesthetic, while the mid-century-style walnut and brass dining tables paired with dark, velvet-covered chairs lend a slightly swanky, modern vibe.

Simple wooden bookshelves interspersed with colorful Moroccan tile line the dining room wall opposite the kitchen. They're styled top and bottom with antique books but serve a more distinctive and contemporary design purpose by showcasing a repetitive series of identical clear glass vases, each holding a single large tropical green leaf.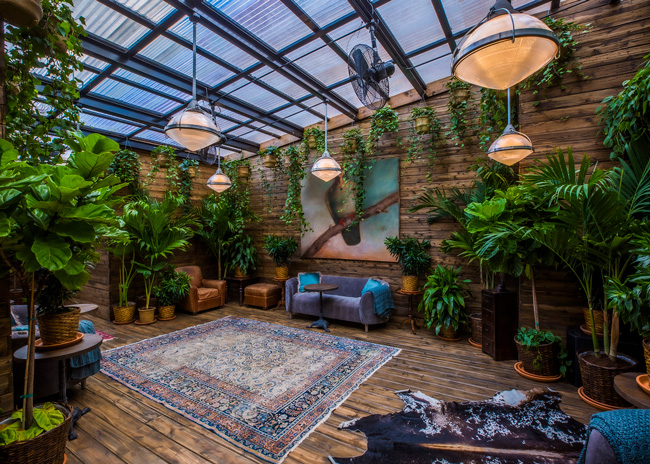 Tropical touches combine with old-world and romantic design themes upstairs as well. There, on an enclosed third-floor rooftop, BHG offers a companion operation to Mama Delia named Botánico. The 2,000-square-foot space is divided into a garden room with wall-to-wall skylight ceiling and a larger private dining room with a demo kitchen and seating for up to 24 guests. Slated to be used for cooking classes and tasting events once groups are comfortable gathering again, the private dining room also handles overflow volume from Mama Delia downstairs and, at least for now, helps to provide socially distanced indoor dining.

Also given all new finishes and furnishings during the remodel project, the new Botánico spaces are decorated with luxe crystal wall lamps against dark wood-paneled walls, vintage carpets, farmhouse dining tables, colorful paintings and lush, tropical greenery. A wall-to-wall skylight ceiling over the garden room helps to bring the outdoors in, as does a dramatic arched window in the private dining room that overlooks the street below.

"Botánico complements our overall goal for Mama Delia of providing guests with a unique and beautiful setting in which to sample and enjoy exquisite, authentic Spanish foods and beverages," Alonso says. "We've had to wait a bit because of COVID-19, but we're eager to get to full capacity and be able to offer the entire immersive experience, upstairs and down."
The upstairs private dining room handles overflow volume from Mama Delia and, complete with a demo kitchen, is slated to be used for cooking classes and tasting events. Image courtesy of Ethan Jollie
Project Team:
Ownership:
Bonhomme Hospitality Group
Executive Chef: Marcos Campos
Beverage Director: Ricardo Alvarado
Design: Maison Bonhomme
Contractor: Aberdeen Construction
Snapshot:
Location: Chicago
Opened: June 2020
Concept: Spanish restaurant, sherry bar and gourmet market
Size: 2,500 square feet, plus 2,000-square-foot enclosed rooftop garden and private dining room
Seats: 110 (60 patio, 20 bar and chef's counter, 30 dining room), plus 40 on rooftop level
Average check: $55 per person
Project type: Re-concept, full remodel
Build out: 8 weeks
Design highlights: Pink facade, antique apothecary cabinets/shelves, vintage Persian rugs, vintage chandeliers, mid-century-style furnishings, Moroccan tile, tropical greenery, 30-foot marble sherry bar and chef's counter, open kitchen, enclosed rooftop
Images courtesy of Barry Brecheisen unless noted