Steakhouse concepts are typically "masculine" spaces with dark woods, low lighting and heavy, dark leather upholstery.
Meat Market is a different beast. This Florida-based concept has four locations, all hip and high-end, with a look that eschews traditional steakhouse design, according to Anthea Bosch-Moschini, founder and principal designer with Studio ABM Design, the firm that created Meat Market's look.
"Being a female design firm in the hospitality industry, [when first approached about the concept] we suggested doing a steak restaurant that feels softer and more feminine. It can't only be a guys-night-out kind of place, which is what steakhouses have been known for."
The concept's newest locations opened in Tampa in late 2019, with interior design by Studio ABM Design and api(+) serving as architect.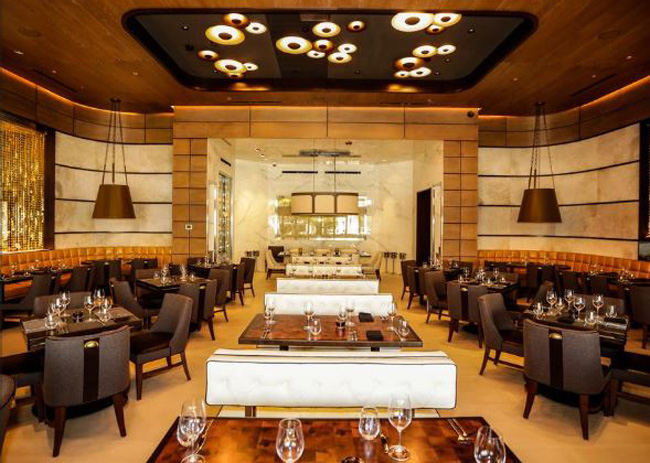 The restaurant achieved its softer aesthetic partly through lighting. Instead of dim lighting, Meat Market uses a warm gold/amber that many people find flattering.
"It's not obviously feminine. You don't feel like you are in a feminine space, but the lighting makes people feel comfortable, especially women. They feel more attractive in that kind of space," says Bosch-Moschini.
The restaurant's lighting design considered more than lighting color. Attention was also paid to the fixtures and their overall effect. To highlight the dining area's volume, fixtures in the center of the restaurant were kept tight to the ceiling. Visual interest is created by their playful look and multiple levels.
The corner booths, meanwhile, were given large barrel-style fixtures covered in leather, creating intimate spaces that are good for date nights, says Bosch-Moschini.
The dining area also features a number of different seating options. These do more than accommodate parties of various sizes, says Bosch-Moschini, they also serve as vignettes that offer different experiences to guests. In addition to the corner booths, the banquette features a brass chain wall element that adds a tactile quality to the space, while the white leather bench seating places diners in the heart of the restaurant, surrounded by energy and activity.
These areas can also be transformed thanks to the use of a folding window storefront, according to Juan Romero, president and CEO of api(+).
"All the storefronts open," he says. "With the outside and the inside working together and the weather beginning to cool down now in Tampa, it is wonderful to be there."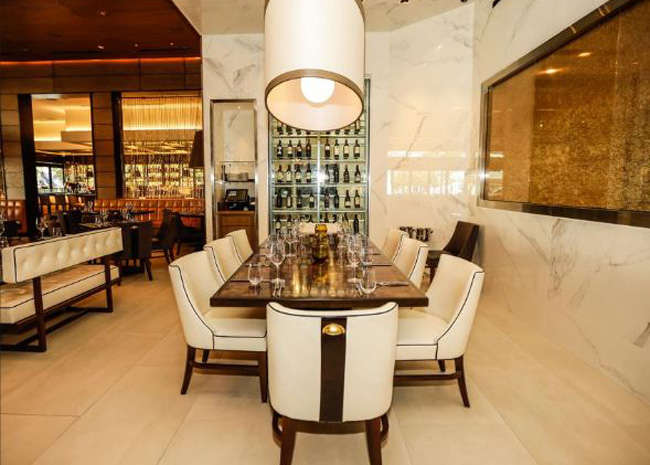 The communal table area offers guests another distinct dining experience. This space is set apart by its marbled walls. This finish, though, is not actual marble. Instead, it's a large-format porcelain tile, Bosch-Moschini says, offering the look of marble without busting the budget.
Other design touches also give it a different feel. The chairs are a combination of the main dining room' bench seating material with its floating table seating design, and a wine wall provides a fun elevated touch.
The space also includes a large window with a gold mesh, providing a translucent look into the kitchen. This touch connects diners to the kitchen without making the kitchen central, says Romero. "In a lot of restaurants, the kitchen is the feature, and everything tilts in that direction. In this one the overall environment is the feature."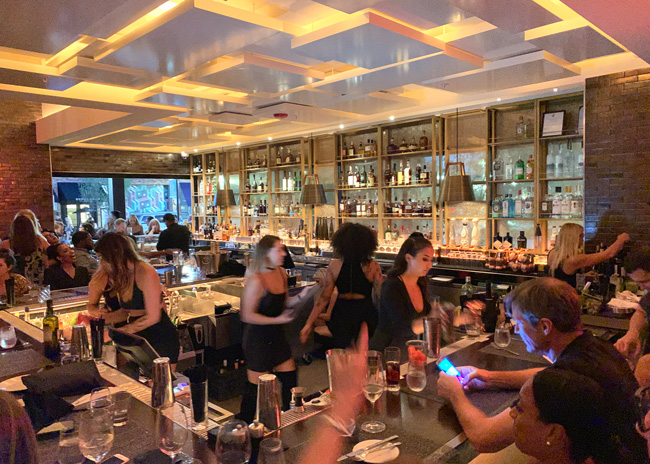 Meat Market's bar area is the beating heart of the restaurant. Located front and center, it features an L-shaped raw bar that opens to outdoor seating.
"The shape of the bar is really important," says Bosh-Moschini. "We don't tend to do a long run. The typical size is anywhere between 23 and 27 feet, so it is a big bar, but we always do it in a kind of L-shape, which we think is better for conversation."
Meat Market's bars are always designed to be dark, adding to the hip vibe. With the bar back set against windows, the designers used the same gold mesh glass used for the kitchen window.
"When the light hits it, it almost looks like a shimmery gold gauze. If you're outside you're seeing some movement, you're seeing the bottles that are lit. If you're inside you can still see out. That creates something that is not totally transparent, but again is layer on layer on layer," says Bosch-Moschini.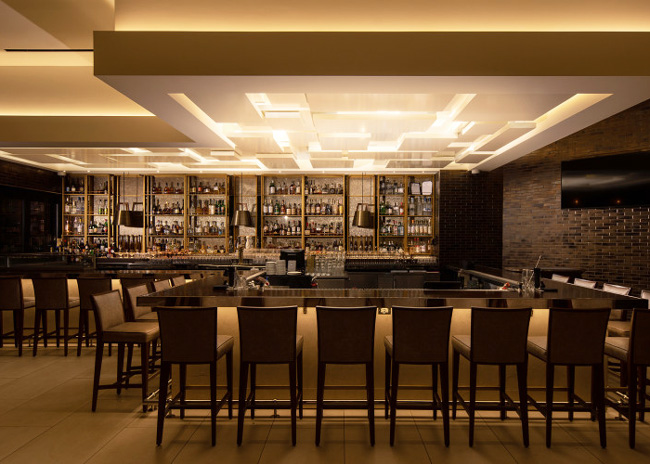 In addition to indoor seating, Meat Market has three outdoor spaces: a bar area that connects to the indoor/outdoor raw bar, lounge seating and dining-style seating.
These spaces feature high-end artificial wicker seating with cushions and teak tables. The outdoor dining area is set up for vine growth and is also equipped with solar shades. These help with rain and sun and create an intimate space during the winter months.
"If you are serving a full menu outside, it needs to feel just as catered to, just as designed and just as thoughtful as the interior," Bosch-Moschini says.