Simple, strategic design helps create comfortable, enjoyable family dining experiences.
With the debate raging in some segments over whether young children should be allowed in restaurants, some operators are taking a firm stand. They're welcoming kids and their families with open arms, spaces specifically designed to make them comfortable, with interactive games, special seating areas and good food.
"When people talk about being kid friendly, the first thing I think you can do is really become parent friendly," says Tom Jednorowicz, the founder and CEO of Bloomington, Ill.-based Meatheads Burgers & Fries. "When you can do things that make parents acquiesce to the decision of where they're going to eat out, and that let kids be kids, it's conducive to the family experience."
The father of two young girls, Jednorowicz's experiences dining out with his children were instrumental in Meatheads' design to enhance the restaurants' appeal to families with children. "It's tough for children to be in an environment where they're constantly being scolded for being too loud, or too disruptive. It's difficult for everyone," he says. "We wanted to create an environment where we take the pressure off that experience."
Each of Meatheads' 15 locations includes design elements intended to provide a quality and stress-free experience for children and their families. For example, the restaurants feature horseshoe-shaped booths in which one adult can sit on either end with the children in the middle. It's a simple design strategy, but one that helps to minimize little ones' ability to get away from the table and run around.
"When we founded Meatheads my children were four and six years old. When we put the kids in the car and asked where they wanted to eat it was either McDonald's or Chuck E. Cheese's. McDonald's doesn't appeal to me from a food perspective and Chuck E. Cheese's does not from an environment perspective," Jednorowicz says. "Parents know at Meatheads they are going to get a quality meal in an environment where they appreciate that they don't have to worry about their child."
In addition to its U-shaped booths and kid-friendly menus, Meatheads made kids and families a key part of its branding package. Each location features a schedule and score board that showcase local high school teams. Each month, the units also recognize a local high school student for their academic and athletic achievements. Additionally, the restaurants have a reading program and a Meathead of the Game award that's given to individual children at the end of school-based athletic games. "The award is not about who played the best; it's about who plays hard and applies themselves," Jednorowicz notes.
"I think there is a place for both concepts, but a place like Chuck E. Cheese's is more of a special occasion thing," he adds. "What we're trying to capture is the weekly visit. You have to satisfy everyone if you're going to be a family restaurant. It's not just about menu, or experience. There's a difference between being kid tolerant and kid friendly."
Indeed, restaurant operators finding success with the family segment are those that appeal to parents first by identifying with and catering to their family needs. This means keeping their children busy, happy and engaged so everyone can enjoy the experience.
"This could be done through tabletop games, more sophisticated menus, toys, etc.," says Darren Tristano, executive vice president at Technomic. "Certainly, price point for kids is important as is being able to provide a high level of service, meaning bringing their food to the table quickly. The little things can go a long way for parents. Sixty-seven percent of consumers say that atmosphere and comfort are incredibly relevant to how they choose a restaurant for family dining occasions. A comfortable atmosphere is very important, especially for large families."
Family dining has changed dramatically over the past 50 years, with menu options available to children, in addition to design, playing a more centralized role. "The menu has definitely gotten more sophisticated for kids, and certainly restaurants are recognizing an opportunity to increase spend for those kids by making lemonade and specialty drinks, as well as desserts," Tristano says. "Overall, the willingness of restaurants to bring kids in has improved. They have done a better job of catering to kids. The attention had gone away from children for a while and it's starting to come back."
One reason why is because American families were hit hard by the recession and were in need of affordable dining-out options. Another is simply the increasing role restaurants play in consumers' daily lives.
"When the recession hit and disposable income wasn't what it was, restaurant chains had to make adjustments and figure things out to make some changes," says Steve Beagelman, CEO of SMB Franchise Advisors. "One of those changes was to offer an alternative to get families to come in more often. Also, families are eating out more now than 50 years ago. There is no question that the times have changed."
Kid Friendly by Design
Restaurant operators with concepts designed to specifically target kids feature spaces that engage, captivate and nourish. This can include dining areas that can handle families and varied seating options including high- and low-top tables, and booths.
"What we realized from a design perspective is that it's typical when you order at the counter that you see the top of the kids' heads, at best, and the staff isn't able to engage with the kids," says Shannon Seip, co-founder of the Bean Sprouts cafe and cooking school. "That's why we created our 'Imaginibbles' kids' counter that is 22 inches from the floor. We took the average height of a 3-year-old and built the counter to fit that height so kids could see photos of the menu items themselves. This lets our staff engage with that child."
Seip and her Bean Sprouts co-founder, Kelly Parthen, were attending graduate school programs for broadcast journalism and public relations when they developed the concept. "We both had children and realized there were not a lot of places that were healthy and fun that appealed to adults and kids. We saw a need for something that was truly family friendly, but that also wasn't over stimulating," Seip says. "By the time we opened, I had two young boys and Kelly had her second as well. Because our kids at the time were in the toddler zone, we could see every challenge when it came to dining out with kids."
Those challenges included how to incorporate window treatments that weren't easily ripped off by children or pepper and salt shakers that prohibited them from spilling the condiments all over tables. "I remember when my son was into Thomas the Train and he would take his trains and put them on the table and shake the salt over the trains for snow. We wanted to take care of the things that made parents anxious about their experience because we don't want parents to have to say no all the time. We hide the salt shakers far away from where the kids can see them. We hide the water and think through things like that," Seip says. "Kids are super hands-on and we want to encourage that, but not in a way where the adults have to worry about it. We don't mind kids walking all around and that it's loud."
Bean Sprouts' tables have rounded corners and there is plenty of extra seating in case of overflow. The lights are made out of colanders and the brand's colors are muted green and orange in an effort to stay away from primary colors. Inspiration for interior artwork came from the book, "Play with Your Food."
The concept's locations are in family destinations in Seattle, as well as Sausalito and Oakland, Calif. In addition to kid-friendly spaces, it also focuses on serving healthy and fun menu items. Examples include the Do-Re-For-Me, a sandwich with sunflower butter and organic jam; Crocamole, avocado hummus with veggie dippers; and the Whoopsie Daisy, a roasted turkey sandwich with cheddar cheese and egg-free mayonnaise.
The cooking school side of the business is geared toward children, although the classes are hosted outside of the kitchen in party or multi-purpose rooms. "We designed our cooking school so it's not in a kitchen," Seip explains. "I've done them in libraries, outside, etc. It's a way to have fun with the kids but not to take up the whole day. We don't use anything that would hurt a child. We do cook things, but we use a toaster oven or convection oven."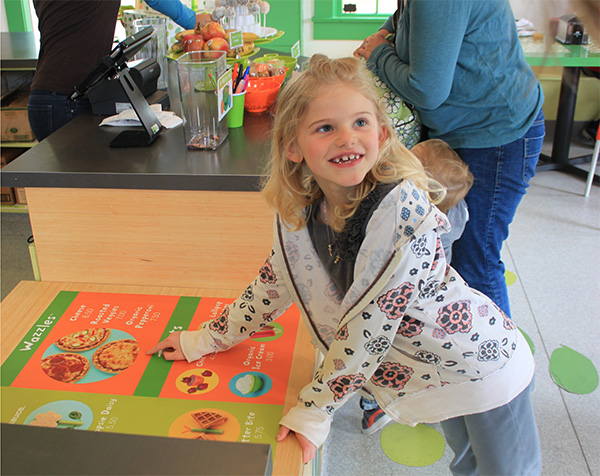 Safe, Stress-Free Environments
Keeping children safe is the No. 1 theme that runs through every concept designed for children and their families. Second is the ability of each brand to take the stress out of dining out with children. Also at play is the location's ability to make families feel comfortable.
"Giggles N' Hugs came out of my and my wife's need to be able to dine out as a family and not be stared at or made to feel uncomfortable or embarrassed," says Joey Parsi, who founded the three-unit Los Angeles-based company. "We wanted a restaurant where our kids could be themselves. There are restaurants for all types of people, but when it comes to parents with small children, we have zero options. I wanted to create a restaurant that caters to parents as much as children. That's the genesis of Giggles N' Hugs."
To get started, Parsi said the concept had to be welcoming, warm, safe and happy. It also had to be clean. The interior colors are white, lime green and lavender, and the play areas can be seen from every seat in the restaurant. Every corner, edge and table is rounded and the bathrooms feature mini sinks that the children can use independently. To appeal to families with children over the age of six, Parsi and his design team integrated gaming areas that children can play for free.
There is also a strong focus on food. "We didn't want to be a fast-food place like most restaurants, but we didn't want waiters and waitresses either. So, we are a quick-serve where you come in, order, pay, get your number and a food runner brings out the food," Parsi says. "The counters are standard size, but below the counters we have things children would be looking at, such as an aquarium, so the kids are occupied while the mom is trying to place the order."
Giggles N' Hugs' food is made-to-order and everything is prepared in-house on a daily basis. Pureed vegetables are secretly added to as many sauces as possible and even Sophia's Mac N' Cheese features pureed butternut squash. Additionally, the kitchen has designated areas for preparing allergen-free foods and staff members also use separate utensils when preparing those dishes.
With three units currently open, Parsi expects to open two additional locations within the next few months. The company also has a smattering of international franchise requests thanks to an abundance of press. Nearly every national celebrity with children (and some without) has been photographed at a Giggles N' Hugs.
"When I started Giggles N' Hugs, it took off like a rocket ship. It was like I had just created electricity," Parsi notes. "People across the world want the same things that I want for my children. It's one world. When you have kids, the world is flat."