Old Fashioned, with a Twist
For its first few restaurant concepts, Milwaukee-based Lowlands Group turned east for inspiration — to Europe's grand cafes and beer halls. For its newest endeavor, the group headed north, just a few hours' drive to Wisconsin's Northwoods, epicenter of classic tavern and supper club culture. Their goal: to embrace that culture; share a few Brandy Old-Fashioned Sweets, fish fries and frozen pizzas along the way; and develop their own riff on the beloved Midwest genre.
The end result is Jim & Larry's Buckatabon Tavern & Supper Club, Lowlands' love letter to the Northwoods dining experience. Set in suburban Wauwatosa, just 10 minutes west of Milwaukee, the restaurant is named for Lowlands' CEO Eric Wagner's grandfathers and for Buckatabon Lake near Eagle River, Wis. It took over a space occupied for the past five years by another Lowland's concept, the German-themed Café Bavaria.
"We'd been considering another concept for years and felt that Café Bavaria was underperforming for what we knew the building could produce," Wagner says. "I've spent a lot of time in the Northwoods and love it up there. It's a very unique and special place with its own personality, and it's dotted throughout with little family-owned taverns and supper clubs. They feel like they've been there forever. Every one of them is a little quirky and has a story behind it. We wanted to create that same sort of experience here."
The conversion was quick: Café Bavaria closed at the end of January, and within six weeks, the 3,000-square-foot, two-story building was redesigned and set for its grand opening as Buckatabon (pronounced "bucket-AH-bun"). But then, of course, COVID-19 hit. "We had done a very soft opening, with no marketing behind it yet, when the pandemic-driven shutdowns started," Wagner says. "We had wanted a little time to make sure that we understood what we had developed. It's a pretty complicated service model because of all the things we're doing to offer our take on both the tavern and supper club. But before we could fully open, everything had to be put on pause."
As of late May, Buckatabon had yet to throw its grand opening party. But the brand nonetheless had begun working its way into the hearts of locals craving convenience, comfort and fun. Following a two-week pause and supported heavily by social media marketing, it reopened to offer its modern takes on supper club classics in individual and family-size portions for walk-up window or curbside pickup, or delivery via DoorDash. The to-go menu includes entrees such as prime rib, lasagna and beer-battered haddock; tavern burgers; and a handful of signature sides. Beverages include wine, craft beer growlers, and kits for making Bloody Marys, mimosas and Old-Fashioneds featuring signature, locally distilled Buckatabon Brandy.
While such off-premises solutions were configured to bring the Buckatabon experience to guests during the pandemic, Lowlands Group is eager to present the full in-house experience to them as well. It's one they'll find rooted in authenticity, nostalgia and a desire to connect Buckatabon directly, through design and marketing, to the many iconic Northwoods spots that inspired
its development.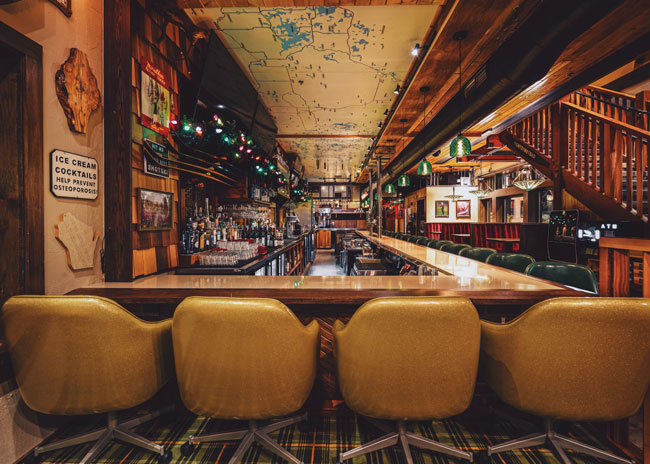 Buckatabon's bar features an elevated platform that accommodates table-height bucket chairs at the front end. Its ceiling is covered in oversize maps of Wisconsin's Northwoods lake country, epicenter of the state's supper club culture.
A Quick Conversion
Leading the conversion project was Three Sixty, a Milwaukee-based design-build firm helmed by Creative Director Brian Polster. His team, which had also designed Café Bavaria, was brought in early and joined on multiple scouting trips north to Wagner's favorite taverns and supper clubs for concept and design ideas. With just six weeks to complete the transformation, Polster says the project required close coordination between Three Sixty, the GC and the architect.
"The second-floor kitchen, main-floor dining room and bar remained the same physically," Polster notes. "But while we didn't have to move the bar, we did add a platform at the front end to accommodate table-height seating. We also mapped out a new layout for the second floor, which is where the kitchen is. We infilled what had been a mezzanine-type hole and reconfigured the stairway coming from the main floor to get more seating upstairs. A lot of the ceiling tiles had to be removed, and there was some structural steel work that had to be buried within the exterior walls and flooring, but we ended up gaining space for three two-top booths."
Both for design and operations, a main objective was to seamlessly incorporate both elements of the Buckatabon concept: cozy, casual tavern and slightly more elevated dining. While no major demolition was required, the team set out to remove all traces of the previous concept's Germanic aesthetics.
"We wanted to be sure that when you walked in, it didn't look like we just put lipstick on it," Wagner says. "It had to have its own unique and clear identity. Our original inspiration was definitely mid-century Wisconsin supper club, but we didn't want it to just be a place where you'd go for dinner on Friday and Saturday nights. We wanted to make it very much a neighborhood place. So, we added a full tavern element with a separate menu that's always available. At 5 p.m., we'll shift into supper club mode with an additional full dinner menu."
The tavern, which sits off the entry of the of the long, rectangular building, features a small, elevated platform with loose table-height seating that extends from the front window to a 20-seat linear bar along the interior wall, and three generous, U-shaped booths along the opposite exterior wall. Uneven flooring presented one unique wrinkle in the bar, a challenge that initially presented during the Café Bavaria build-out.
"The very west end of the bar, toward the front, is probably about 34 inches off the ground, almost table height," Wagner says. "But when you get to the east end of the bar, it's about 12 inches higher. We considered leveling the whole thing out but were going to run into all kinds of ramping and ADA issues. What we ended up doing is having all of the fixed barstools get gradually longer from the front end of the bar to the far end."
Millwork for the bar and tavern booths had to be adjusted accordingly as well. And for Buckatabon, borrowing an idea from one of the operations visited up north, the platform was added.
The two double-hung front windows overlook an outdoor patio dubbed the Village Beer Garden. When Buckatabon shifted to off-premises service only during the pandemic, those windows became part of a solution for handling takeout orders. "They can open up to serve a bar counter outside on the patio," Polster notes. "Someone could be inside, handing to-go orders out the windows to another employee working the outdoor counter. Guests would never have to enter the building."
On entry, Buckatabon's tavern greets guests with a comfortably cozy ambience inspired by iconic Northwoods taverns. Dining rooms — one in back and one upstairs — are supper club classic with modern twists.
Keeping it Real
To achieve a nostalgic Northwoods lakeside-lodge feel inside, a mix of laminate wood and stained red oak paneling was used liberally on walls, ceilings, millwork and the bar's facade. A new wood-trimmed laminate bar top was added as well.
"A lot of the supper clubs that we visited had a similar sort of cheaper laminate bar tops with wood arm rails, so we felt that was an authentic fit," Polster says. "As a finish, it also worked in our favor in terms of budget. We used the same approach for some of the tabletops."
New flooring was installed — wood in the tavern and carpet in the dining areas and on the seating platform in the tavern. The dining room carpet, in particular, was critical to getting the look and feel of not just a traditional Northwoods supper club but one with just the right amount of swank. The carpet also helps to achieve the goal of creating dining room experiences that feel dramatically different from the tavern.
"My grandma's dining room had this crazy pinkish, reddish, ornamental-pattern carpet," Polster notes. "It was super mid-century, and that's what we were shooting for. But we wanted a little Sinatra vibe, too, like an upscale, really old-school place in Vegas. The carpet was definitely a great find and inspired other design elements in the space."
Paint colors on dining-room walls above chair-height paneling pick up accent colors in the carpet: In the downstairs dining room, it's deep reddish-pink, while upstairs, it's harvest gold. The building's exterior pale yellow walls, forest green trim and red accents play off the carpet, too.
But with the tavern and patio intended to be gathering places for Wisconsin sports fans, there's more to the color selections than just the carpet. They're also a nod to those fans, Polster says — a "subtle, earthy abstraction of Wisconsin Badgers' signature red and the Green Bay Packers' green and gold."
Traditional wood laminate paneling and dark-stained millwork lend a nostalgic, lake lodge-type vibe, while plush, crushed red velvet fabric lining the tavern booths adds pizzazz.
Those same color families carry over to Buckatabon's seating, which adds its own style authenticity and hint of old-school swank. Tufted, subtly sparkly red and gold vinyl bucket chairs, some on casters, and hunter-green tufted barstools are supper club classics, while booth cushions and banquettes are covered in plush red and gold fabric.
"It's almost like crushed velvet, but it's beyond velvet," Wagner says. "It's really unique and helps give the space the special kind of look we were after. We didn't want it to just be all knotty pine and full-on Northwoods. We kept coming back to a theme that was more like mid-century huntsman-inspired, imagining a group in the Northwoods that might go out pheasant hunting and at the end of the day relax with martinis."
If Buckatabon's eclectic blend of finishes and furnishings sets a modern supper club stage, its funky collection of tchotchkes, mounted fish and antlers, framed photos and maps, vintage beer signs, and other accessories — many sourced during concept-development road trips up north — add authenticity and patina. The restaurant's namesakes, Jim and Larry, oversee the tavern from framed photos on a wall facing tavern booths. And a stairway landing wall holds painted wooden arrow signs, the type seen on rural roads throughout northern Wisconsin to help travelers find their way to camps, lodges and supper clubs. At Buckatabon, the signs highlight favorite places visited during research trips.
Those signs are just one example of how the restaurant pays homage to its various Northwoods muses. Another is the bar ceiling, lined with an enlarged map of the Eagle River region and its lakes. It's pinned with small flags showing the names and locations of iconic, family-owned operations there. And a passport-style marketing program, called Buckatabon's Up North Adventure, is in the works. It encourages customers to make a pilgrimage north to visit many of those operations, collecting stamps along the way and earning free drinks and other prizes for doing so.
"We set out to truly connect Buckatabon to the Northwoods — in its ambience, decor, menu and attitude," Wagner says. "It's quirky and unique, it's comfortable and very authentic, and that's exactly what we wanted. It's the kind of place I love being in."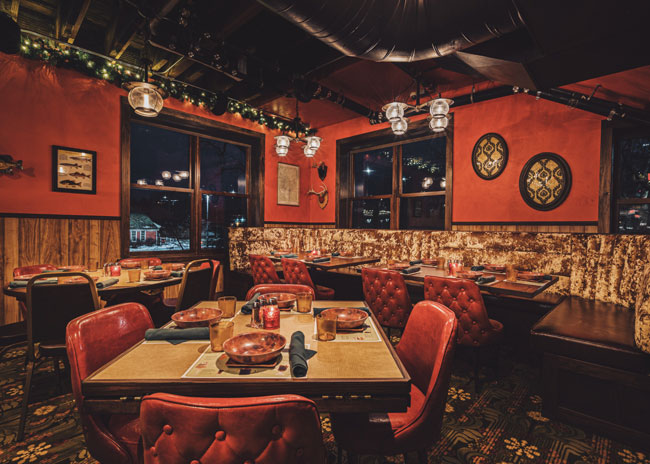 Tufted red bucket chairs, bold mid-century carpet and velvet-like plush upholstery combine in the first-floor dining room to create a fresh take on Midwest supper clubs.
Project Team
Snapshot
Location: Wauwatosa, Wis.
Opened: March 2020
Concept: Northwoods-inspired, mid-century tavern and supper club
Size: 3,000 square feet, 156 seats
Project type: Conversion, remodel
Design highlights: Classic supper-club furnishings and finishes, mid-century patterned carpeting, plush fabrics, authentic accessories and collectibles, eclectic lighting, signage and maps highlighting iconic operations that provided design and concept inspiration
Build-out: 6 weeks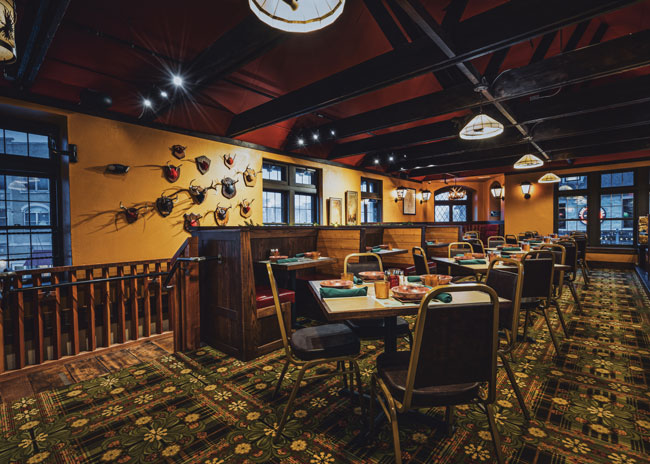 During the conversion, the main stairway was reconfigured and a former mezzanine space filled in to create more seating in the second-floor dining room.