A Q&A with Dean Jeffery, Head of Marketing and New Product Development, Grand Rapids Chair Company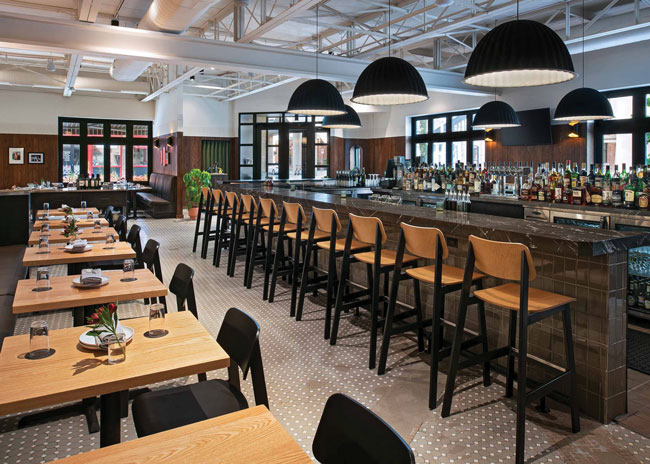 The Sadie II chair and barstool add a modern touch to a classically designed restaurant.
You may know Grand Rapids Chair Company for their colorful, modern furniture, but there's more to this furniture manufacturer than just tables and chairs. We sat down with their head of marketing and new product development, Dean Jeffery, to learn four new things about Grand Rapids Chair Company.
Q: What's new with Grand Rapids Chair Company?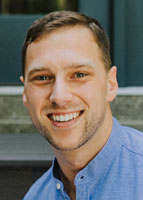 Dean Jeffery: Along with a bit of a refresh to our brand, we are excited to have a website that helps customers see and specify products faster than ever before. We have many finishes, but now you can easily toggle between our metal colors, fabrics, and wood stains to create different looks. From there, you can save the image or request a quote from our team. Swatches and sample chips were helpful, but they delayed the process. We aimed to mitigate those hiccups. Admittedly, it's also fun to play with the endless finish combinations!
Q: What do you see as the most often overlooked consideration when specifying restaurant furniture?
DJ: Surprisingly, there are very few furniture safety standards in the foodservice industry. But just because it's not required doesn't mean we shouldn't. In order to create durable and safe furniture, we test our products to BIFMA standards. BIFMA is an organization dedicated to creating quality and safety standards for US furniture manufacturers. The tests are rigorous—like dropping heavy weights on a seat thousands of times to simulate years of use. These tests ensure our products' longevity and durability for years to come.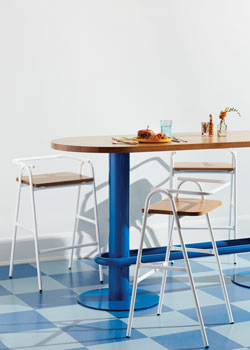 Grand Rapids Chair Company names products after their employees. For example, the new communal table was named after their resident master craftsman, Frankie.
Q: What do you see on the horizon for 2020? What new trends?
DJ: In the last few years, we have pushed for a playful, modern portfolio. We will continue with that ethos, but with an emphasis on comfort and softer shapes. Think chunky steel tubing like our Sir Burly barstool and heavily upholstered pieces. It takes the collection into a more modern space, but it also provides solutions for sound absorption, a problem many restaurateurs and chains are concerned with. Not to mention, after a decade of the stripped down industrial style (exposed wood, raw steel), it's refreshing to offer designs that are an aesthetic pivot.
Q: What's one surprising thing to learn about Grand Rapids Chair Company?
DJ: Fun fact: Most of our products are named after employees, employees' family members, and even our office dogs! As a family-owned business, we're a tight knit group. Some employees have been here for nearly twenty years. Most recently, we named our new Frankie table after our carpenter-extraordinaire, Frankie. He can build anything, and he's one of the nicest people you will ever meet. Without people like Frankie, Grand Rapids Chair Company wouldn't be possible.