Greene St. Kitchen opened at PALMS Casino Resort in Las Vegas.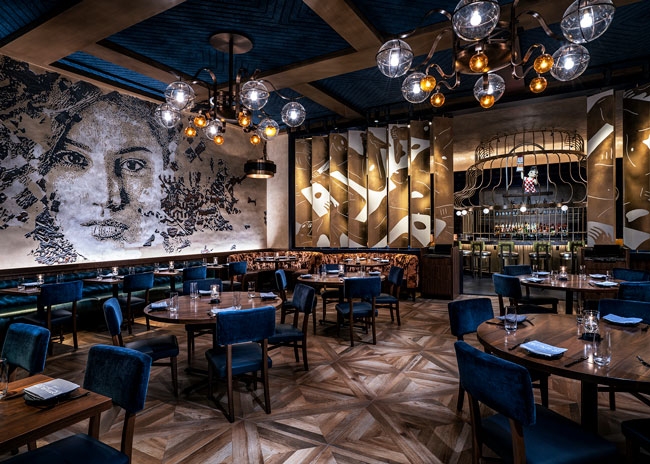 Greene St. Kitchen features the work of artists VHILS, Cleon Peterson and RISK.
Created by Andy Masi's Clique Hospitality and designed by Rockwell Group, Green St. Kitchen pays tribute to the art scene of New York City's Soho district during the 1980s. The dominant culture touchstones of the era — hip hop, punk, and street art — influenced both the restaurant's design and its menu.
Greene St Kitchen's entrance.
Guests enter the space via a fully-functional throwback video arcade with classic games lining the walls. The floor features tile inspired by 1980s 8-bit video games.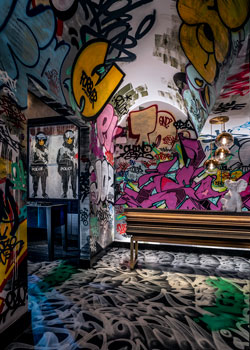 Greene St. Kitchen features the work of artist CES.
The speakeasy-esque entrance leads guests to a soda machine that is actually a tunnel to the dining area. The tunnel features an art installation from graffiti artist SLICK. There are also layers of "tags" — or the logos that street artists use — from graffiti legends.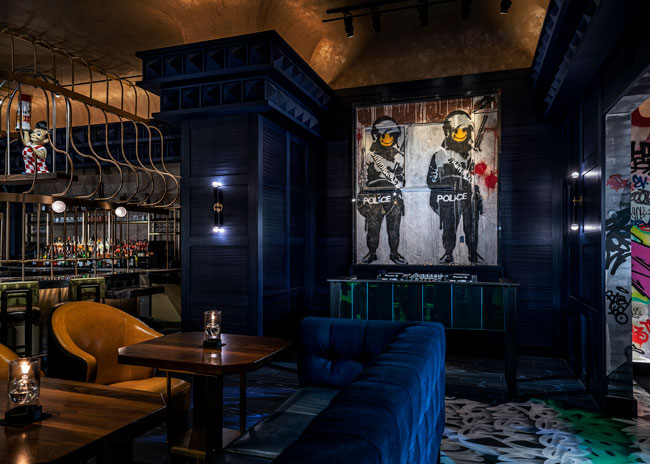 Greene St. Kitchen's Banksy piece.
Once inside, the design is a mix of gritty and lush elements. In the lounge a gold bird cage-like bar offers guests inventive craft cocktails and features an art piece from LA-based graffiti artist RISK. A backdrop set by prolific graffiti/street artist VHILS is exhibited throughout alongside artwork from BIKISMO.
Murals were created by husband-and-wife visual artists DabsMyla
Murals from husband-and-wife visual artists DabsMyla give the dining rooms a touch of whimsy and grandeur.
The work of artist Kenny Scharf.LA-based artist Cleon Peterson showcases his striking visual artwork and colorful pop culture art is displayed from Kenny Scharf.
The restaurant also honors acclaimed street art photographer, Martha Cooper, with a gallery of some of her most noteworthy photographs that document the 1970s and '80s graffiti and hip-hop scenes in NYC. The open-air garden patio serves as an al fresco dining oasis with a lively mural from modern pop artist POSE. The art collection is curated by Palms' Creative Director Tal Cooperman.
Offering shared plates and larger plate options, Greene St. Kitchen features hot and cold dishes, tableside hot rock offerings, vegan options and seafood. Standout dishes include the Crispy Duck Pancakes, Jidori Chicken Kebabs and Whole Steamed Striped Bass.