Fareground
Opened: January 2018
Designer: Michael Hsu, Office of Architecture
Austin's first food hall, built in an underutilized lobby of the One Eleven Congress building, offers an urban experience for guests to eat, drink and lounge with stall-style eateries left open to showcase the various chefs and cooks at work. Designed to be homey and familiar, Fareground's interior is decked out with materials like warm wood, white tile and marble countertops, accented with blackened steel and colorful tile. A large steel and white oak sculpture at the entryway of the food hall filters in natural light during the day and transforms into a lantern at night. At the opposite end, a 42-foot light fixture anchors the black marble and brass grand staircase. Custom communal tables and softly upholstered seating areas encourage an engaged ambience, while large windows wash the space in daylight and connect to the greenery of the family-friendly outdoor plaza designed by landscape architecture firm dwg. The plaza features native grass and regional botanicals. The hall hosts 10 vendors, including Dai Due Taqueria, Chef Kevin Fink's Henbit, Chef Andrew Wiseheart's burger restaurant Contigo, Ni-Kome, a ramen shop and others. The Fareground Bar sits in the center of the eatery stalls.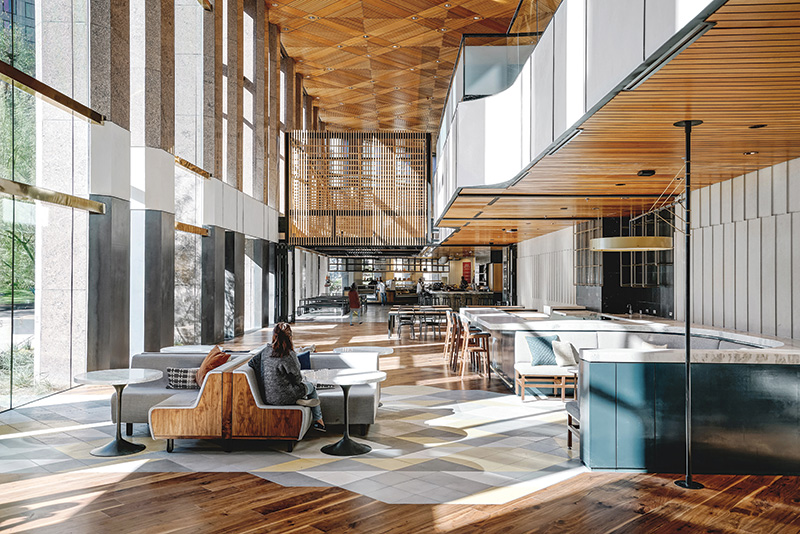 Photo courtesy of Chase Daniel
Mattie's at Green Pastures
Opened: March 2017
Designers: Joel Mozersky (Interior), Ryen Burrus, Clayton & Little Architects
Among the Bouldin Creek neighborhood grounds covered in ancient live oak trees, white-feathered peacocks roaming the fields and the subtle scent of biscuits in the air lies Mattie's, named after one of Green Pastures' original owners, Martha "Mattie" Miner Faulk. The brainchild of Austin developer Greg Porter and La Corsha Hospitality Group, the restaurant takes over a legendary, 19th-century era estate. It's the product of an extensive 13-month restoration project carefully executed to preserve the original heritage of the property and was done in collaboration with landscape architecture firm Mark Word Design. Mattie's features three bars throughout the property, including an outdoor bar on the lawn. The inside bars include one on the main floor in the powder blue lounge space, and another in the second floor's upstairs dining room adorned with a regal peacock wallpaper design and richly hued furniture. The Table Royal, Mattie's private dining room, seats an additional 16 guests. The kitchen, on the ground level, features a custom-designed, stainless steel, wood-fired grill. Blue banquettes, cherry wood tables and vintage brass tulip fixtures grace the main dining area. Even the host stand provides an extra flourish: originally from a pharmacy on the river Seine in Paris, flanked by other vintage pieces sourced from flea markets and local artisans. Photos courtesy of Nick Simonite
Photo courtesy of Nick Simonite
Boiler Nine Bar + Grill
Opened: July 2016
Designers: Slic Interiors, Kathy Steele, STG Design
Located in the historic Seaholm Power Plant, which generated power for the city of Austin until 1989, Boiler Nine is a four-story, 10,000-plus-square-foot restaurant from La Corsha Hospitality Group. Designers strove to preserve as much of the historic building as possible, reimaging the cement steel-heavy space and adding teal and gray colors to create a welcoming dining and drinking destination for nearby Seaholm neighbors and all of Austin. In a nod to the building's original power source, Executive Chef Jason Stude serves a coal-fired, broiler-focused menu in the main dining room. Director of Beverage and Bars Jason Stevens heads up a subterranean cocktail laboratory located in the basement that offers snacks alongside vintage and creative cocktails. The Deck Nine Observatory Bar overlooks the cityscape on the fourth floor with a satellite kitchen for à la minute dishes. Outdoor patios on the mezzanine level seat 300 guests and provide additional bar space. Artifacts retained from the restoration remain on display on the walls along with a large-scale mural inspired by the power plant created by local artist Mila Sketch.
Photo courtesy of Cody Graham
backYARD at Waller Creek
Opened: March 2017
Designers: Studio 11 Design
Playing on the idea of a backyard for this restaurant/bar and event space, Studio 11 Design chose to focus on merging the outdoors and the historic Waller Creek bank along the property housed within the Sheraton Austin at the Capitol. Inside sits a second-floor main dining room as well as The YARD bar and a private dining area that can partition to provide versatile and ample space for any number of guests. Outdoors, the 6,000-square-foot patio features a cozy space and lawn with a beer garden and auditorium seating, complete with pared down kitchen, full bar, and space for small or large-scale entertainment as well as fire pits. Hand-painted murals adorn the walls and the designers sourced reclaimed wood from a nearby barn to create many of the distressed wood elements featured in the bar and dining room, which is flanked by warm woods, oranges, golds and blues. The three-dimensional "Howdy Y'all" sign on the lawn and 1960s Airstream Overlander serve as focal points at backYARD. Chef Thad Crennen directs a modern Texas-Mex menu with tacos, dry-rubbed meats and fish entrees.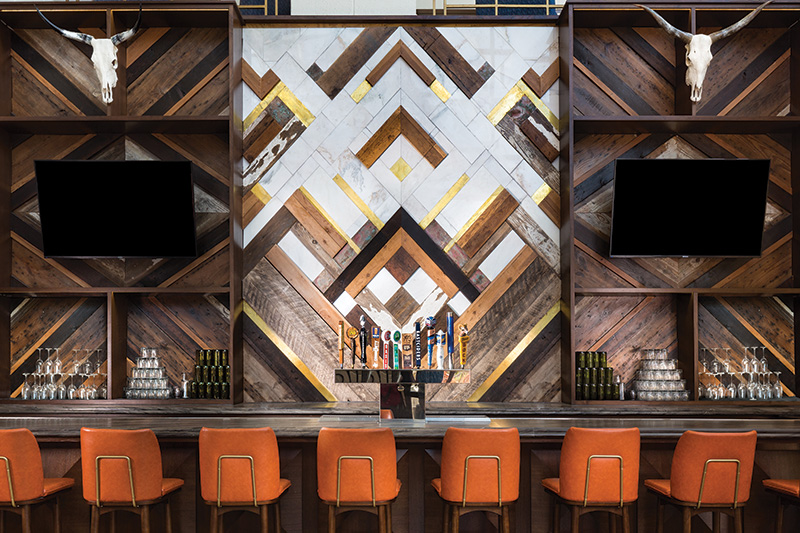 Photo courtesy of backYARD
Cookbook Café
Opened: June 2018
Designers: VeroKolt, Lake Flato (architect)
Opened in the newly-built Austin Central Library, this 125-seat (50 in, 75 out) counter-service restaurant boasts a light and airy design thanks to large, floor-to-ceiling windows. Along one side of the counter, guests can see chefs prepping dishes, while others make drinks behind the bar. The calm space features abundant notes of whites, earthy light browns and blues. Locally sourced white oak, sleek, modern furnishings, and steel and millwork by local artisans complement the color palette. The hallmark of the space is a large, built-in bookshelf showcasing the personal cookbook collection of Virginia B. Wood, the late Austin food editor. Her collection includes more than 500 books.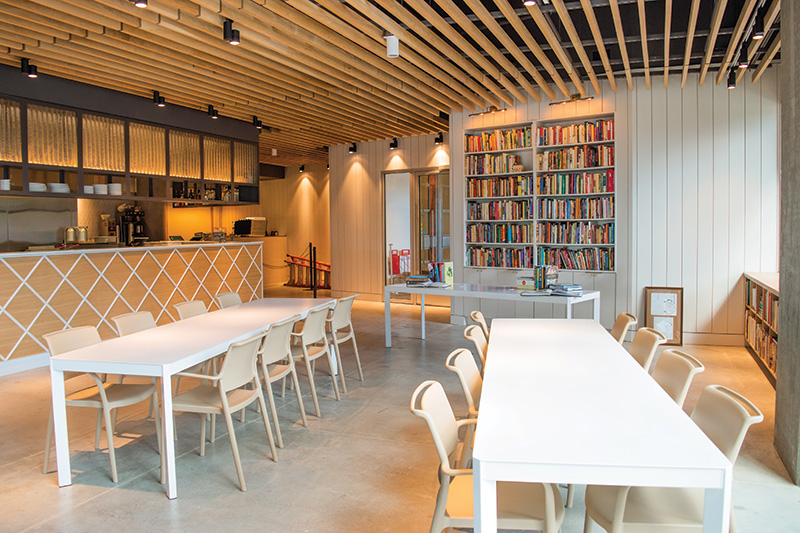 Photo courtesy of Chase Daniel