David Tracz, AIA, LEED AP, is partner at //3877, an architectural, design, interiors and graphics firm with offices in Washington, D.C. and Cape Charles, Va. Prior to joining //3877, Tracz was a senior associate at OPX and one of the leaders in its hospitality studio. He served as project manager on one of the first LEED Gold hotels for Marriott. He also managed a full rebranding effort for Marriott's Fairfield Inn & Suites. He is often a guest juror at Catholic University of America in Washington, educating students in architecture and graphic presentation. He is also a leader for neighborhood pro-bono projects. Tracz is currently on the board of the D.C. Chapter of NEWH. Here he details some of his favorite restaurant design trends.
Operable windows. Operable windows have become an immensely popular method for taking maximum advantage of a restaurant's entire footprint, allowing indoor spaces to seamlessly transition into outdoor zones. Operable windows are designed in several configurations from garage style to folding or awning windows. They can be easily opened, allowing fresh air to pour into the interior space while also providing a direct path to an eatery's patio or sidewalk station. Particularly beneficial to restaurants that have adopted a 3.5-season outdoor dining schedule, these large-scale windows have become an effortless option for keeping al fresco dining alive well into the colder months. Exemplified in Washington, D.C.'s The Smith locations, garage-style windows have afforded each location to take advantage of sidewalk space, enticing guests by showcasing the restaurant's beautiful interiors. In a sense, these windows offer a bit of free advertising.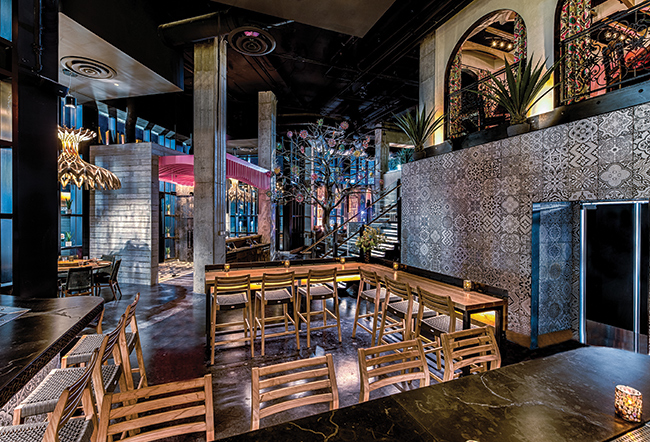 Succulents. With minimal maintenance and maximum design impact, succulents have become the one-stop shop for indoor greenery. Establishing an ambience based on biophilia and boho-inspired elements, succulents have become the leading decor item requested by restaurant owners, and one that we implemented throughout Mi Vida. Size and scale has also bolstered their popularity, with smaller options being perfect for staggered shelves and corner areas and larger options working for expansive floor plans.
Multiple tiers. Another method for taking full advantage of a restaurant's entire footprint is the addition of tiers and mezzanine levels, especially for restaurants with high ceilings. Often considered "lost space," although aesthetically pleasing, high ceilings represent an entire zone that can be reconceptualized into additional seating — and an expanded profit center as a result. Succotash is a great example of this. The original framework of the space was built to create a feeling of grandiosity with tall ceilings topped with eye-catching architectural detail.
Images courtesy of Clarence Butts