Taking over an awkward space is always a challenge for restaurateurs. When Michael Lennox was faced with this challenge, his solution was to turn one building into two concepts: Atlanta's Muchacho and Golden Eagle.
The operations opened last October in an old railroad depot along Atlanta's Beltline, a series of former railroad lines converted to pedestrian paths that are a major focus of the city's redevelopment efforts.
"The building is pretty long and narrow. In order to fully capitalize on the space we needed to break it up into to smaller concepts," says Lennox. "So we worked off an existing wall about a third of the way in. Instead of having one giant dining room and have it sort of split up by that wall, we used it to have Golden Eagle in the back and Muchacho, our daytime concept in the front."
Muchacho serves pastries, espresso, toasts and tacos, among other goods, allowing the restaurant to serve guests from 7 a.m. to 4 p.m. and the building to hit all dayparts.
As the daytime concept, Muchacho was given a bright feel, with white walls and a white ceiling along with a dark navy wooden floor. A retro racing stripe, which is coordinated with the espresso machine's custom paint job, gives the space a fun, energetic vibe, Lennox says.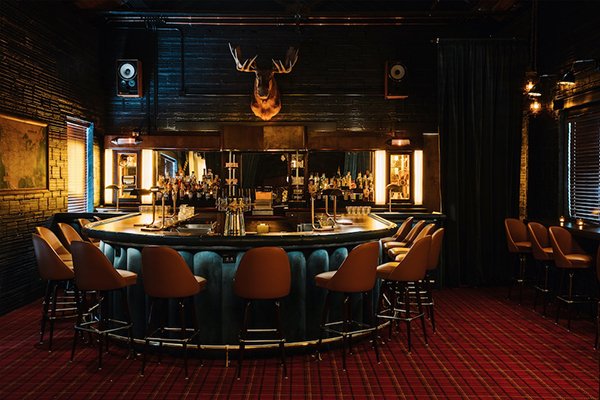 Golden Eagle, the larger of the two concepts, is inspired by the kind of social clubs that Lennox's grandparents would have frequented. It is divided into three zones: the dining area, the bar and the lounge.
The backbar itself is the key piece of the restaurant's design. "I'd been looking for a 1930s art deco antique backbar for a while. I lucked into this particular one. It ended up fitting the space we needed it to by a quarter inch." The piece features deco-style lighting and display shelving for photos, barware and other items that date back decades. Accompanying the piece is a custom-made bar with a wood top, brass foot rails and a brass beer tower. The bar's U-shape, says Lennox, matches the long, narrow space and creates a social atmosphere.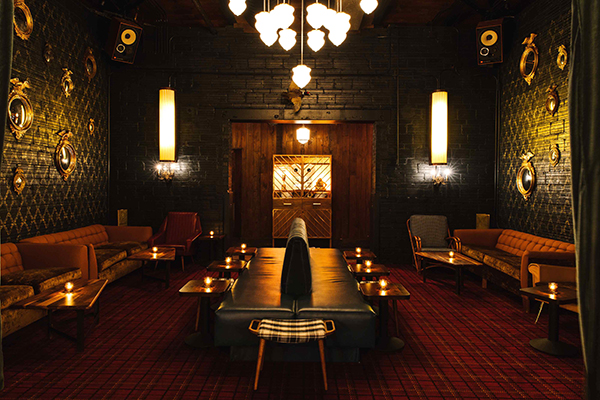 The lounge area features custom-made furniture, including the back-to-back bench seating in the middle, along with refurbished pieces such as the chairs and couches.
While the walls look like wallpaper, they're actually masonry that's been painted dark blue with a gold pattern stenciled on. "The building itself has a pretty distinct feel to it," says Lennox. "The texture from the brick speaks more to the past of the space than if we had just wallpapered over it. It was another way to add textures and layers to the space."
For wall decor, this space features collections of fisheye mirrors with eagles built into the frames. Lennox and his team gathered these over the course of several months through eBay, Craigslist and antique shopping. "We thought the mirrors would be a neat expression for a gallery wall without it being an actual gallery wall," Lennox says.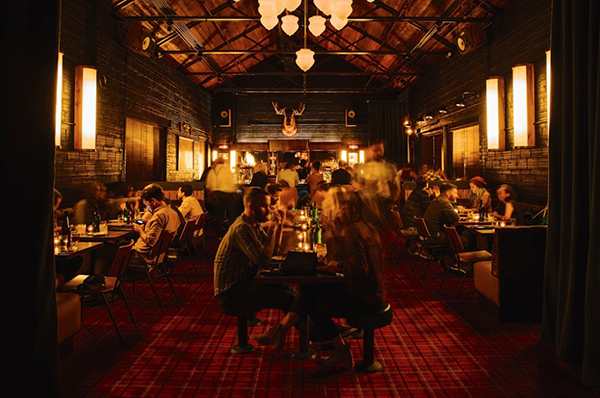 Golden Eagle's dining room, like the rest of the operation, features a rolled, red plaid carpet. With brick walls and exposed steel trusses, the carpet adds some softness to the space and helps with acoustics. This specific carpet is close to outdoor grade, so Lennox hopes it will hold up to heavy use.
The dining area's main design feature is an 18-foot-long steel community table. This piece was designed with the building's narrow dimensions in mind. Instead of freestanding chairs, the table is matched with mounted stools. Given the dimensions, movable chairs could easily clog the walkways. In addition, the table itself is only 24 inches wide, impacting exactly where these stools were mounted.
"If you have a full meal [at that table] and you're sitting directly opposite someone else, the plates start to bump into each other. We decided to place the stool in this offset diamond pattern so you kind of get a full 24-inch zone when it comes time to eat. It also allows for interesting engagement with your table companions," Lennox says.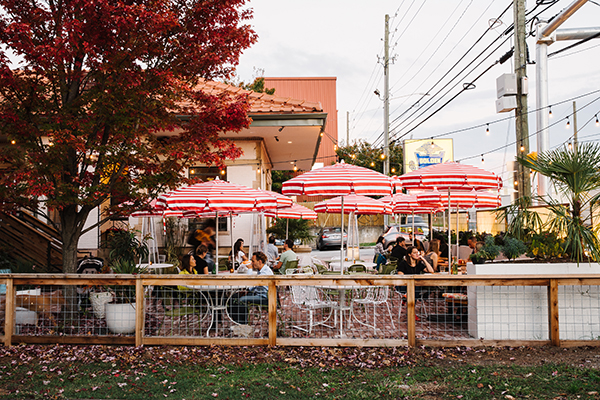 In addition to creating two separate concepts, Lennox developed an outdoor patio that is shared by both Muchacho and Golden Eagle.
The patio sits directly next to the Beltline, and the design team has tried to make it appealing to passersby. "There's a cedar-framed wire fence that has plantings along it. Hopefully it serves as a nice, inviting barrier as opposed to giving off the feel of a private area."
The patio is paved with reclaimed bricks and features outdoor furniture Lennox has collected over the years. Another key visual element are the red and white striped umbrellas that provide shade during Atlanta's warmer months. "They have a nice, bright retro look. [Red] is not a core color for either Muchacho or Golden Eagle but compliments both. I thought it would give a vintage feel to the outdoor space."