Taiwan's evening street markets, or night markets, date back hundreds of years. In modern times they've become famous for their street food vendors that offer tantalizing small portions from stalls.
In 2015, Chef Patrick Feury and his business partners Henry Chu and Michael Wei — the team behind French-Asian fusion restaurant Nectar, located in suburban Philadelphia — traveled to Taiwan and toured a number of night markets. They were inspired to bring the flavors of Taiwan, where Wie grew up, back to Philadelphia. The result is Danlu.
"Taiwanese cuisine is very eclectic, and contains familiar ingredients woven together with unexpected sauces and seasonings," says Feury. "Many of the dishes we experienced also come from China and southeast Asia. So many of the compositions that we tasted just blew us away, and we knew immediately that we wanted to bring these flavors to Philadelphia. With Michael Wei having grown up in Taiwan, this cuisine is in his blood and part of his background, and it helps to bring much more authenticity to Danlu."
Danlu's menu offers small and large plates, raw compositions, noodles and rice dishes, and Chinese sandwiches. Its design focuses on capturing the textural elements of the night markets.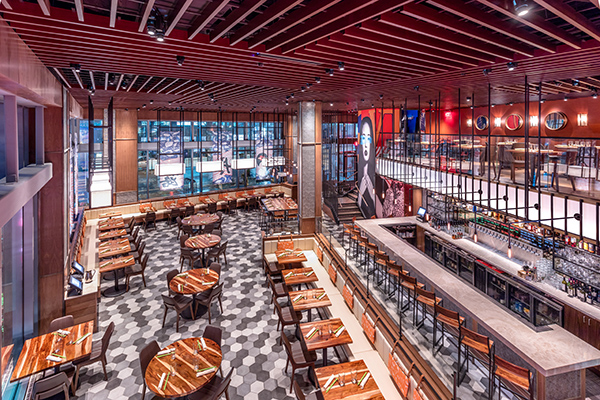 "We were asked to design a fun, cool and approachable space that was cafe-casual in ambience, while still sophisticated," says Jeffrey Beers, architect, founder and CEO of Jeffrey Beers International (JBI), the project's design firm. "Michael Wei and his partners wanted to make sure the materiality was rich, but not intimidating, and included a magnificent focal piece in the main dining room."
JBI used natural and textured materials juxtaposed against vibrant graphics to achieve the restaurant's sophisticated aesthetic.
Strong patterns break up the volume of the space and provide texture and interest from every angle. Hexagon faux concrete tile flooring leads to faux copper and antiqued, embossed accent panels at the entry way, which leads all the way up to the walnut millwork and wood beam basket weave grill at the ceiling.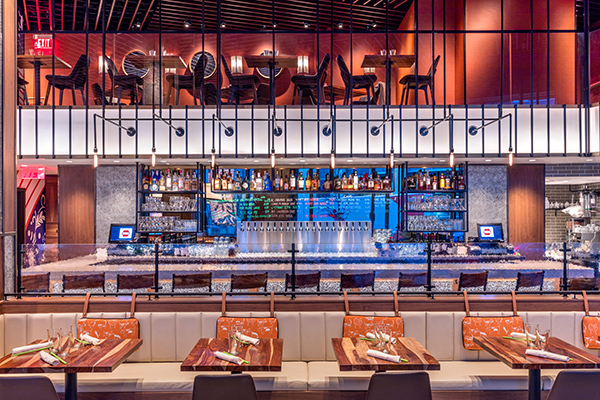 The space features mixed plank wood tabletops, including a communal table with wood planks and blackened metal trim with exposed rivets. Seating includes vertical channel tufted banquettes with custom back cushions in a playful graphic fabric pattern.
A glowing light band at the edge of the mezzanine helps frame the space. Handmade blackened metal armature chandeliers were made by partner Henry Chu.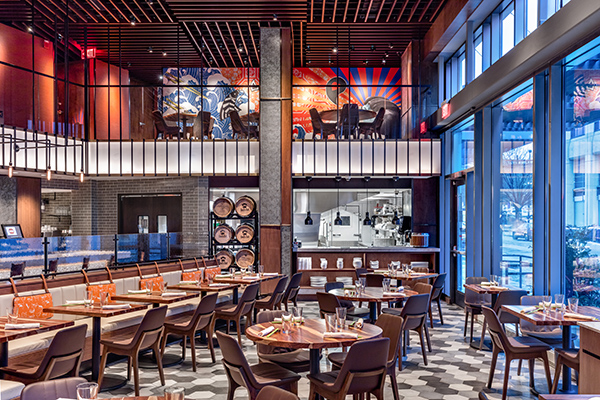 A beer and whiskey barrel display adjacent to the kitchen also serves to age menu and bar ingredients.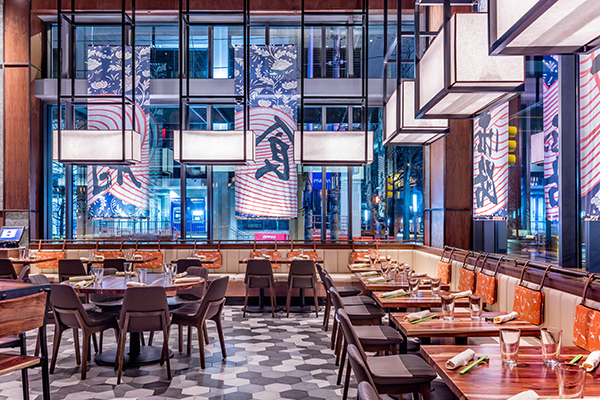 The interior also features large bespoke graphic art designs that feature Chinese characters meaning "Danlu." The graphic was inspired by street graffiti with an Asian look and feel.
Images courtesy of Max Touhey