Flooring may or may not be the flashiest aspect of a restaurant's design, but it is critical to get it right regardless. The right floors not only set the tone but provide functionality and safety. When specifying restaurant flooring, project teams can choose from a variety of materials from natural products like hardwood or stone to manufactured products like tile (anything from porcelain and ceramic to vinyl) and carpeting to industrial materials like concrete.
Tile
For the dining area at Proxi in Chicago, the New York-based Meyer Davis Studio opted to use 10-inch engineered oak wood flooring with a wax finish in the dining area. Images courtesy of David BurkeTile comes in a variety of materials including porcelain, ceramic and vinyl. Depending on material and application, tile can often mimic other, less durable or harder-to-install materials while providing the desired aesthetic.
Luxury vinyl tile (LVT) is growing in popularity. It mimics other materials and can be less expensive and often easier to install. It also provides a shock absorbency that harder materials do not.
Porcelain tile is widely used in restaurants. It is installed on a regular concrete slab and is impervious to water. And while grout absorbs liquids, water evaporates easily from the surface.
When weighing whether to use porcelain or ceramic tile, consider that porcelain is harder than ceramic and typically has a through body, so any pattern goes as deep as the tile. If chipped, ceramic tiles often show a red or brown body beneath the pattern.
Porcelain tile works well for restaurants with an indoor-outdoor layout, according to Kelly Ardoin, senior project manager at New York-based Meyer Davis Studio. Its density means restaurants can use porcelain tile in some outdoor applications.
Ashley McCaul, senior designer and an associate with The Johnson Studio at Cooper Carry in Atlanta, recently installed porcelain tile in Light Keepers restaurant at The Ritz Carlton Key Biscayne near Miami, which has a significant outdoor component. The property, she says, uses real wood throughout the interior. However, for the floor, which required the same authentic aesthetic, she used a faux wood ceramic tile "so it allowed them to open the doors and not have to worry about it."
Fast-casual chain Slim Chickens, based in Fayetteville, Ark., moved to a large-format porcelain tile in the front of the house for new stores and remodels. It was selected for its cleanability and durability, according to Director of Design and Project Management Kendra Payne. In its somewhat sterile, white-tiled bathrooms, the chain is testing a deep brown porcelain tile that mimics an oak wood grain. "Wood-like floors warm it up," Payne says.
Easy to maintain, porcelain tile requires daily mopping and that spills are wiped up immediately. At the Slim Chickens locations with porcelain tile floors, the chain contracts with an outside company that comes quarterly for a deeper cleaning. Another plus with porcelain tile: It has little to no wear from traffic patterns.
Slim Chickens selected a dark grout because over time, lighter hues can darken. Instead of grout, Payne says, some chains opt for an epoxy, which is fairly impervious to water, "but it's expensive, and the installation can be difficult."
Carpeting
Carpeting is not the ideal floor covering for a restaurant due to potential spills, McCaul says. It does, however, provide a great acoustical advantage. "A restaurant is all hard spaces, so bringing in the carpet really brings a level of softness and a sophistication, especially for a higher-end fine-dining restaurant," she explains. An alternative to wall-to-wall carpet is accent rugs, which are easy to remove for cleaning.
When selecting a carpet, McCaul suggests looking for those that have stain-resistant finishes and those that can be easily steam cleaned or wiped.
Hardwood and Stone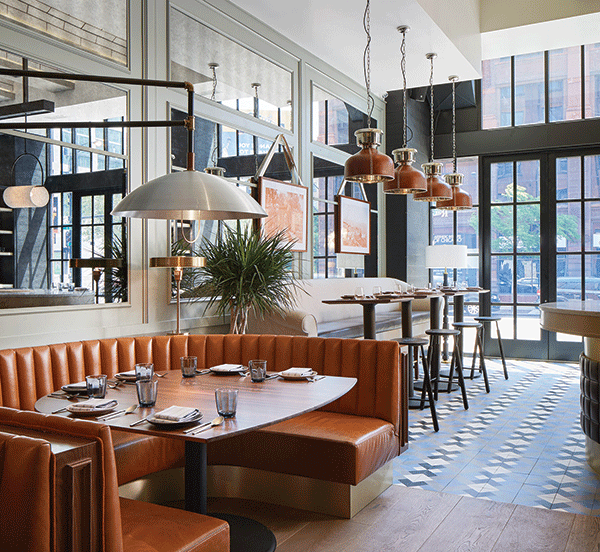 Flooring was an important element in creating three distinct zones at Proxi: dining room, lounge and bar. The engineered wood floor of the dining area gives way to concrete patterned tile in the bar area. Hardwood floors are beautiful — but they're also pricey. And wood is not the easiest material to maintain because it can get nicks and show wear from traffic. Most hardwood floors need sanding or repairing and oiling, usually annually. They also don't provide a lot of traction.
"But we love the look of a wooden floor since it ages as the restaurant ages, which gives the space character," says McCaul. "Ceramic tiles would take a long, long time to show any wear. Our go-to is to use something natural if we can so we get that change over time, but we understand clients would like something easy to maintain."
Wood flooring also presents the choice of solid wood or engineered wood floors. "Engineered is usually more resilient and more stable, whereas solid wood might flex and wear a little bit," Ardoin says.
Engineered wood consists of a thin layer of solid wood placed over plywood. As a result, eventually sanding and refinishing will wear away these floors. The floor's thin layer also makes it susceptible to chips or nicks. Compared with other options, this flooring has limited options from which to choose. On the plus side, engineered woods can be easy to install.
Solid wood is the more durable option, and it usually comes in ¾-inch planks compared with ½ inch or less for engineered wood. Of course, some types of tiles can mimic the look of wood without replicating the wear patterns that appear over time.
McCaul has worked on a number of restaurant projects with stone floors, and while they look beautiful and have a nice wear over time, they require upkeep. Stone floors require periodic treatments to prevent staining. However, "stone brings an authentic nature to restaurants, and for some people, it can be reminiscent of travel," she adds.
MMA Flooring
For its kitchens, Slim Chickens uses methyl methacrylate (MMA) flooring, an acrylic and quartz product that looks like concrete that's been left rough in its finish. It comes in a variety of colors. The chain opted for a deep red, both for aesthetics because that hue doesn't change or yellow over time and because it functions well.
Simple to maintain, MMA flooring requires daily brushing with a mild detergent and doesn't require any deep cleaning beyond that, Payne says. And due to its integrated base, water can't get between the floor and the wall or the subfloor.
Safety
Flooring needs to look good in a restaurant, but safety serves as a key consideration in both the front and back of the house. Guests and employees must not slip on floors, regardless of the weather. Slips, trips and falls are common causes of work injuries, so preventing them should also be a top priority.
In the restaurant itself, highly patterned tiles offer more resistance against slipping as does the grout in between them. "You get a lot of texture in a pattern layout," says McCaul. "And with smaller-format tiles, there are grout lines, providing friction." She points out that both porcelain and ceramic tiles offer about the same resistance, and the aesthetics are getting better every year, with designers ensuring the repeats on the patterns are so large that you don't notice that it's not real wood or stone, for example.
MMA flooring works well in back-of-house applications. This flooring features pulverized quartz, says Payne, "which gives the floor a pretty substantial abrasive content."
Creating Zones with Flooring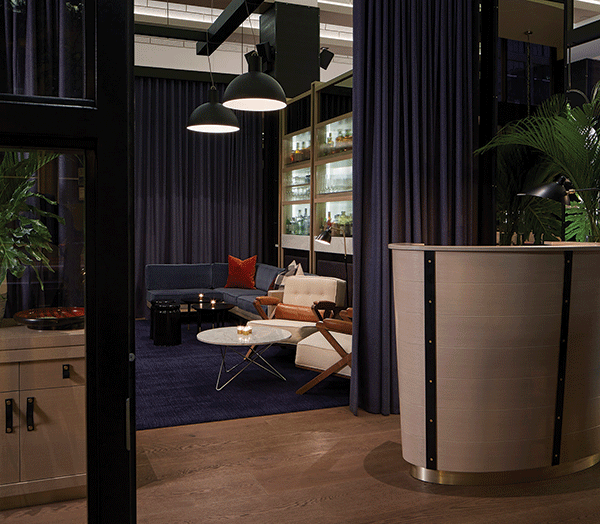 For the lounge at Proxi, the team selected a 100 percent wool carpet. It features a tight loop construction that will hold up well and conceal foot traffic while providing a clear indication of a separate zone. Beyond aesthetics and slip resistance, flooring can have a further function: It can help designers create intimate zones within the overall space.
Ardoin worked on designing the floors at Proxi, which opened in Chicago last June. It was important to use the flooring to accentuate the three distinct areas: dining room, lounge and bar.
For the lounge, the team selected a blue patterned carpet, "which brings the mood down and says, 'Stay and hang out a while,'" Ardoin says. Since Proxi mostly uses this area to serve drinks, she wasn't overly concerned about possible food spills. But just in case, she opted for a 100 percent wool carpet, "which is the most durable flexible fiber available," she says. Additionally, the carpet's low, tight loop construction holds up well and conceals foot traffic, and the short pile shows the movement of the carpet fibers.
In the nearby bar, Ardoin selected concrete tile. "We wanted a pattern that spoke to a different place and gave a strong visual for the bar," she says. It was important that the bar feature concrete tile "because it starts to wear away, and eventually it will feel like it's been there for years to add another layer of detail."
For the dining area, the Meyer Davis team selected a 10-inch engineered oak wood floor with lots of knots in it "because it takes the mood down and brings a residential feel," Ardoin says. "It's quieter, more forgiving." Sometimes, she explains, restaurants can get a wear track down the main path of the dining room, but she opted for a wax finish on this floor instead of a poly finish, "so it's easy to re-wax it rather than sand it down and re-poly it."
Toward the back of the space, in the back hallway that leads to the bathrooms, the Meyer Davis team had intended to use the same concrete tile as the bar. Upon realizing that area gets a lot of traffic, they switched to a herringbone-patterned porcelain tile with a high variation in color. "The smaller tile helps because it has a high variation and helps mask that traffic," Ardoin explains.
Ultimately, understanding the right flooring material for the application is key.