Based in Denver, Colo., Punch Bowl Social is a 10-unit eatertainment concept that offers food and drink along with activities such as bowling, karaoke, bocce ball and video arcade games.
While some similar concepts build in rectangular boxes, Punch Bowl seeks out older buildings, says Rebecca Stone, managing partner with Oz Architecture, which has worked on several projects with the company. "Punch Bowl Social's philosophy and brand is adaptive reuse because they have such character that you just can't find when you do a new build," say says.
Punch Bowl's latest project repurposes the control tower and the associated three-story building of the retired Stapleton International Airport in Denver.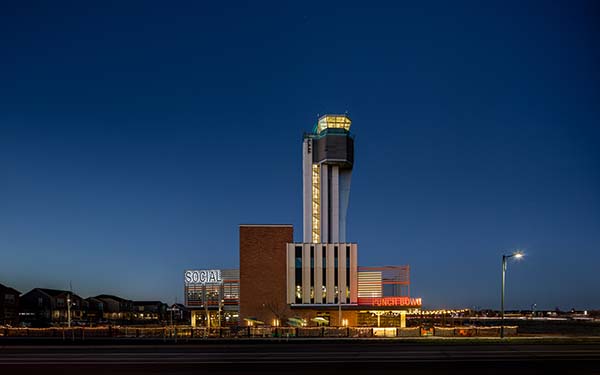 One of the challenges presented by this facility was its size. Due to accessibility issues, the tower itself doesn't house space used by guests. Instead it serves as a beacon for the operation, which is located entirely in the attached building.
Size, though, was a problem. According to Stone, the typical Punch Bowl location is larger than the building at Stapleton Airport. What's more, the building's dimensions didn't offer the long, narrow space needed for bowling lanes.
The designers responded by adding on to two sides of the tower building. These additions were set at an angle, and given horizontal exterior elements in order to honor the original building, Stone says. "We didn't want to take away from the historic building. We wanted to show what's new and the beauty of what's old."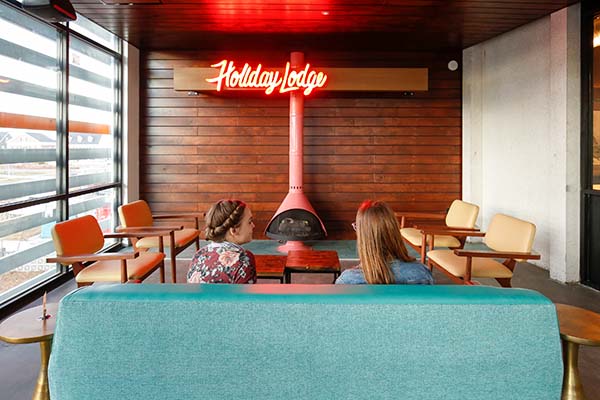 The interiors of Punchbowl's adaptive reuse locations tend to mix looks, says Stone. This outpost includes a mountain lodge theme (recognizing the chain's Colorado roots) along with airports and flight, paying homage to the building's original purpose.
Guests can see elements of both in the Holiday Lodge room, which features a fireplace along with furnishings from the 1960s, "the golden age of flying and airports. That's also when that building was built," says Stone.
More direct nods to the building's roots can be found throughout the facility.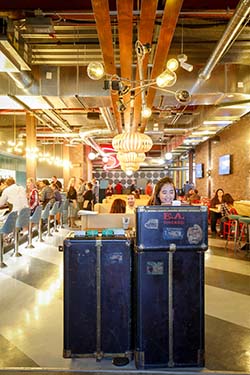 "One of the key ones is by the hostess stand," says Stone. "There's a wall built of old luggage. [The building] also has some references to airplanes and travel and exploring." These can be found in force in the building's restrooms, which feature stalls covered with images from old flight safety instructions, along with airline advertisements and promotional materials.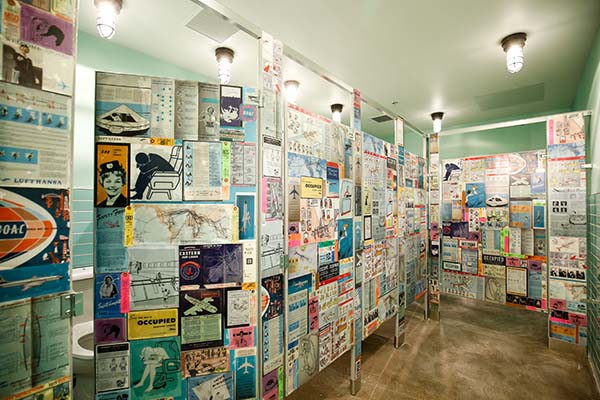 Other elements include a bench made from an old airport terminal sign, metal partitions with small airplanes cut into them and light fixtures that look like spinning wind meters.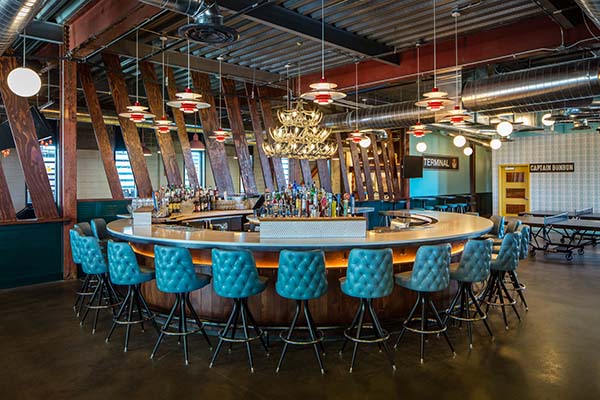 One of the key features in every Punch Bowl location is the 360-degree bar, says Stone. With its light blue tufted stools and antler chandelier, this space combines both airport and mountain lodge elements.
More than that, it serves as a gathering place that encourages interaction among staff and guests alike. "The 360 bar is a super important part of Punch Bowl. It's more social. Everybody is looking at each other. People circle the bar instead of crushing up to one side."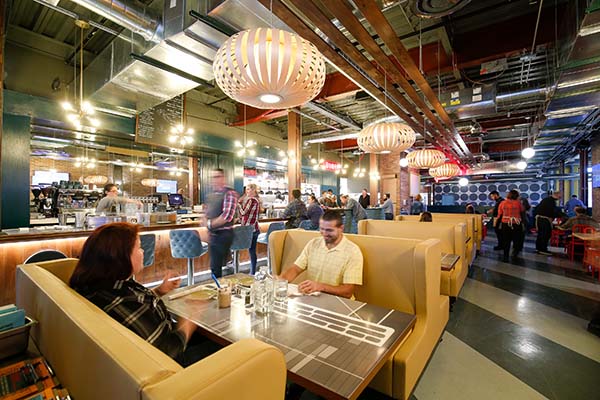 Another central gathering spot for this Punch Bowl location is the diner. Guests enter the operation from this space, which serves as the building's hub. From there they can see practically all that Punch Bowl has to offer.
What's more, it provides distinct spaces for different groups to gather, allowing kids and families to enjoy the space just as much as groups of adults.
"You can separate the spaces and who might be using the space when. You may not want a kids birthday party next to a bachelor party. How we laid out the venue has a lot of ways to separate these parties where everyone feels they have a lot of space."