The Cordish Companies' $40 million overhaul and rebranding of Norfolk, Va.'s iconic Waterside Festival Marketplace has resulted in the Waterside District, a development that hosts events and numerous restaurants on the Elizabeth River waterfront. 
The 55,000-square-foot venue's anchor tenant is The Market, an eclectic food hall featuring local and regional favorites. Waterside District also features premier national venues such as Guy Fieri's Smokehouse, Blue Moon TapHouse, PBR Norfolk, and The Harbor Club.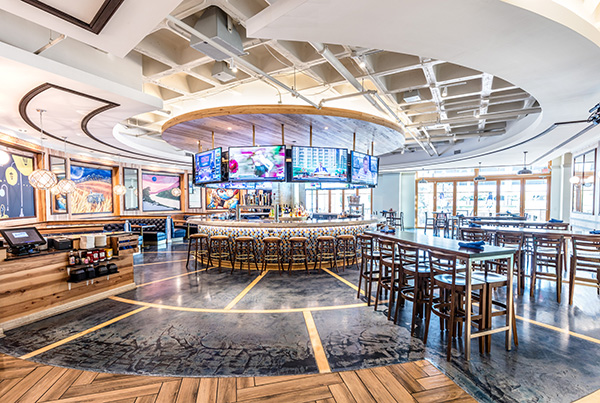 The Bar at Blue Moon Taphouse

Rope lights in Blue Moon Taphouse, designed by the Jeffrey Beers International team, carry forward the overall nautical theme.Jeffery Beers International provided full design service to The Cordish Companies for the development of Waterside Live, from concept to completion. "Magnifying and framing the views of Norfolk's waterfront was very important to our design team in planning the layout and look of the interiors," says Victoria Hood, public relations and communications manager for Jeffrey Beers International. "There is an open and light feeling throughout the various venues, and the design compliments the surrounding nautical views, creating fluidity between the interior and exterior. JBI also enjoyed designing the nautical themed light fixtures, including the rope knots in Blue Moon and the hanging rowboat chandelier in The Harbor Club."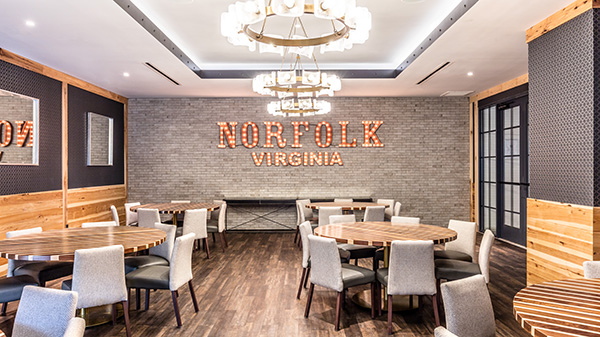 The dining room at Blue Moon Taphouse features many of the materials found throughout Waterside District, including white-washed brick and reclaimed wood.
Norfolk's rich nautical and industrial history inspired the design. Key design elements include stained concrete, white-washed brick, blackened steel, reclaimed wood and exposed structural elements, meant to evoke the gritty days when shipyards populated the waterfront.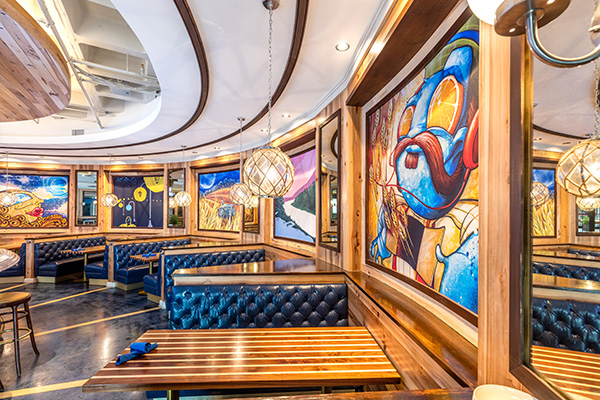 There is a mix of dining and bar spaces, including nautical blue banquettes at Blue Moon Taphouse.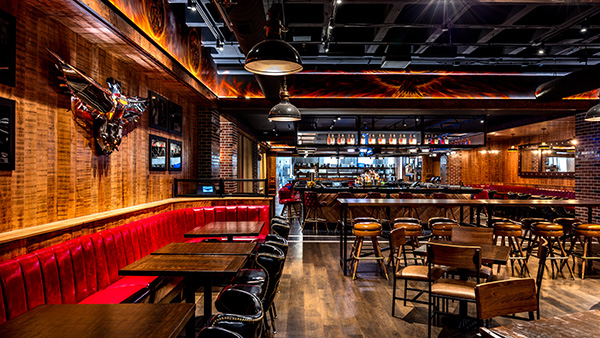 Guy Fieri's Smokehouse features a sophisticated mix of leather, darker wood and the TV host's own aesthetic, which features the color red and fire — an element that also highlights the smoked menu items.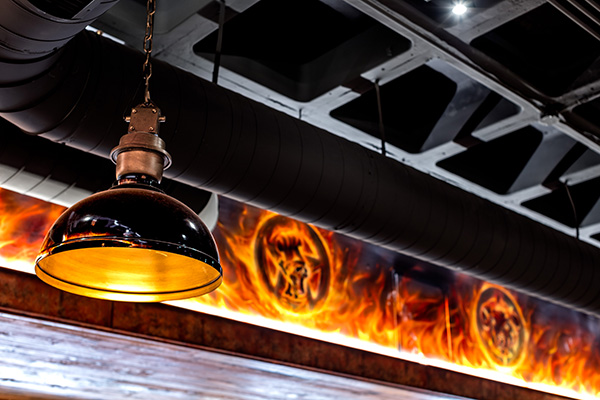 A close up of the warm fire-inspired colors and decorate elements at Guy Fieri's Smokehouse.
PBR Norfolk leans into the "gritty" history of the waterfront with the inclusion of industrial materials.
PBR Norfolk features 84 bar stool seats, a lounge banquette that seats 10 and a bar-height banquette that seats about 19. Exterior bar stools seat 64.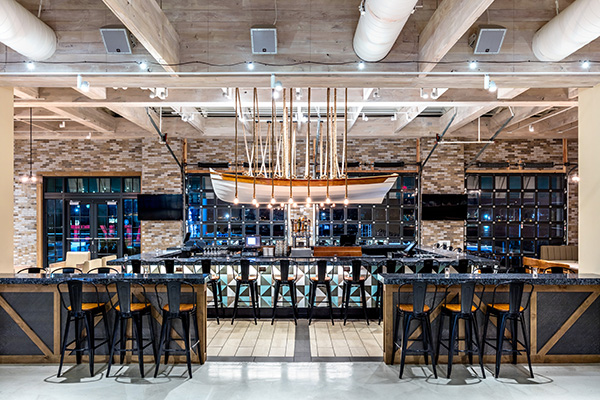 The Harbor Club is steeped in nautical hues and features a rowboat chandelier over the bar.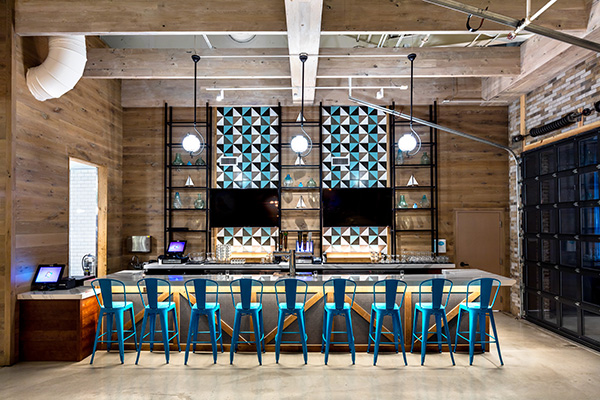 The Harbor Club seats 108 at bar stools, 15 at banquette seating, 64 at picnic-style tables, and more outside. 
Project Team
Owner: The Cordish Companies
Hospitality Designers: Jeffrey Beers International's team included Jeffrey G. Beers, Michael Pandolfi, Monika Chmielewska, Jennifer Bonelli and Danielle Hauser
Architect: BCT Architects
General Contractor: Buffalo Construction, Inc. & KBE Building Corporation
Purchasing Agent: Leap Hospitality
Lighting: The Lighting Practice
All custom FF&E: Elite Booth
Photos courtesy of Max Touhey