Just awarded two Michelin stars and topping Chicago magazine's list of 2013 Best New Restaurants, Grace underscores the notion that despite recession-induced moves toward casualization and lower check averages, there's still room on the American dining stage for high-end haute cuisine.
That's the specialty of chef-owner Curtis Duffy, who with partner and general manager/sommelier Michael Muser, has created a restaurant that lives up to its name both on the menu and in the quiet elegance of its dining environment.
Duffy's cooking has been described as thoughtful and progressive, inventive and modern but always true to the natural, distinct flavors of the ingredients. Each night, Grace offers a pair of $185 prix-fixe tasting menus, one flora (vegetable-based) and one fauna (meats and seafood included). Menus change frequently — often daily — depending on what's at peak quality. Each dinner consists of 10 to 13 courses that Chicago magazine's critic describes as "modern masterpieces full of esoteric ingredients in brilliantly composed dishes that dance between opposites (cold versus hot, solid versus powder, sweet versus sour) and are served on striking surfaces (such as a slat of a whisky barrel)."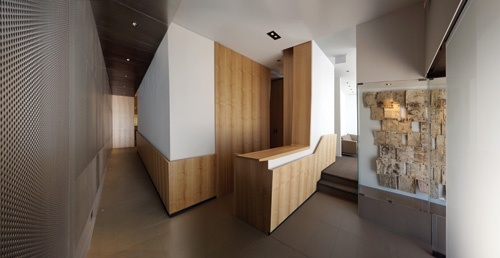 Entry of Grace Restaurant ChicagoThe backdrop for those masterpieces is intentionally muted, neutral and serene. "The inspiration for the design was Curtis' culinary philosophy, his commitment to present the very best ingredients without hiding them behind a lot of culinary tricks," says Christopher Lawton, principal/partner with Micah Stanley of Chicago-based Lawton Stanley Architects (LSA). "We made a conscious effort to present things as they are in the space, as well, without a lot of extra finishes. We didn't want the architectural design to overwhelm the food."
Housed in a brick loft warehouse that dates to around 1900, the Grace space in Chicago's West Loop neighborhood is long and narrow. Measuring roughly 4,500 square feet, plus an additional 800 square feet of basement, it was perfect in some ways and challenging in others, according to Muser.
"We were blessed because we had this big box of a space and we got to sit with Christopher and Micah and look at 20 different layouts of what Grace could be and to work out the kitchen and the service patterns exactly how we needed them to be," Muser says. "But the space had its quirks. For starters, it had once been a pickled herring factory and the floor had about a three-and-a-half-foot pitch from the back of the building to the front for drainage. We had to figure out how to deal with that."
An additional architectural issue was a line of columns running down the center of the space. They're structural supports and, as such, couldn't be removed.
Practical Design Solutions
Using such problems to their advantage was a challenge the team embraced. For the floor, they ultimately used spray foam topped with concrete slabs to provide some leveling. A strategic design built on different height platforms was used as well.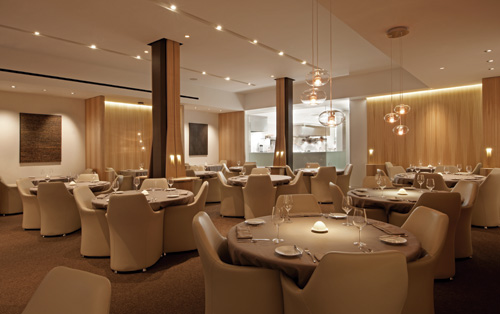 Grace dining room"You enter the restaurant at one level and then you can step up to a small lounge area or walk through a gently sloped hallway to the dining room. The kitchen, which is accessed by another gently ramped hallway at the back of the dining room, is slightly higher than that. We laid out the ramps in such a way that they're very subtle and don't interfere with the flow," Stanley explains. "We didn't want it to appear like a series of different levels, so we did a lot of things to make the slope disappear and work with the theme of the restaurant. Ultimately, we felt there's something nice about entering at one level and going up a slight ramp and through some section changes to get to the dining room. You flow through a series of spaces that lead to something interesting."
The columns presented another opportunity for architectural ingenuity, as well as to support Duffy and Muser's
insistence on having every element of the space serve a purpose. Taking the restaurant's need for high-end wine service into account, LSA transformed the columns into graceful wine decanter stands.
"Fine wine service essentially uses two methods — the little carts that roll across the dining room up to your table or a service credenza located in the dining room that holds all of the tools that the sommelier needs. I didn't want anything rolling around on wheels in the dining room. I also didn't want a big piece of service furniture in there," Muser says. "Christopher and Micah came up with the idea of these big, beautiful American ash pieces that come dripping out of the ceiling in kind of a reactionary architecture theme. Right when they hit about waist level for the sommeliers, they bend into these hockey-stick-looking decanter stands. It worked out in such a way that each table has one of these little moments dedicated to it. The decanter stand allows the bottle to remain a member of the table and have its moment, but not be in anyone's way. We have LED lights buried in the millwork that provide the light that the sommeliers need for service. They're functional, but they also look really cool."
Inside the kitchen of Grace Restaurant ChicagoAs the primary architectural element in the dining room, the decanter stands' design, like so much of the restaurant's character, was inspired by Duffy's cuisine. To maintain ingredient integrity, culinary staff finish many dishes by adding a liquid at the final moment. "For the shape of the stands, we took some of the ideas of the liquid coming down to meet the materials coming up from below," Lawton says. "They kind of look like a drop of liquid hitting the base. And they mask the columns while making them serve a purpose."
Natural, Tactile Materials
The wood used in the stands' millwork is brown ash from trees harvested in Iowa, 100 or so miles from Chicago. "Chef Duffy likes to use local ingredients whenever he can and present them in very natural ways. So we chose a wood that has very little finish. What you see is the natural color of the wood. It's very matte and very tactile without a lot of glossy, heavy polyurethane on it," Stanley adds. "Normally, when they cut wood for veneer they cut the sapwood out, which is the outer layer of the log. We left that in so it makes a striping pattern and you can read the nature of the material."
The same ash veneer is used throughout the space, beginning at the front host stand. It covers sections of wall in walkways and in dining areas, as well as on cabinet fronts in a 12-seat private dining room — even on a section of wall in the kitchen.
The millwork was one of the biggest design risks the Grace team took, and one of the biggest expenses. While the design exudes clean simplicity, getting the right effect was anything but, according to Lawton. "The decanter stands are actually quite complex in their geometry and construction. The curves had to be absolutely precise and all of the panels had to be immaculately matched," he says. "It really took time and care to make sure all of the veneers were from the same source and all of the grains lined up just so. We were fortunate to be able to use master millworkers."
Another materials-related risk was the large, perforated metal panels that line the front hallway leading to the dining room. "It's the kind of thing that's hard to represent visually until it's actually done," Stanley says. "The idea behind it is that it has a true metallic nature, but the effect makes it look almost like a fabric. That comes from the perforation, but also from a layer of polka dots pained on the surface behind it which lends a subtle moiré, dematerializing effect."
Dining Room Serenity
The dining room itself exudes quiet, luxurious comfort. Beyond the decanter stands and some original paintings, the space is unadorned, open and simple. With seating for 64, it includes roomy round tables in the center and deuces tucked into ash-lined indents along one wall. Careful attention was paid to noise control, with ceilings and service areas lined in acoustic tiles and thickly padded carpet under the dining room tables.
Grace's private dining roomGiven the style of service and number of servers required to quickly and smoothly present multi-course tasting menus, plenty of space was allowed between the tables, which further enhances each table's acoustic isolation. "You hear the soft buzz of the dining room behind you, but mainly what you can hear is your own conversation versus that taking place at the table next to you," Muser notes.
Vying with millwork for top interior design splurge at Grace are the dining room chairs, selected after extensive testing for their color, materials, craftsmanship and comfort. Imported from Holland, they're all leather and hand-stitched and had just the right natural yet luxurious look and feel the team was after.
"If you'd have asked me at the beginning of the project for a worst case scenario on what we'd spend on chairs I might have said $800 each. I had no idea what was coming to me. Christopher and Micah would go on chair shopping sprees and bring back 30 samples at a time. We went through 3 or 4 rounds of 30 chairs each. We'd sit, and sit, and sit and they were all just bad. They weren't supportive or comfortable. When we finally found the chair that we wanted, let's just say they were a lot more than $800 each but it was a bullet we all decided to bite so that we could move on."
Kitchen with a View
Comprising as much space as the dining room — each area measuring roughly 1,500 square feet — Grace's kitchen is a pristine, lab-like space situated at the rear corner of the dining room. Enclosed in bright white, low-iron glass on two sides, its design allows guests to see Duffy and his team at work without actually being an open kitchen or a dominant feature. To keep the sightlines on the chefs working and block guests' view of things that might fall between the glass and the prep tables, the lower portion of the glass is painted.
Grace lounge areaMostly white and stainless, a built-in feature within a partial wall at the far end of the kitchen is a custom rack holding glass jars of colorful spices. It's the only real pop of color in the space, and, like everything else at Grace, was designed to be functional. "Nothing is allowed on the rack that isn't being used throughout the day," Muser notes. "But then at night, when the prep is done, it's beautiful to look at."
On any given night, exactly 22 employees work in the kitchen. The front area is devoted to pastry; the right side is the hot food cooking station and the left side is where cold items get picked up. That side also has a salamander, so some limited cooking takes place there, as well. The passes, or stations, in the center are for cold food handling and for plating. The space is laid out and equipped to enable the staff to function with both the artistry and precision demanded of Duffy's cuisine, and to do so with maximum efficiency.
"Just like in the front of the house, the goal was very simple: supply the employees with the tools they need to do their jobs, hold them to the highest standards possible and see what happens," Muser says. "We designed in tons of refrigeration and work space so our chefs don't have to go anywhere to get anything; it's already in the station ready to go."
If Grace's dining room is hushed, so, too, is its kitchen. Although it houses more than 20 separate refrigeration units tucked beneath the work stations, it's "absolutely, pristinely silent," says Muser. That's because all compressors were removed and operate remotely, either from the basement or from a bridge the design team had built between Grace's building and the building next door.
Such attention to detail and insistence on perfection at every turn ultimately made for a unique — and uniquely demanding — project, one with high stakes for all of its principals. "This was Curtis and Michael's first restaurant venture, and a really ambitious one. As a new firm, it was also our first major project," Stanely says. "Our ambitions and engeries matched well together."
Micah Stanley and Christopher Lawton from Lawton Stanley Architects
Design Insights: Micah Stanley, Christopher Lawton, Lawton Stanley Architects
Sightlines.
You can't have doors closing off service areas; it's just too impractical for servers to keep opening doors. But you also don't want guests' views to go to the wait station, the dish area or other distracting locations. We had to make sure that all of those sight lines terminate in a nice material and a space that isn't full of activity, yet offers open access to the staff.
Server Station.
It's located behind one of the dining room walls and has everything a server needs. It's directly adjacent to all of the tables and is accessible from either side, which allows the servers to more easily service tables at both ends of the dining room. Both the need for the station to be invisible to guests and the need to have servers close to their tables drives the station's design. It took several iterations to get the dimensions and the flow just right.
Lighting.
You want it fairly dim so it's relaxing but at the same time you want the food well lit and to be able to see people's faces. So there's a need for a fairly strong downlight onto the table for the food and softer ambient lighting for people and atmosphere. We used slot lights tucked along the ceiling behind the veneer and track lights on the ceiling, which are zoned. It allows us to light the table as close to straight down as possible with a very narrowly focused light spread, and on either side of those lights we can have bulbs with much wider light spreads positioned at angles to give softer ambient light.
One Great Feature: Restrooms, Michael Muser,  Grace
When I go to super high-end restaurants like mine, I'm always excited to see the bathroom, what the sink looks like, what materials they used. LSA designed each of our four restrooms as a season, which had a connection to what we do from an ingredient standpoint. Each has its own custom-designed sink, its own type of tile, color scheme, lighting and flooring. In addition to being beautiful, I wanted the bathrooms to feel secure, like spaces you could take your time in and enjoy. The first time I rode in a Mercedes I'll never forget shutting the door. As soon as that door shut the acoustics inside are so great that your senses are heightened and you're aware of everything. I wanted that in our bathrooms, to hear that door shut and then go, "Oh look at that sink! Oh my god, this place is cool!" We actually did too good a job on the bathrooms. No one takes one pee at Grace; everyone takes four. They want to see all four seasons.
Project Team
Grace: Curtis Duffy, Chef; Michael Muser, GM and Sommelier
Design/Architecture: Lawton Stanley Architects, Christopher Lawton and Micah Stanley, Principals/Founders; Maria Contreras, Designer
Millwork: Seth Deysach, Lagomorph Design; Scott Patterson, SAP Design
Original Artwork: Vanessa Navarrete, Homa Shojaie, Lonney White
Furniture Sales: Sunny Accarino, Mobili Mobel
Kitchen Design: Tim Harrison, Harrison, Koellner LLC
Kitchen Equipment/Installation: Francois Morin, SML Stainless Steel Group
Snapshot
Location: Chicago
Segment: Fine dining
Menu: Multi-course, fixed-price; inventive, seasonal, ingredient-focused haute cuisine
Design Highlights: Muted "food spa" environment; custom decanter stands; glass-enclosed kitchen; individual, seasonally inspired restrooms
Size: 4,500 square feet, 64 seats plus 12 in private dining room
Kitchen Size: 1,500 square feet
Buildout: 9 months
Website: www.grace-restaurant.com